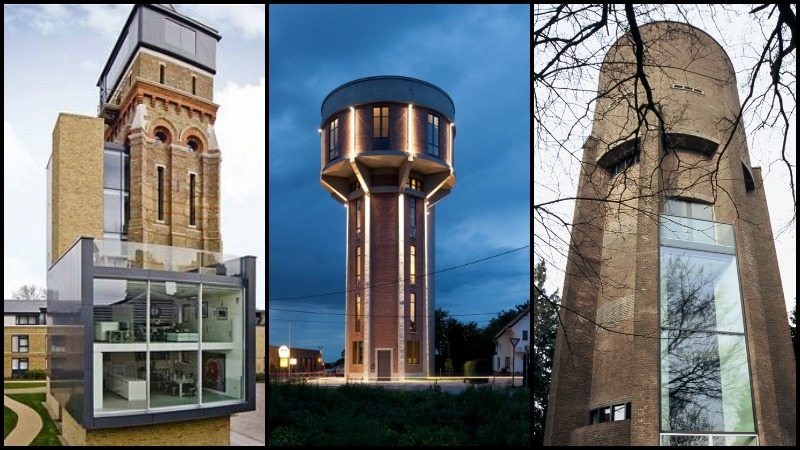 One thing all water towers have in common is that once they have outlived their purpose, they very quickly turn into eyesores. Yet cultural significance is an almost palpable presence. You simply cannot tear them down and not feel bad. A dilemma? Not for creative architects and home builders. The  examples below are clear demonstrations of that.
When we say old water towers, we do mean 'old' as these structures were built as early as the 1800s. They no longer serve their original purpose but you can still see several of them around the world. This is because their cultural and historical significance has prevented people from taking them down.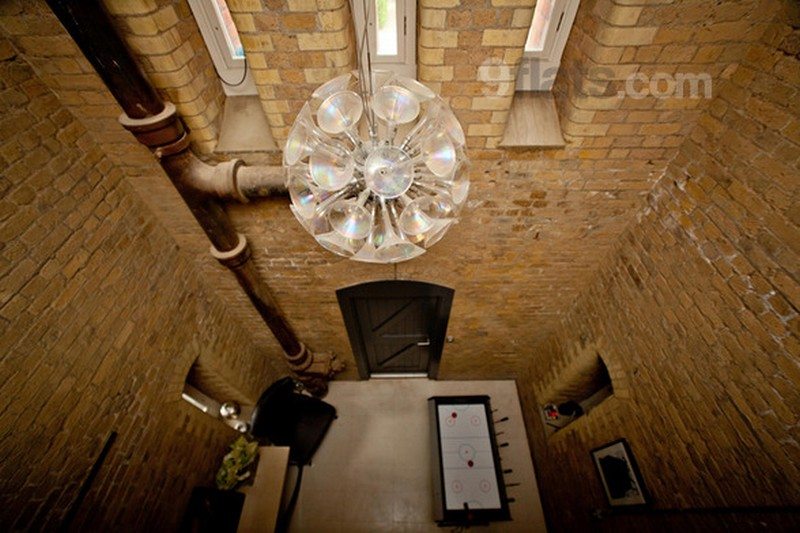 Now while there are people who consider old water towers as useless buildings that's better off giving way to modernization, others – aside from seeing them as historical landmarks – saw great potential in them!
These stunning homes will show you just what creative designers and builders envisioned when they saw the derelict water towers!
It may be difficult to imagine living comfortably in an old, thick-walled and narrow structure at first, but these impressive conversions prove it's actually a dream to live in one! After seeing these transformations, we doubt anyone would still think old water towers should be demolished!
Do you want to live in one of these water tower homes? Take a look at these ten water towers-turned-stunning homes and let us know what you think!
Click on any image to start the lightbox display.  Use your Esc key to close the lightbox.  You can also view the images as a slideshow if you prefer  ?
London Water Tower
This 130 ft. tower near London was built in 1896.  Today it houses five double bedrooms, three bathrooms, large living areas and a glass-walled rooftop observatory for admiring the beautiful sunset over the city of London! "I am still telling all of our friends in the US that I could read the time on Big Ben on a clear day from the top of the Tower with my binoculars."
It used to be available for short vacation stays, but it is now only offered for residential rent. If you want to know more about the London Water Tower you can head over to this site.
Venetian Gothic Style Water Tower in London
Here's an older one, from London, which is the only property in the city that offers 360 degree views! The old water tower was built in 1877 as part of Lambeth Workhouse and Infirmary. In 2011, partners Leigh Osborne and Graham Voce bought it for £380,000 and spent over £2m converting it into their dream luxury home. This nine-storey tower includes four bedrooms, a gym, dressing and study room which can all be accessed via lift alongside the tower. They also added a three-storey "Cube" at the back which serves as their main living space.
Munstead Water Tower
The numbers that make up this water tower home are just unbelievable! It took owner Elspeth Beard seven years to renovate this 91-year-old building, wherein two and a half years were spent merely for complete shell repair! It has six floors and 64 windows. Climb 88 steps from the ground if you want to go to the kitchen, 116 steps to the living room and 142 steps if you feel like going to the roof.
Another unusual feature of this water tower home is that the bathroom in each of the bedrooms are hanging!
We can only imagine the amount of work rendered to this amazing conversion. And it's no wonder that it has gained several awards! Want to know the complete details of this unusual home? Head over to Architect Elspeth Beard's site!
Old Water Tower in Stenokerzel, Belgium
Built between between 1938 and 1941, this 98.4 ft. water tower in Belgium stood empty and unused during the last decades. But in 2007, architecture firm Bham Design Studio converted it into a single family home for local businessman Patrick Mets. Many elements from the old water tower were retained to preserve its identity, such as the 250,000 liter water basin, concrete stairs and ceilings.
Although it is a private property, the owners made part of the tower available for rent for exclusive events.
Bargate Stone Water Tower in Surrey
This water tower was close to being demolished after it was decommissioned in 1974. Thanks to the local community who campaigned for a Grade II listed status, Rod and Nicola Edge were able to acquire the water tower 25 years ago and convert it into a lovely home. It includes four bedrooms and a "his" and "hers" home office. Now, after providing happiness to the Edges for 25 years, this home is on the market just waiting for its new owner!
Woning Moereels Apartment
"An industrial symbiosis between old and new." Award winning Belgian architect Jo Crepain made use of translucent glass panels to give new life to the once concrete water tower in Antwerp. The glass walls allow for abundant natural daylight to enter without compromising privacy of the occupants. At night, the tower glows because of its fluorescent lighting that face the street!
Tower of Living in Soest, The Netherlands
From an 80-year-old water tower to an exceptional 21st century home! Zecc Architects did a great job in this conversion despite the challenges presented by the seemingly cramped structure. It consists of nine levels – kitchen, living room, spare room, kids rooms, bathroom, sauna, home office, master bedroom and the rooftop.
Biorama in Schorfheide-Chorin Biosphere Reserve
This water tower home located in a UNESCO nature park in Germany has a second tower that's accessible to tourists who'd like to get a good view of the area! It was part of Richard Hurding and Sarah Phillips' proposal to the local building council to convert the water tower into their home. The couple was granted the permission BUT they do not actually own the property. Because the water tower is considered a historic landmark, the town granted the couple a 99-year lease contract for 500 euros or around $670 a year instead of selling it.
Lymm Water Tower, Cheshire
It's difficult not to be envious of the owners of this family home! It includes a two-level extension that wraps around the octagonal water tower. The extension gives an amazing view and connection to its green surrounding. As if the 110 ft. roof top garden/viewing platform that offers a  great view of the Cheshire countryside isn't enough!
Umbau Wasserturm Tower by Madako Group
Here's another one that escaped demolition! Because of Germany's building protection laws, the historic water tower remained untouched until 2002, when the Madako Group of Architects transformed it into a great example of sustainable design.
This water tower conversion is not exactly a home but a multi-use building. The ground floor serves as an office, while the very top level is a conference area with views of the surrounding landscape.
If you liked these, you will also like viewing these other Recycled Homes…