Site area:     4441 m2
Built area:    13,420 m2
Total homes:  81
Year built:     2009
Photography:   Miguel de Guzmán and  David Frutos
There are volumes of research proving that colour impacts directly on mood. There is much research dealing exclusively with the social and mental challenges faced by occupants of many public housing developments. All too often, such developments have been built with the single goal of efficiency without regard for long term implications. Many are airless, dull, acoustically challenging buildings. Vandalism and violence are common outcomes.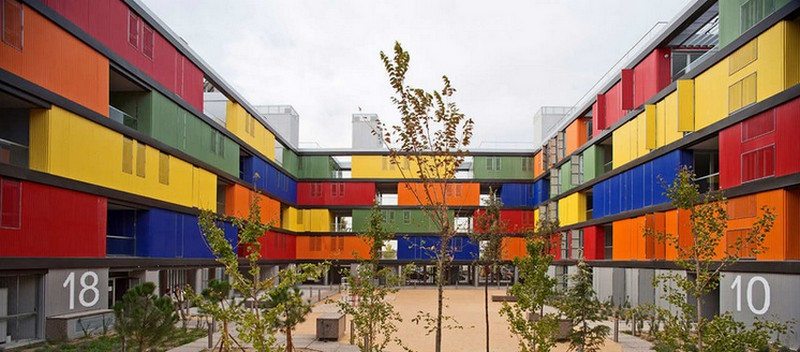 This project ticks a lot of boxes. The colours won't suit everyone but the purpose is clear.  Every housing unit has cross ventilation. There are excellent thermal and privacy controls through the use of ventilated shutters. The quadrangle is open at the base to allow breezes to flow through the development. The courtyard is heavily planted with trees that will add beauty and privacy as they mature.
"The flat is a house with a yard. This small house garden is linked to the interior of the block, the street and the living room. The yard is a sunny place in the winter and cool place in the summer. With cross views of the inside and outside of the block, the garden and the street, light and shadow.
The clustering of dwellings is obtained from mechanical necessities. The interior is made with integrated furniture; versatile space with openings available in the wall. The exterior body is constructed of metal, therefore acts as a ventilated façade. The building is an ordered set of car bodies whose metallic colours are the choice for users."
Have the architects met their objective?
Click on any image to start lightbox display.  Use your Esc key to close the lightbox.  You can also view the images as a slideshow if you prefer