Built area:    11,841 sq. ft.
Photography:    Trent Bell Photography
It seems to us that, all too often, the first thing that disappears in multi-family housing developments, is storage space. Site ratios and an insatiable demand for multiple bathrooms usually mean that something has to go in order to achieve reasonable profitability for the developer. Goodbye storage. These townhouses prove that doesn't have to be the case.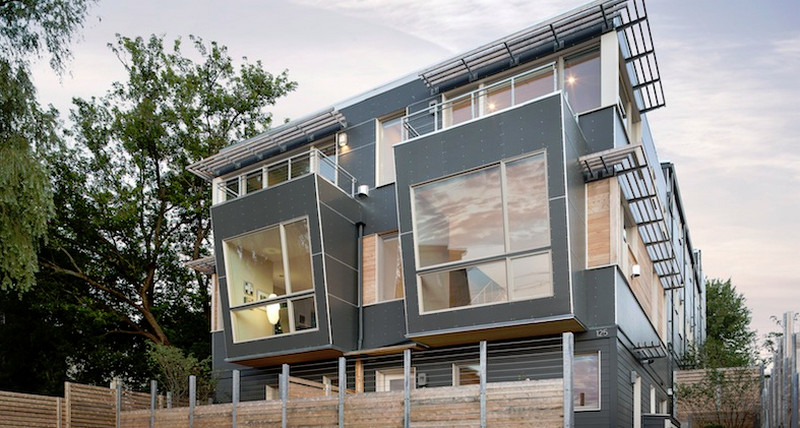 From a walk-in pantry in the kitchen to built-in robes or walk-in closets in all bedrooms, these homes tick the boxes. And, according to the architects, they are 'surprisingly affordable' given their unique design attributes.
Built from local timbers, including frames and paneling, the development has met strict sustainability guidelines with an expectation that the homes will be around 50% more energy efficient than similarly sized homes.
From the architect:
"These townhouses have several design elements that provide great living: private entrances, individual back yards, low energy use due to shared walls and no one living above or below you. We took this opportunity to give every unit in the building individual character, balconies and roof decks whenever possible, spacious ceiling heights throughout the building, and a variety of roof lines to liven up the building form. 
The units were designed with the concept of a "lobster roll", a Maine tradition that puts the best stuff in the middle of the sandwich. We raised the living areas and kitchens up to the second floor, giving more light, views, privacy and openness on this critical living space, with spare bedrooms, offices and exercise spaces on the lowest level, and the master suites high in the sky, with the most privacy and best views. 
The building has a modern exterior palette of natural wood and architectural metals at entrances and walking areas, with smooth panel siding and color accents on the upper elevations. All units have expansive windows and doors bringing the outside into the living spaces as much as possible."
Click on any image to start lightbox display. Use your Esc key to close the lightbox. You can also view the images as a slideshow if you prefer 😎
If you liked this, you will also like viewing other multi-family projects…