Everlogs – anywhere you want them, Ma'am  –  Everlogs.com
Vegetarians don't eat meat. Any meat. Yet they find products like 'Not Bacon', 'Not Sausage' and 'Nut Meat' sitting forlornly on supermarket shelves as though trying to convince vegetarians they haven't really eaten unless something resembling meat is on their plate!  Does a log home aficionado feel the same about their logs? Must they be real dead trees or can they be substituted with 'Not Logs'?  That, dear readers, is what this intrepid reporter set out to discover…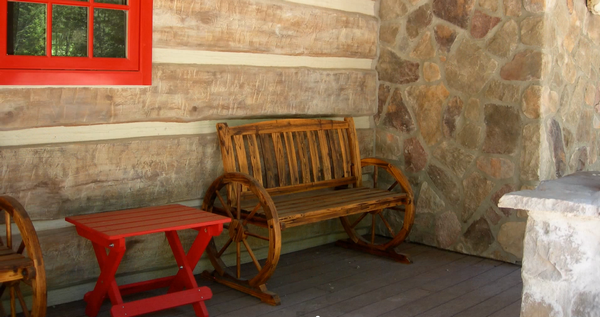 Living in the Land of the Great White Ant as I do here, I've always wondered if a log home was just one gigantic termite event waiting to happen. Sure you can put down barriers and baits, but what if a colony is already resident in a log before it even gets put in position. Unlikely but definitely possible.  All you need is the queen and a couple of drones and BINGO! Then there are all the other bugs and animals that like to gnaw on, or nest in, a nice piece of timber.
Treated logs? Hmmm… personally, I have reasonable confidence in current treatments. They probably won't kill me or even make me sick. Probably – but then the old copper-arsenic treatments were declared 'safe' too!
Discouraged, but not beaten or cowed, I have then considered the reality that timber absorbs moisture which makes it 'grow' and then it dries which makes it 'shrink'. Wouldn't that affect the chinking?
And then we come to the big one… twisting and warping (and throw in a little 'cracking' while you're at it). Timber is organic and it's going to do what organic things do – CHANGE!
So there's the dilemma! I really like the look of a lot of log and timber beam homes, but the negatives are just too great for me to start building one. Oh, did I mention my better-half's predeliction with the reality that wood burns. In fact, it burns rather well and I am sure that a log home could make a magnificent bonfire. So, am I daunted?  Never, because I have discovered the 'Not Log'…
Concrete EverLogs™ offer the exact character, texture, and warm appeal of quality handcrafted wood logs. EverLogs™ also eliminate the structural instability, costly maintenance, and susceptibility to fire, mold, insects, and other problems commonly associated with wood log construction.
Log profiles include hand-hewn, round, square, barn wood, recycled timber and others. Corner styles include dovetail, square, butt and pass, posted, and round. Custom profiles and colors are also available.
EverLog™ Siding is a concrete log siding product used in renovations and new construction. Designed to perform better than logs it will transform the look and performance of any home or structure.
Worry Free EverLog™ Siding is a patented, revolutionary concrete log siding. Made of light weight reinforced concrete (also referred to as fiber cement siding), EverLog™ Siding eliminates the costly maintenance, susceptibility to fire, mold, insects, and other problems commonly associated with log or other siding materials.
Am I convinced? Reading on I discover the:
Features & Benefits
• No Maintenance Costs
• No Shifting or Settling
• No Shrinking or Twisting
• No Preserving, Re-staining or Sealing
• Environmentally Friendly
• Fire Resistant
• Resistant to Insects and Woodpeckers
• Super Performance in Earthquakes and Hurricanes
• Substantially Lower Cost of Ownership
• Lower Insurance Costs
• Lower Heating and Cooling Costs
Lower heating and cooling costs?  Reading even further I discover that these 'Not Logs' are so well engineered and detailed that they meet and exceed the Passivhaus blower test standards!
I don't know about you, but them there 'Not Logs' sure make a lot of sense to me.
Click on any image to start lightbox display.  Use your Esc key to close the lightbox.  You can also view the images as a slideshow if you prefer  

Don't miss the two videos below the gallery images.
BTW, to discover the many reasons you might want your house to pass the blower test visit Leonard Smit's PassiveHaus blog…