Land Area:     2,160 sq. ft. (200 m2) each lot
Built Area:     1,900 sq. ft. (176 m2) + basement garage of 650 sq. ft. (60 m2) each home
Year Built:      2007 (brown) and 2011 (white)
Here's a prime case for not judging a home by it's external appearance. It's obvious to a child that these two homes are built from shipping containers. In fact, there is not even the slightest attempt to soften the industrial lines. Yet, once inside, any resemblance to a shipping container quickly fades and instead you are viewing a comfortable, contemporary, cost effective, sustainable home. Consider for a moment, the challenges faced in building a full sized family home on a block just 27 feet wide (8.3 metres). You'll quickly see why containers became a viable option.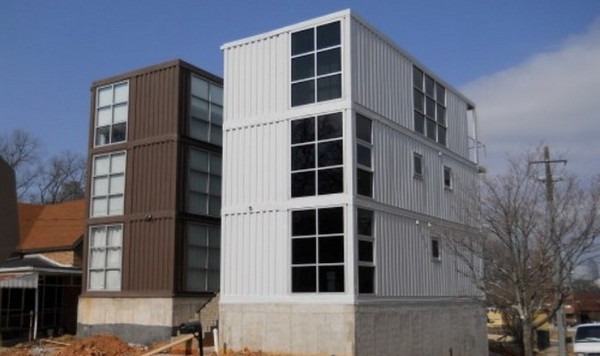 Some years back, Glen Donaldson, proprietor of building firm g a d. Design and Construct, read a magazine article about shipping containers being converted to homes. He couldn't find many examples in the U.S., but he heard about a quirky installation of buildings in London known as Container City. He subsequently visited a couple of shipping container homes to see how they were constructed.
In 2006, Glen sold his existing home and bought six containers. Collaborating with architect, Francis Kirkpatrick and engineer, George Runkle, he turned six 40 foot containers into a three bedroom, three bathroom 1,900 sq. ft. home with a four car garage under for around $250,000. The home is the brown one to the left.
As things turned out, the home proved too big for Glen so he converted it to a duplex, renting out the other side (he uses the two-bedroom, two-bath portion), proving the flexibility of the design in doing so.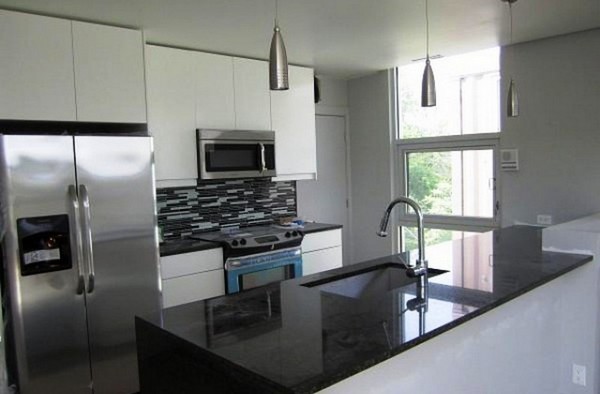 The learning curve
Glen had originally purchased two adjoining lots, both just 27′ x 80′. Four years after completing the first home, Glen capitalised his experience by building his second shipping container home, This time he put a darker tint on the windows and added more spray foam insulation to keep the house cooler in the summer and warmer in the winter. The newer container home has a slightly altered design when compared to the original. It has a open floor plan and balcony on the top floor.
He also added a roofing membrane of white rubber which, he says, appears to be able to better reflect sunlight and cool the inside, resulting in more savings on costly air conditioning. (Editor: A green, living roof of sedum would be even more effective!)  Double-glazed Low-E glass and a high-efficiency heat pump system help keep his utilities to about $200 a month for the entire building. The homes also collect and store rain water for landscaping use.
The second home sold in the high $300k's on completion proving that the building with containers can be a profitable exercise.
You'll find links to video footage of this home below the gallery.
Click on any image to start lightbox display.  Use your Esc key to close the lightbox.  You can also view the images as a slideshow if you prefer  

This is a really good explanation by George Runkle of why containers are so strong!
This video shows the finished project.
A detailed tour of the exterior.
This is an excellent video from Big Steel Box showing how containers are made.
 Now why not go to

Patrick's blog

to get some first hand experience…