Lot size:     760 m2  (8,200 sq. ft.)
Built area:     460 m2  ( 5,000 sq. ft.)  approx.
Year built:     2012
There is a common misconception that 'container homes' are something best kept out of suburbia, that container homes may be OK for some people but don't build one next to us! We've previously featured some amazing container homes and buildings, but if there is ever going to be a home to change perceptions, this home in the upmarket Brisbane suburb of Graceville will be it.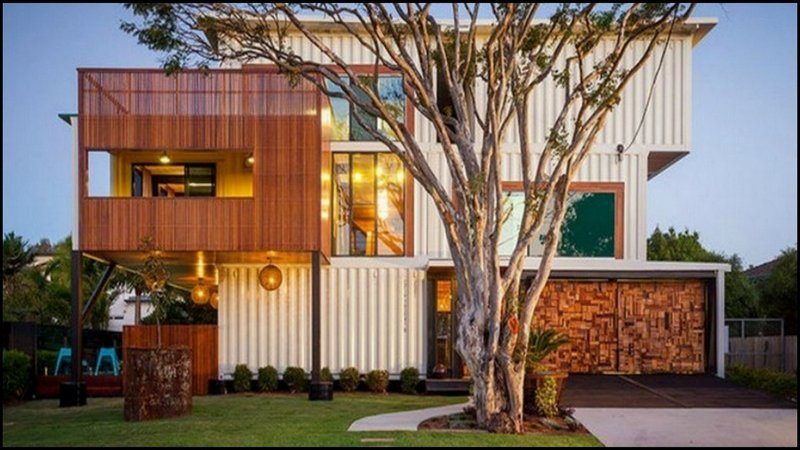 The home makes no attempt to hide its origins. In fact, it displays them proudly with bold semi-industrial looks right down to splashy urban art. The detail is exceptional and the structural integrity unquestionable.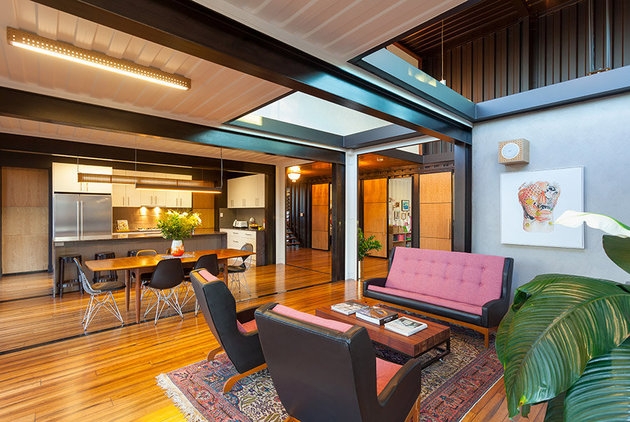 The three most common negatives we hear and read about container homes are the 8 ft. width restriction, the low ceilings and an inability to get building approval. This home disproves all three.
Almost all homes are built on a 2ft module. A container is therefore four modules wide. It's simply a matter of how you use those modules. The inherent strength of containers gives almost unlimited options!
Ceiling heights used to be a concern when a standard container was only 8 ft. high. But today, even standard containers are 8'6″ while 'Hi Cube' containers are 9'6″ and some are even 10'6″ high.
And then there is the question of building approval. If you can't get approval, you're talking with the wrong engineer. These are immensely strong prefabricated building modules that just happen to be shipping containers.
There are something like 17 million shipping containers in this world of ours. Many will only ever be used once as most countries are net importers of manufactured goods. All it will take is imagination and a change in perception to see container homes springing up everywhere.
Would you be happy having this home next door? In early 2014 this home sold for $1.55 million. It seems perceptions are already changing 🙂
Click on any image to start the lightbox. If you prefer, you can view the images as a slideshow.
Note that there is also a video link beneath the image gallery.
Don't stop now!  Here are some more container homes to view…