Built Area:     135.0 m2
Year Built:     2017
Photographs:    Patricia Hernandez
The stunning pine trees in a narrow plot of land serve a far greater purpose than simply being a scenic background. A tree has actually been integrated into the design of the home. This explains why this dwelling is called House Around A Tree.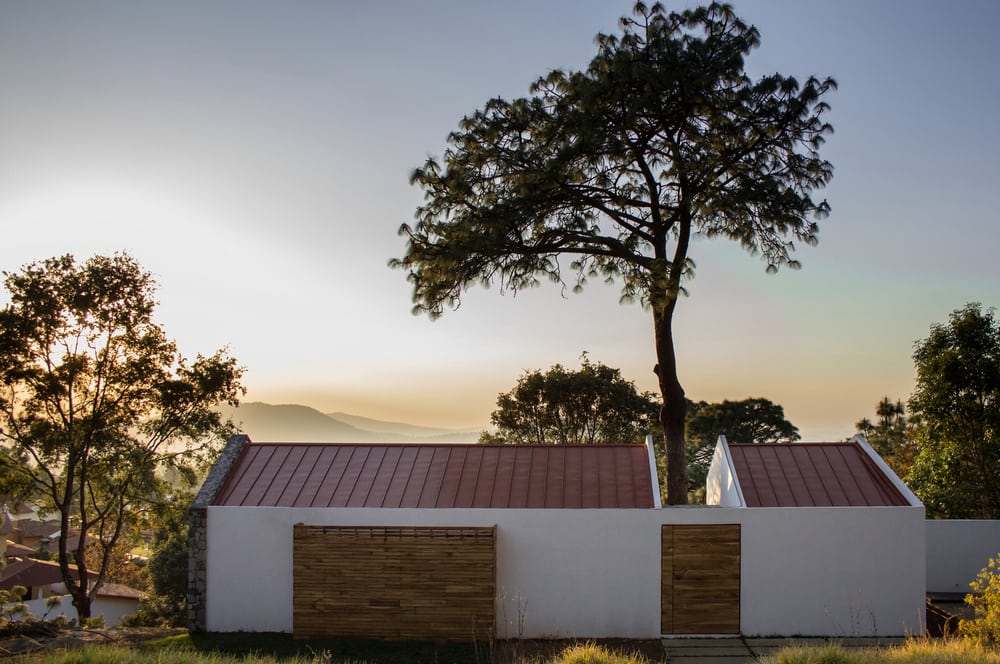 The rectangle-shaped house stands on a steeply sloped site. The entrance is through a thick, tall wooden door. Side walls are made out of opaque stone to ensure privacy. These features make the house look introverted at first glance. Stepping into the house, however, is a different story.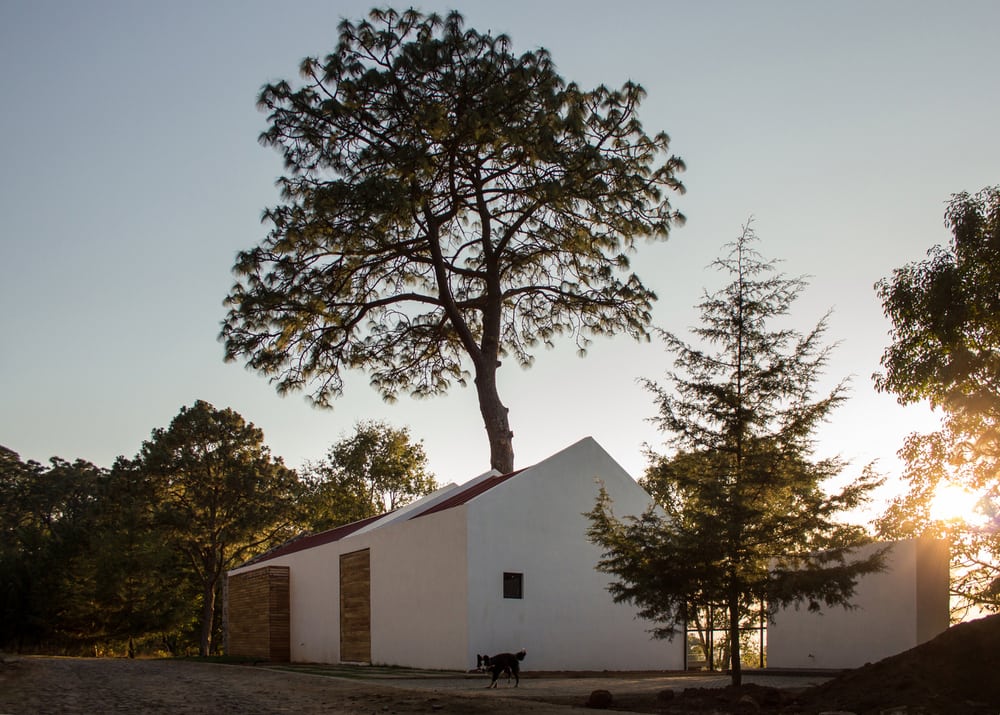 Way past the huge door, a mature pine tree stands in an airy void, welcoming guests. It splits the house into two volumes. The bedroom and living areas have access to sweeping landscape views, thanks to large windows.
Notes from the Architect:
The house is located in the Sierra de Mazamitla in a narrow terrain with a considerable slope whose particularity is a middle-aged pine as a leading element. The project was born through respecting the pine as an articulating part of the house.

An introverted linear house of 6 meters wide by 20 meters long that closes towards the street and its neighbors adjoining, but that opens completely towards the landscape by means of a cantilevered terrace throughout the length of the house. Taking advantage of the natural elements of the site, there are stone walls that confine the project and welcome from the street. The main entrance is a solid wooden door 2 meters wide by 3 meters high that occupies the same spatial dimensions of the vacuum generated by the pine, which when opened ends with it. The roof is gabled evoking the geometry of the traditional houses of the region, which is truncated generating a vacuum and a fragmentation to contain the pine.

From the spatial division generated by the natural location of the pine the house is divided into 2 areas, one towards the east where the main room with bathroom and dressing room is located separated from the rest of the house, and another one towards the west where they are located the public areas, two rooms and a wooden box or volume that contains the wet areas (laundry, half bathroom and full bathroom) that breaks with the continuous linearity of the project both inside and outside.
Click on any image to start lightbox display. Use your Esc key to close the lightbox. You can also view the images as a slideshow if you prefer. ?
Exterior Views:
Interior Views:
Drawing Views:
While we're on the subject of trees, we're sure you'll enjoy reading about the Elm and Willow House in Melbourne, Australia.