Built Area:     151.0 m2
Year Built:     2014
When viewed from a distance, Hemishofen House appears to be an architecturally impossible structure. This cottage home, standing near the Rhine river bank, looks like it's standing on stilts. Additionally, there appears to be no visible staircase which one can use to enter the house itself.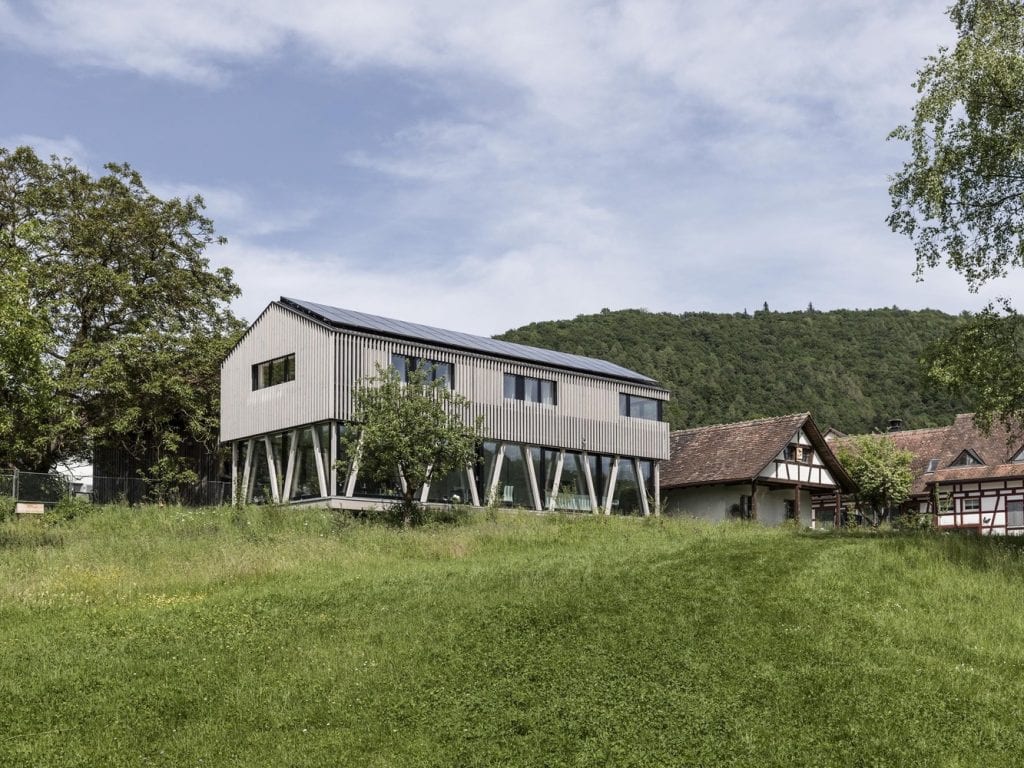 Upon closer inspection, however, one sees that the stilts are merely decorative elements. They don't provide any structural support at all. The stilts do cover the main parts of the house. Enclosed in glass are the living area, dining room, and the main floor kitchen.
Inside, it's open and airy. White walls and dark brown floors give the interiors a bright and spacious feel. Hemishofen House is a modernized version of the classic Swiss cabin. With its gabled roof and timber slats, the house blends in well with its surroundings.
Notes from the Architect:
In the middle of the Dofkern of Hemishofen and on the banks of the Hochrhein, the dream of close-to-nature living by the river is being realized for a young family. An open and clear plan organization goes hand in hand with a compact volume of the building and a high standard of construction. The façade picks up on characteristic structural elements of the environment and re-stages them in combination with contemporary living requirements. The differentiated formulation of the floors expresses the user needs and a clear architectural attitude to the environment.
Click on any image to start lightbox display. Use your Esc key to close the lightbox. You can also view the images as a slideshow if you prefer.
Exterior Views:
Interior Views:
Drawing Views: