Area:     140.0 m2
Year Built:     2014
Photographs:     Sergio Pirrone
Timber and metal frame work together to create Harfagar House, a contemporary home in Matanzas, Chile. It is a cantilevered house that sits on an elevated lot. Taking advantage of the topography, the house was designed to capture the stunning views.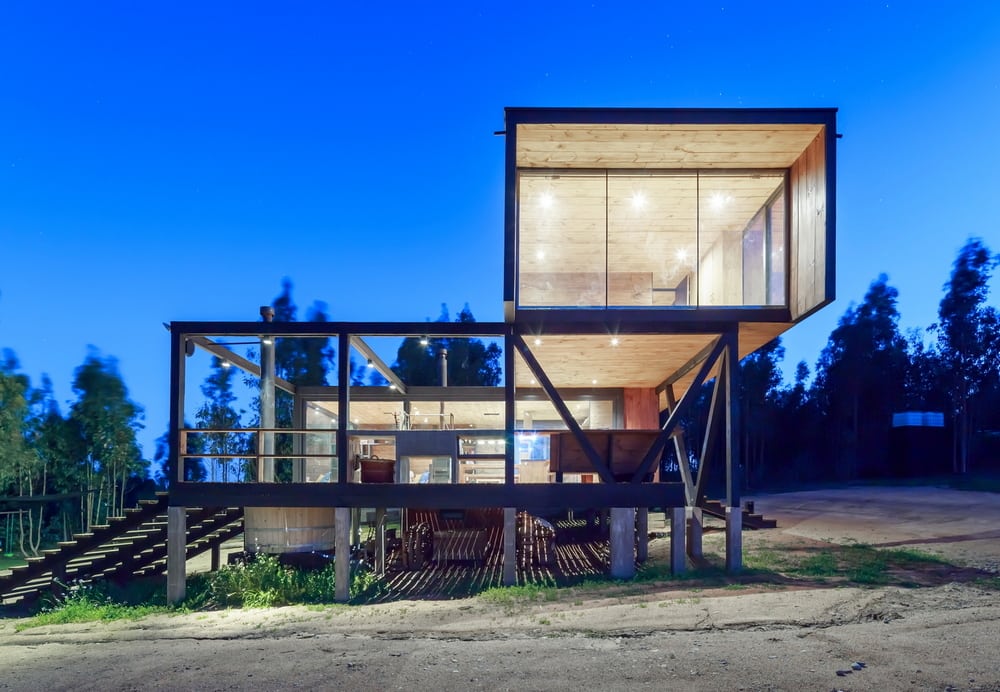 The home is made of two intersecting volumes, capturing different views from different directions. The first level has the living spaces, kitchen, and dining area. Upstairs are the bedrooms. The interiors are made up of contemporary décor and clean lines.
Throughout the house, quarter-sawn pinewood was used. It is complemented by metal frames and large glass walls. The façade is undoubtedly striking, capturing the attention of passers-by.
As a final touch, a sweeping deck was added on the first level of Harfagar Residence. This creates a refreshing and open living area that has breath-taking views of the outdoors.
Notes from the Architect:
The house is located in Centinela Hill, in Matanzas, seeking the views towards the village of La Boca, where the River Rapel flows into the Pacific Ocean. The project works as an interplay between two intersected volumes, where the first level contains the kitchen a living area and a dining area in form of an open plan and also a storage. The project searches to integrate the interiors with the spacious terraces creating in this way a sensation of greater amplitude. These terraces, one acting as an access and the other as an additional living room, are generated through an act of volumetric subtraction and provide good sunlight exposure.

The second level houses the bedrooms and seeks north orientation. The intention here is to make this volume as compact as possible. The connection with the first floor is provided through a staircase which becomes a prominent element at the main elevation.

The structure is being treated as a predominant mode of architectural expression – the V shaped pillars carry the weight of the second floor.

The dominant material for the structure and also for the cladding is local pine wood, quartersawn. It is implemented in a rather simple manner which permits working with local workforce, facilitating in this way the construction and diminishing the overall costas.
Click on any image to start lightbox display. Use your Esc key to close the lightbox. You can also view the images as a slideshow if you prefer. ?
Exterior Views:
Interior Views:
Drawing Views:
If you liked this home, then you'll also like Cantilever House…