In this ever-evolving world, we're getting craftier with how we make the most of our tight living and working quarters. Enter foldable furniture: the stylish, efficient way to maximize our cramped spaces! This trend has been really growing in popularity in recent years, and it's easy to see why.
From swiveling desks to transforming couches, these modern marvels let us make the most of our tiny spaces. Not only do they provide a practical solution to our smaller homes, but they also add a touch of class and individuality. Who could have imagined just a few years ago that a piece of furniture could be both multifunctional and stylish?
As we all learn to adapt and make the most of our homes during these unprecedented times, we need to start getting creative with our furniture solutions. That's why in this blog post, we're exploring the different reasons why you should use foldable furniture. Basically, it is to create innovative solutions for small spaces.
Whether it's for a home office, an outdoor area, or just for a change of scenery, foldable furniture can be used to create an efficient and stylish living and working space that's far from ordinary.
So, let's start by looking at the various types of foldable furniture available.
1. Foldable tables
Foldable tables are a great innovative solution for small spaces that require furniture with versatility. They are lightweight, easy to store and transport, and can be quickly set up and folded away. Foldable tables are great if you need extra surface area while entertaining guests, or need extra space to work on a project.
Foldable tables come in all shapes and sizes so that you can find the perfect fit for your space. Not only can they provide extra space in a pinch, but they also offer a unique, creative way to utilize your space.
Need a makeshift bar or buffet? The foldable tables are perfect for those last-minute gatherings with friends and family. When it's time to store them away, no need to worry about the clutter. Just fold them up and keep them away until you need to use them again.
You can even make your own foldable craft table if you lack a dedicated craft area at home. Even if you have limited space, you can still have your own beautiful craft station.
With foldable furniture, you can have the convenience of extra space when you need it, without sacrificing valuable storage space.
2. Wall-mounted desks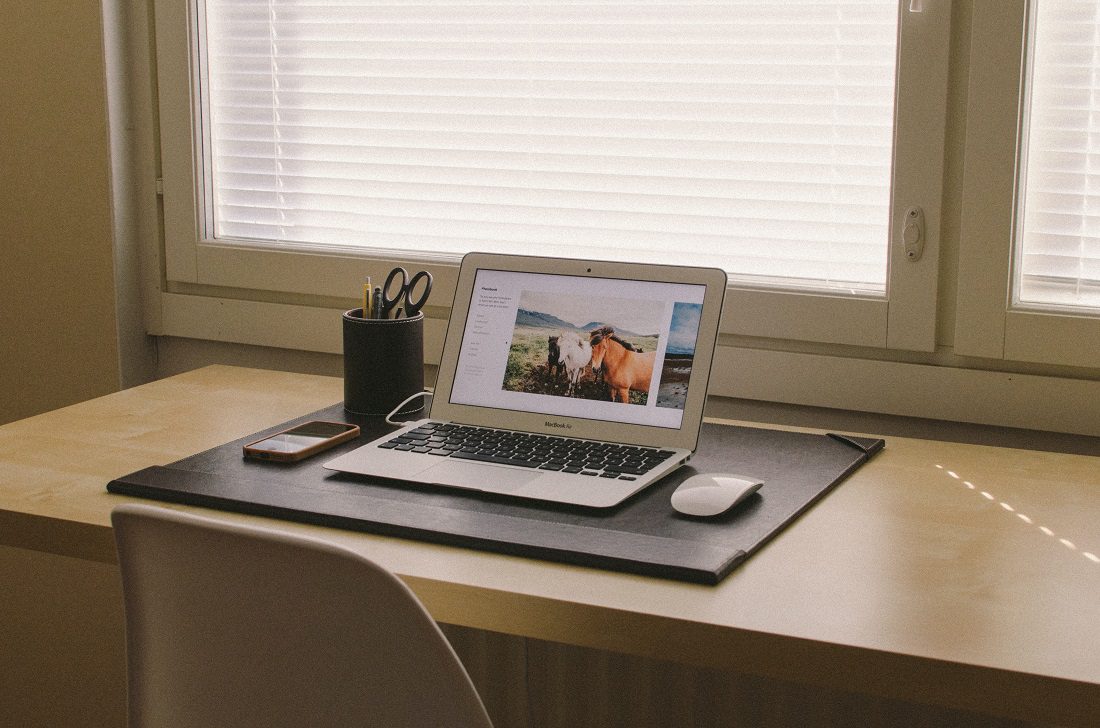 Wall-mounted desks are perfect for small spaces and can be used in a variety of ways. Folding away when not in use, they are a great solution for homes with limited space. They can be used as a workstation, a dining area, or even as a place to store books and other items. They can be easily mounted on any wall, allowing for organized and efficient use of space.
Wall-mounted desks are the perfect solution for those of us who crave a stylish home office but are short on space. From modern and minimalist to rustic and cottage-style, there's a wall-mounted desk to fit any decorating style. Crafted from materials such as wood, metal, or even glass, these types of foldable furniture feature sleek lines and bold designs that will enhance any room.
Whether you're looking for a traditional desk to provide a classic workspace or a modern desk to make a statement, a wall-mounted desk is a great option. They're great for small spaces, but they also look great in larger areas — the benefits are limitless!
The flexible desks come in a variety of styles, from modern to industrial and everything in between. Whether you want a sleek, minimalistic look or an eye-catching, statement-making piece, wall-mounted desks can provide the perfect solution. Floating desks are a popular choice for contemporary looks. Suspended from the wall, these desks can make the most of limited space.
Or you might opt for a more traditional look, with a sturdy wooden desk mounted to the wall. If you want a more rustic feel, a ladder desk with slatted shelves is an excellent alternative.
These desks are designed with convenience in mind; they can be folded away easily when not in use and still provide the same level of style and sophistication. Plus, thanks to the ladder-style design, foldable furniture can also be used to store books, magazines, and other items, giving you plenty of storage options in one stylish package.
Wall-Mounted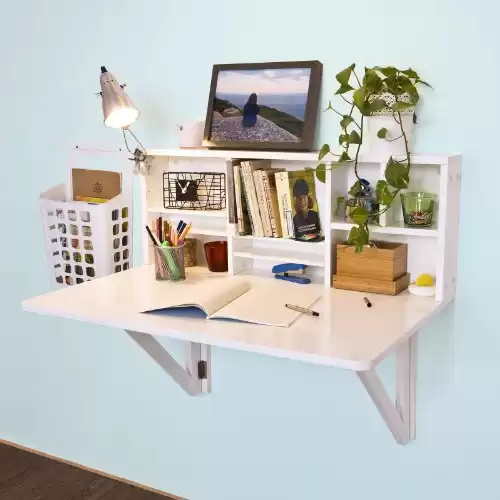 3. Multi-functional chairs
Multi-functional chairs are also a great solution for those with limited space. Use them to fit multiple purposes, using an extra seat when you have guests at your makeshift desk for working or studying. These chairs can also be easily folded up and tucked away when not in use, freeing up precious space in your home.
Not only is this a great way to keep your home looking tidy and organized, but it also provides you with a great deal of versatility. You can quickly move any foldable chair around your house to suit your needs, setting them up in your living room, dining room, or any other space to suit the occasion.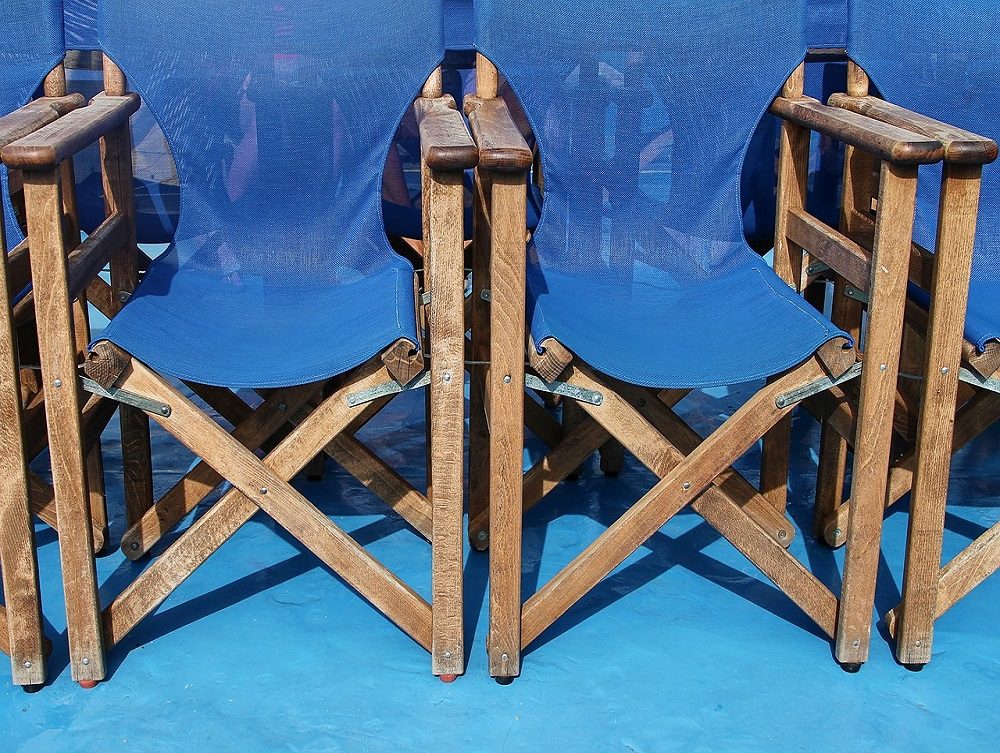 Foldable furniture is a dream come true for anyone looking for an easy-to-move furniture piece. With a few simple steps, you can quickly bring your chair from the living room to the dining room and back again — perfect for when you're hosting guests or need just a few extra chairs for a family gathering.
And with a range of styles and colors available, you can find the right chair to fit in seamlessly with the decor of any room. Invite your friends over for a movie night or throw a casual dinner party — whatever the occasion, your foldable chairs will make it easier to accommodate them all and make sure everyone is comfortable.
Whether you're hosting a dinner party or having a movie night with friends, you can rest assured that foldable furniture will be there when you need them. Additionally, these chairs are also comfortable and come in a variety of styles and colors, so you can ensure that they match the rest of your decor.
4. Sleeper sofas
Sleeper sofas are one of the most convenient pieces of furniture for small spaces. They serve as a comfortable couch during the day, and when it's time to go to bed, simply fold out the mattress and you're ready for a good night's sleep. Many sleeper sofas are also designed to be adjustable so you can make them into a single, double, or even queen-sized bed.
This makes it easy to accommodate guests or family members who come for an extended stay. With a sleeper sofa, you can enjoy the comfort of a sofa with the convenience of a bed in one package.
Our Pick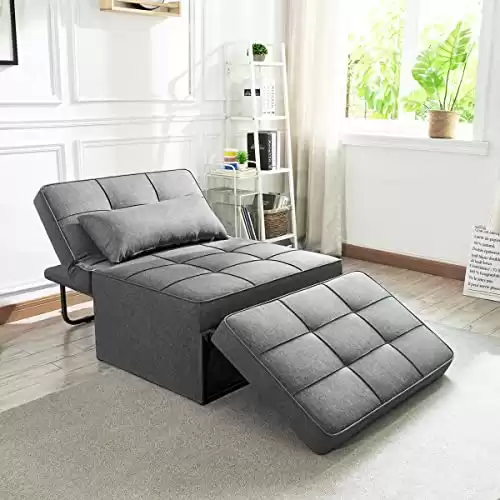 Convertible Chair 4 in 1 Multi-Function Folding Ottoman
The convertible sofa bed can be used as an ottoman in normal. It can be easily and quickly converted into a sofa, lounger, or bed to meet your various and versatile needs.
Buy on Amazon
We earn a commission if you make a purchase, at no additional cost to you.
12/01/2022 12:13 am GMT
5. Modular storage units
One of the most innovative solutions for organizing small spaces is modular storage units. These storage units allow you to create custom configurations of shelves, drawers, and cubbies, depending on your needs. Think of modular storage units as your own personal building blocks – with a few clicks of the mouse or taps of the fingers, you can create a perfectly structured space to fit any room.
Modular storage units can be used to declutter an office, kitchen, or even a bedroom, giving you an organized, modern space no matter how small. It is an especially great option for items that don't fit in traditional storage solutions, like items that need to be organized but do not have a specific shape.
Modular storage units make it a breeze to change up your space on the fly. With the ability to quickly add or remove pieces, these storage units can be an invaluable tool for any area that needs to be rearranged often. Whether it's for a redecoration project or simply reorganizing the living room, modular storage units make any project easy and hassle-free.
And of course, if you ever need more storage space, you can simply add more pieces to your existing set. Now that's versatile.
Our Pick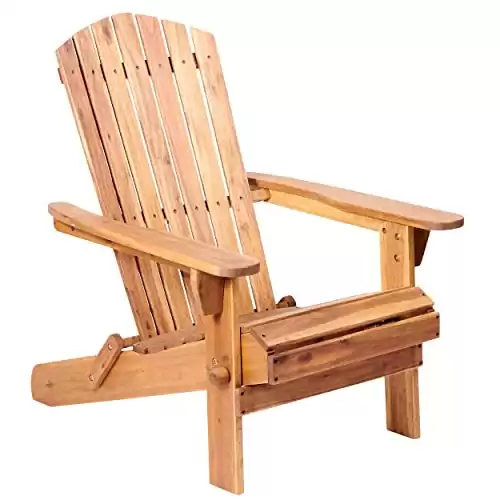 Folding Adirondack Chair
When it's time to put away the fire pit seating, this wood Adirondack chair conveniently folds down for easy storage in the shed or garage.
Buy on Amazon
We earn a commission if you make a purchase, at no additional cost to you.
11/26/2022 12:39 am GMT
Wrapping Things Up
Overall, foldable furniture is an excellent solution for small spaces. Not only is it more practical than bulky pieces, but it is also more affordable and easy to maintain. Foldable furniture is the perfect addition to any home, offering a creative fix to small-space living. With so many different designs, colors, and materials available, it's easy to find the perfect foldable furniture piece to fit your style and lifestyle.
Whether you're looking for a contemporary feel with a sleek look, or a more eclectic style to add a touch of personality, there's something for everyone. Not only do foldable furniture pieces offer a stylish way to add character to your home they also make it easy to save space when necessary. Foldable furniture can easily be stored away when not in use, helping to maximize the use of any small area.
From providing comfortable seating for a large family gathering to providing an easily storable solution when you need to turn a small room into a workspace, foldable furniture is a great way to make the most of the extra space. Not only is it incredibly versatile and can accommodate a wide range of needs, but it's also incredibly stylish and modern. With its minimalistic designs, foldable furniture can bring a chic and even contemporary look to any room.
Are you ready for a stellar space makeover?