When it comes to decluttering and organizing your home, storage cabinets are key. But it's not just about hiding things away⁠—it's about being mindful of what you're storing where.
It's easy to fall into the trap of thinking that as long as something is out of sight, it's out of mind. But it is not always true. Your home is likely to remain cluttered and chaotic if you are constantly shoving things into cabinets and drawers without taking the time to sort through them.
So, what is the solution? Invest in storage cabinets to separate and store all of your valuables. Here are some ideas to help you get completely organized—and finally get rid of clutter anxiety.
Top 10 Storage Cabinets That Incredibly Maximize Your Space
When it comes to storage, there are few things more versatile and convenient than cabinets with drawers and shelves. Whether you need a place to store clothes, linens, books, or other items, these cabinets are a great option.
1. BEST STORAGE CABINET: Finnhomy Accent Cabinet With Rattan Decorated Doors
This versatile storage cabinet is perfect for use as a sideboard or buffet server in your dining room or kitchen. The waterproof paint on the cabinet surface and natural rattan door decoration provide effective moisture protection, making it ideal for use as a bathroom floor cabinet. With its classic design, this cabinet is sure to complement any décor.
The rattan doors are both aesthetically pleasing and practical. They are made of natural rattan, which not only absorbs moisture and heat but also looks great. This makes them a perfect addition to any home.
This storage cabinet is larger than a regular cabinet, measuring 15.8″ D x 31.5″ W x 34.6″ H. The inside shelf is adjustable, allowing you to make the most of the available space. The wide desktop provides plenty of room for your belongings, giving you excellent value for your money. The top surface of the cabinet makes an ideal spot for coffee table books, artwork, plants, and other decorations.
PROS:
It is made from engineered wood and rattan
It has easy-to-follow instructions that provide clear illustrations and identifies all the spare parts
Its manufacturer provides a replacement or a full refund if there is a quality issue
CON:
The parts appear to be very similar to one another
It is highly recommended to anyone looking for a beautiful and affordable piece of furniture. "Super pretty and lightweight," says a buyer. "Sturdy and rather easy to assemble. For the price point, it is really unbeatable."
While you should take your time when putting parts together. Be sure to match the correct pieces to the correct side. "It was easy to miss since a few of the pieces are very similar, but it definitely matters whether they are labeled A or B because those labels correspond to the left and right sides of the piece," explains a buyer.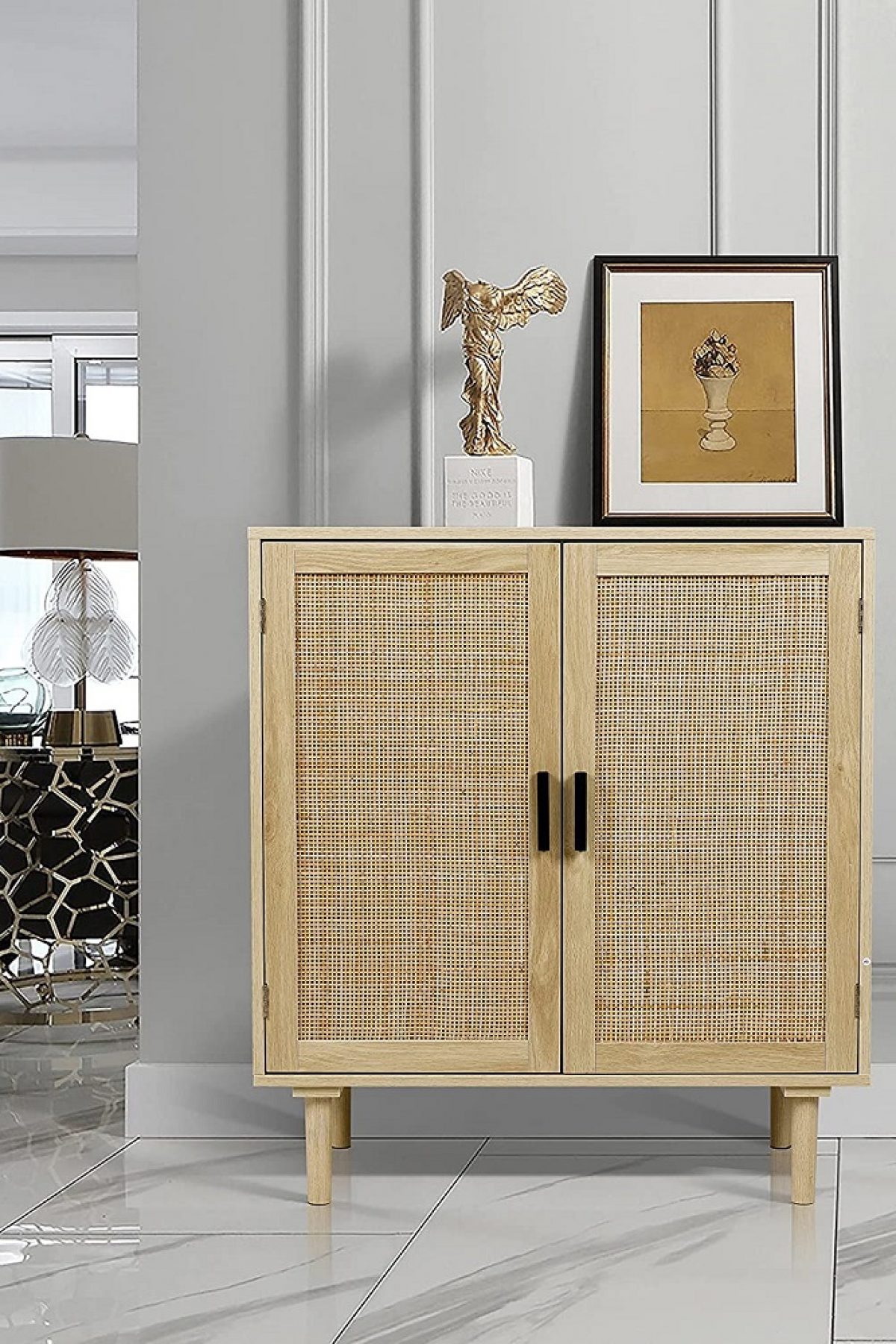 2. BEST NARROW STORAGE CABINET: Spirich Home Tall Freestanding Storage Cabinet with Three Tier Shelves
By considering a mix of open and closed storage options, you can create a more customized and functional storage solution for your home.
This storage cabinet has an enclosed section at the bottom where you can store your personal items. While there are three open shelves on top that provide useful storage for daily necessities. This combination of storage options ensures that you can find whatever you need quickly.
The tip-over restraint device adds an extra level of safety, ensuring that the cabinet will not tip over easily. This is a great choice, especially if you have children or pets. Dimensions: 11.8″ D x 15″ W x 59.8″ H
PROS:
This large storage container is perfect for maximizing your vertical space
It's perfect for adding a touch of class and sophistication to any room
Its design does not take up too much space
CON:
It can be difficult to assemble it on your own
The shelves are the perfect height for storing bath towels, toiletries, and other essentials, and it looks great, too! "Our guest bathroom didn't have any storage for bath towels and other things you would keep in a bathroom closet," says a buyer. "This however was perfect! It fits right in the spot between my shower and sinks and the shelves are the perfect height!"
It can be helpful to have someone else available to assist with assembly. "Granted it's partial user error, but they could help with better instructions," writes a buyer. "Almost need two people to assemble as well."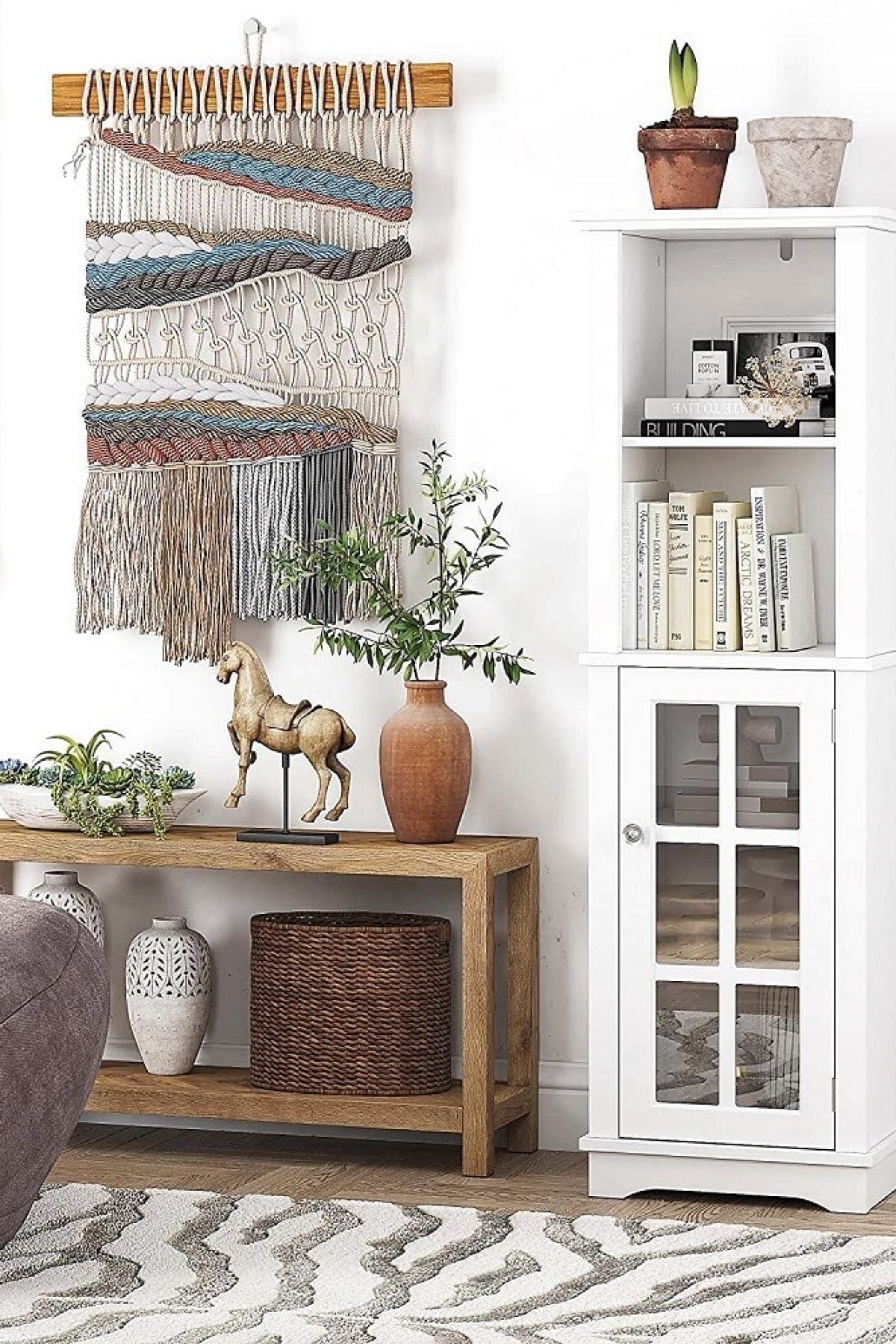 3. BEST TOY ORGANIZER CABINET: Aheaplus Toy Storage Cabinet
This 3-tier multi-bin storage unit will be accessible to children, allowing them to put the toys or books on the shelf by themselves. This will help to develop their independence and organizational skills.
This cabinet, with dimensions of 26.4″ D x 11.8″ W x 34.5″ H, is a versatile storage solution that can be used in a variety of settings. Its compact design makes it perfect for small spaces, such as bedrooms, children's rooms, living rooms, and entryways.
PROS:
An excellent storage system that can provide a place to easily store toys and books, and can help save time when organizing
Its spacious top can be used to display photo frames, alarm clocks, and plants
CON:
If you're in the market for a reliable storage solution, this is a great option to consider. "Sturdy," says a buyer. "Holds a ton of toys! Highly recommended!"
While it is ideal for small nurseries or bedrooms. "It's not too large, but also has plenty of space for baby toys," explains a buyer.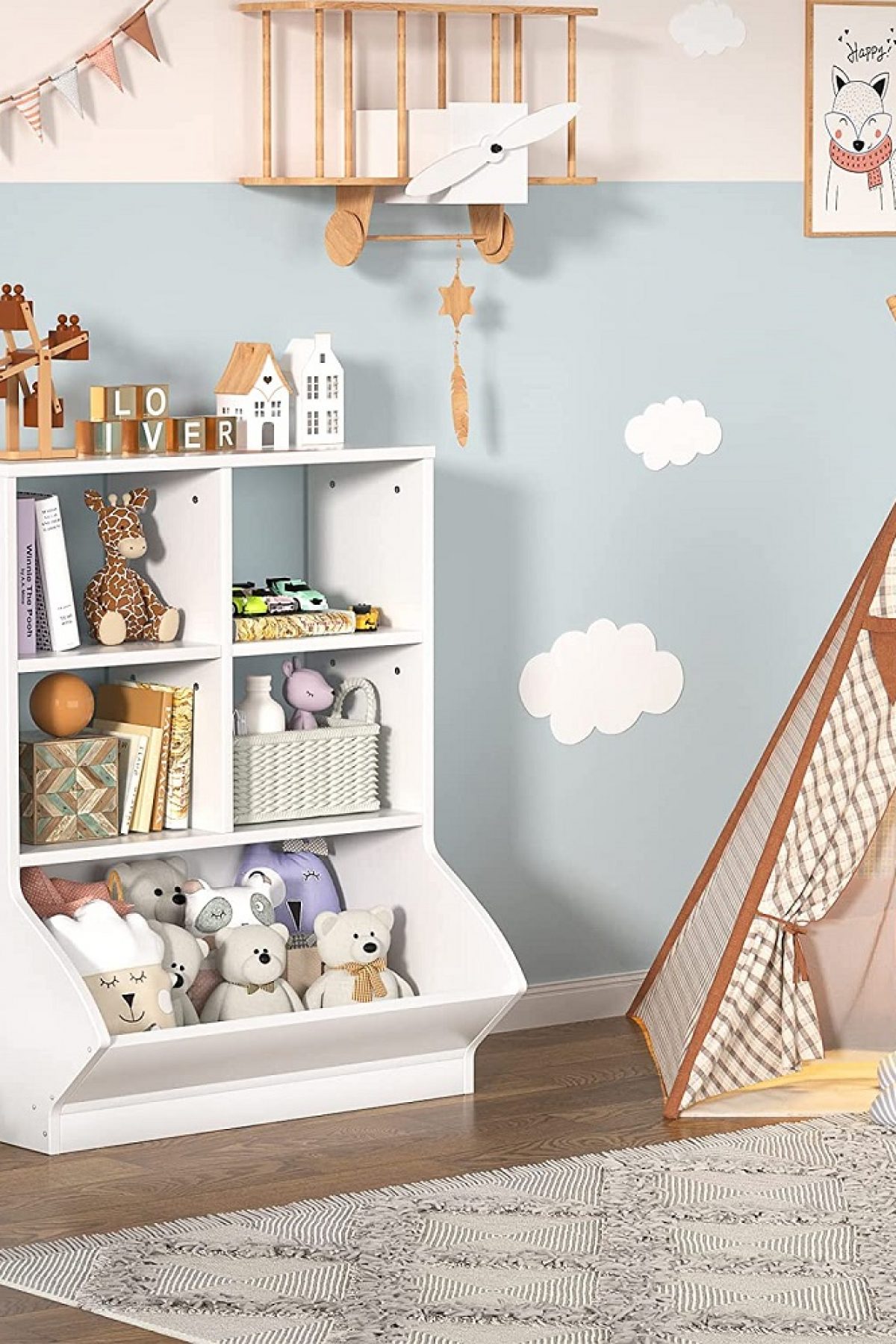 4. BEST MULTI-USE STORAGE CABINET: KOUSI Large Cube Storage
This storage shelf measures 56″ D x 18″ W x 56″ H, providing ample storage space for a variety of items. Each cube measures 14″ D x 18″ W x 14″ H, this is three times larger than the standard cube size, allowing for an extra large capacity. This shelf is perfect for storing folded clothes, bags, accessories, shoes, toys, yarn, and much more. With the generous size of the cubes, you can store an abundance of items and have plenty of room to organize them easily. You'll love the versatility of this storage shelf and the practicality of the extra-large cubes.
PROS:
With its efficient cube design, all your items are conveniently stored in a neat and presentable fashion
Its timeless and modern design blends seamlessly into any style of décor, be it classic or contemporary, or anything in between
CON:
Doors are prone to becoming stuck
This system is also incredibly easy to customize, allowing for a variety of configurations. "I love this cube system," explains a buyer. "It was ready to assemble once I got the hang of it, lol. Several possibilities of how to put it together to suit your needs."
While the issue with the doors is particularly inconvenient most likely only for those in a rush, as it can cause unnecessary delays. "Only thing I dislike is the doors," says a buyer. "They constantly get caught on the ones above or below, so when you open one, you open two or three."
5. BEST PRINTER STORAGE CABINET: Winsome Wood Halifax Storage Organization Cabinet
Its space-saving design ensures your home or office remains neat and organized, while the sturdy construction ensures it will last for years to come. This cabinet is ideal for those who have a small space that needs to be maximized but also needs a place to store printer supplies and other essential accessories. Product dimensions: 15.98″ D x 30.71″ W x 26.3″ H
It is designed to conveniently hold your printer, paper, and any other supplies.
PROS:
Its multi-drawer storage system provides an even greater level of organization and convenience
It is made of high-quality composite wood that is sturdy and long-lasting
It has wheels for mobility
CON:
Parts seem to have no label
This product is beautiful and very reliable. "Loved this product," says a buyer. "Super sturdy and looks nice!"
But, to ensure that the process is completed correctly and efficiently, take the time to properly identify the pieces and their correct orientation. "They have a diagram and written words but label NONE of the contents except in a diagram," writes a buyer. "Make sure you know what piece is what and which way it goes on because this does not tell you."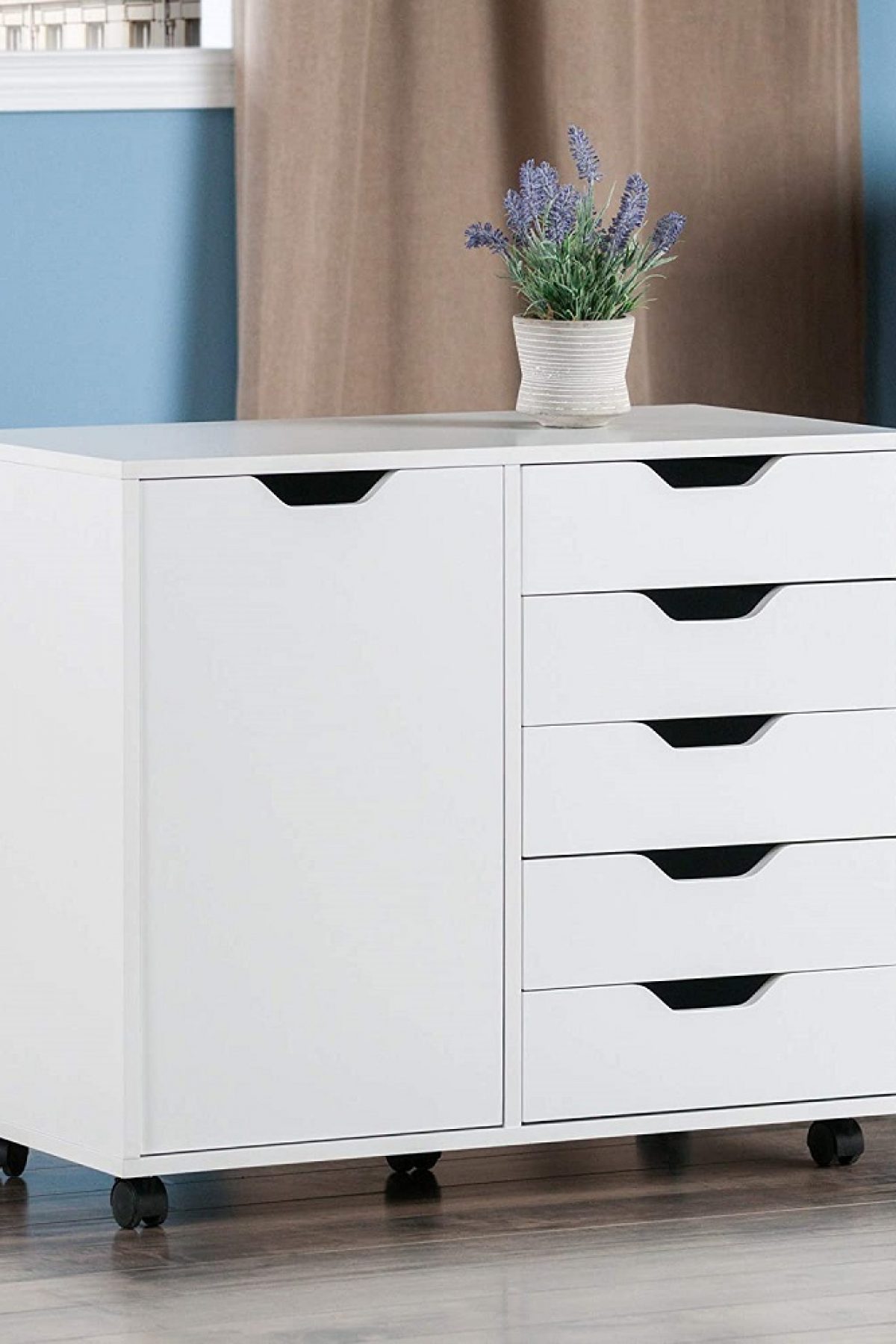 6. BEST CORNER CABINET: Spirich Home Tall Corner Cabinet with Two Doors and Three Tier Shelves
This practical storage solution allows you to make full use of your corner space while providing a stylish decorative touch to the room. With its slim design, this cabinet organizer can fit perfectly into tight spaces, allowing you to store all your essential items without taking up too much space. It measures 12.4″ D x 23.62″ W x 63.78″ H.
This cabinet has three fixed open shelves, providing easy access and an attractive display. And its double-door compartment offers concealed storage space. Install it in any room, including your kitchen, where you have a lot of ingredients to store. You can also paint it to match your kitchen's color palette.
PROS:
It can maximize space, especially in smaller rooms such as bathrooms, kitchens, or bedrooms
Its refined look is sure to make it a centerpiece of any room
CON:
It is insufficient for those seeking a larger storage
This product can pleasantly surprise you. "I was very happy that it exceeded my expectations when it arrived," explains a buyer. "It was very easy to assemble by following clear picture directions. It was packaged well with no damage."
However, it has limited storage capabilities; the size is quite compact. "Not much room to store anything, it's pretty small."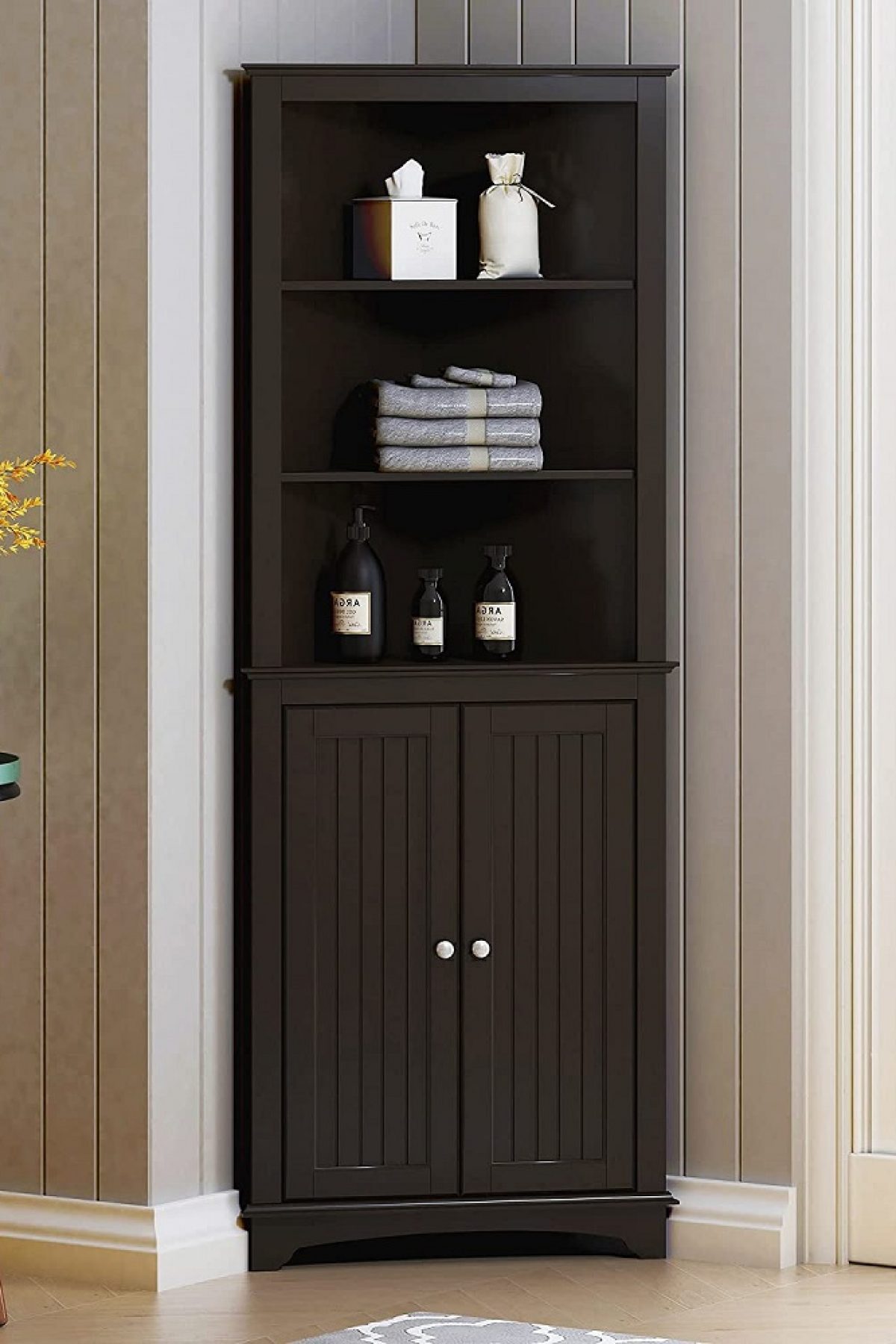 7. BEST MODERN STORAGE CABINET: Ecopriso Entryway Table with Outlets and USB Ports
The Ecopriso console table is the perfect choice for those looking for a stylish and functional piece of furniture. This console table offers two convenient USB ports and two regular outlet plugs, providing the opportunity to charge multiple electronic devices. These include items such as lamps, remotes, cellphones, smartwatches, AirPods, etc.
With its fashionable design, this console table can also be used to adorn any room, providing an extra level of sophistication to your home or office. This table/cabinet, which measures 11.8″ D x 32″W x 31.8″H, will fit into any room.
PROS:
Its timeless charm and versatility allow it to work effortlessly in both traditional and contemporary settings
It can function as an entryway table, TV console table, and storage cabinet for your home or office necessities
CON:
Assembly requires a bit of time and patience
It is a stunning work of craftsmanship—highly durable, with great attention to detail. "The finished piece is attractive, sturdy, and has some really nice details—like the outlet attached to the end so you can plug in various items on one plug," says a buyer.
The assembly of this product is not overly complex. But "this took a little time and patience to assemble but all parts were in the box and the directions were easy to follow," explains a buyer.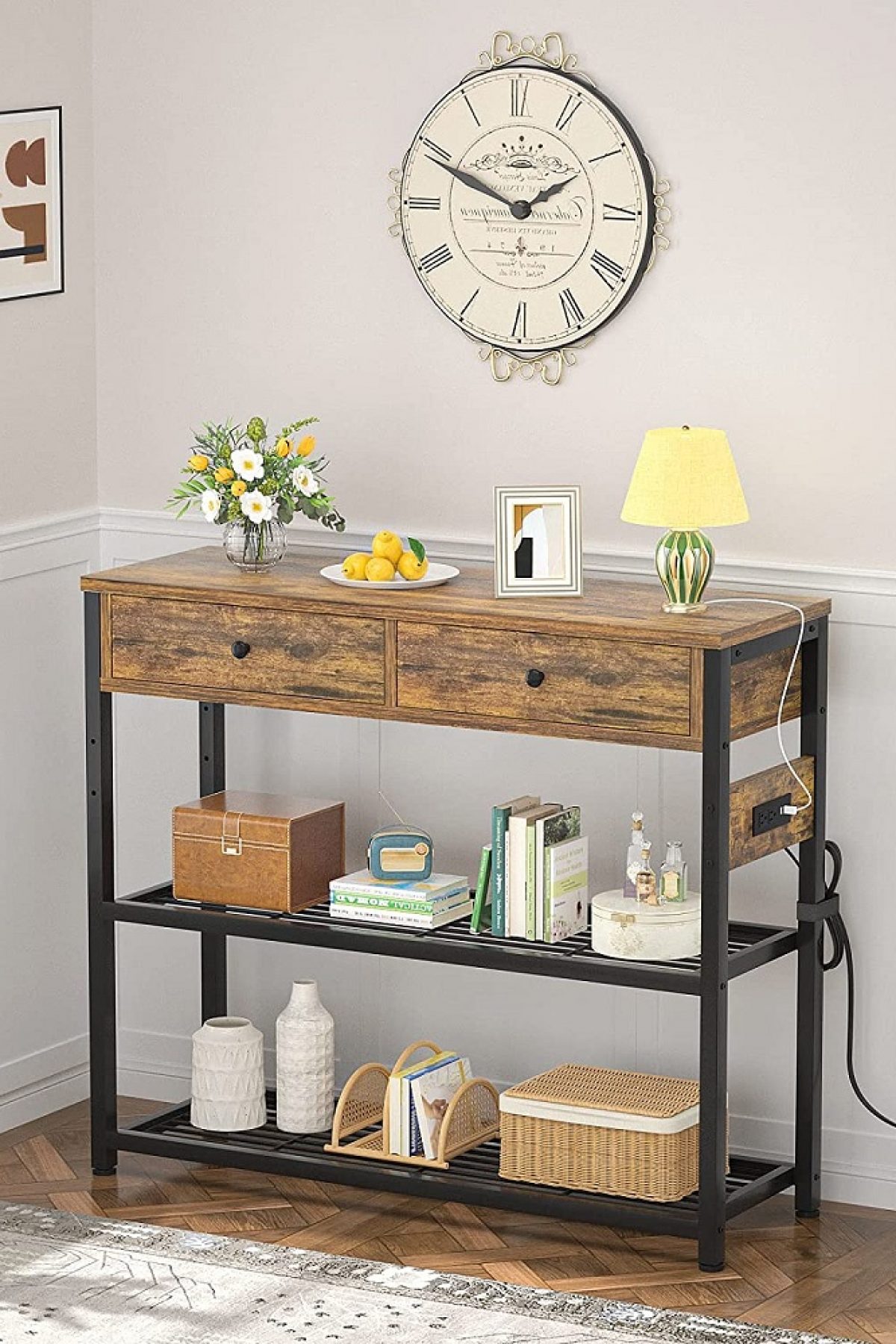 8. BEST BASEMENT STORAGE CABINET: Rubbermaid Large Lockable Five-Shelf Freestanding Storage Cabinet
Constructed with premium quality resin, this product is designed to provide superior durability and strength, while also being virtually maintenance-free. Its unique snap-together design also allows for quick and easy assembly without the need for tools, while still providing superior strength and durability.
Rest assured that this product will last while holding a maximum of 690 lbs of weight. It will not peel, rust, dent, or rot no matter what the environment or conditions it is exposed to. This guarantees reliability and worry-free use. It measures 18″ D x 36″ W x 72″ H.
PROS:
This unit is highly customizable, featuring four adjustable and removable shelves
It has lockable doors to keep valuable items safe and hazardous materials away from children and pets
It is made from high-quality materials and is designed to withstand the test of time
CON:
It has a slight waterproofing issue
Its cost-effective price makes it an even more attractive option. "This is a great quality cabinet for the price," says a buyer. "All the pieces fit firmly in place and are of good quality."
Due to a slight waterproofing issue, this item is not suitable for storing items that need to be perfectly dry. However, it can still be used for items that are not significantly affected by a little bit of water leaking in. "So it does leak a bit but in this case, I'm not storing anything that needs to be perfectly dry," explains a buyer.
9. BEST OUTBACK STORAGE CABINET: IWELL Storage Cabinet with Door & 3 Drawers
Our floor storage cabinet offers a wide range of storage solutions for your home. Its design includes three drawers and one side cabinet, each with an adjustable shelf to store and organize your items. Three large drawers can accommodate items of various sizes, such as cosmetics, clothing, daily necessities, tableware, recipes, medicines, and important documents.
The side cabinet also features adjustable shelving to store items of any height. It is an ideal addition to any room and can help keep your space tidy. Dimensions: 31.5″ L x 11.8″ W x 30.7″ H.
PROS:
It features a warm and inviting rustic finish that will add a touch of elegance to any space
The interior shelves are adjustable and can be customized to suit your needs
CONS:
Overtightening screws can cause the particleboard to crack
The seamless combination of form and function makes it a great choice for any room, and it is sure to be a much-appreciated addition. "The piece looks very nice in the room, and is functional," says a buyer.
But, take extra precautions when tightening the screws to prevent further damage to the components and particleboard. According to a buyer, "If you do use a screw gun or a drill just be sure not to over-tighten things because that can end up cracking the particleboard."
While a less-expensive option can be a more appropriate choice for those who are looking for a larger item. "Very cute and sturdy, but a little pricey for the size," explains a buyer.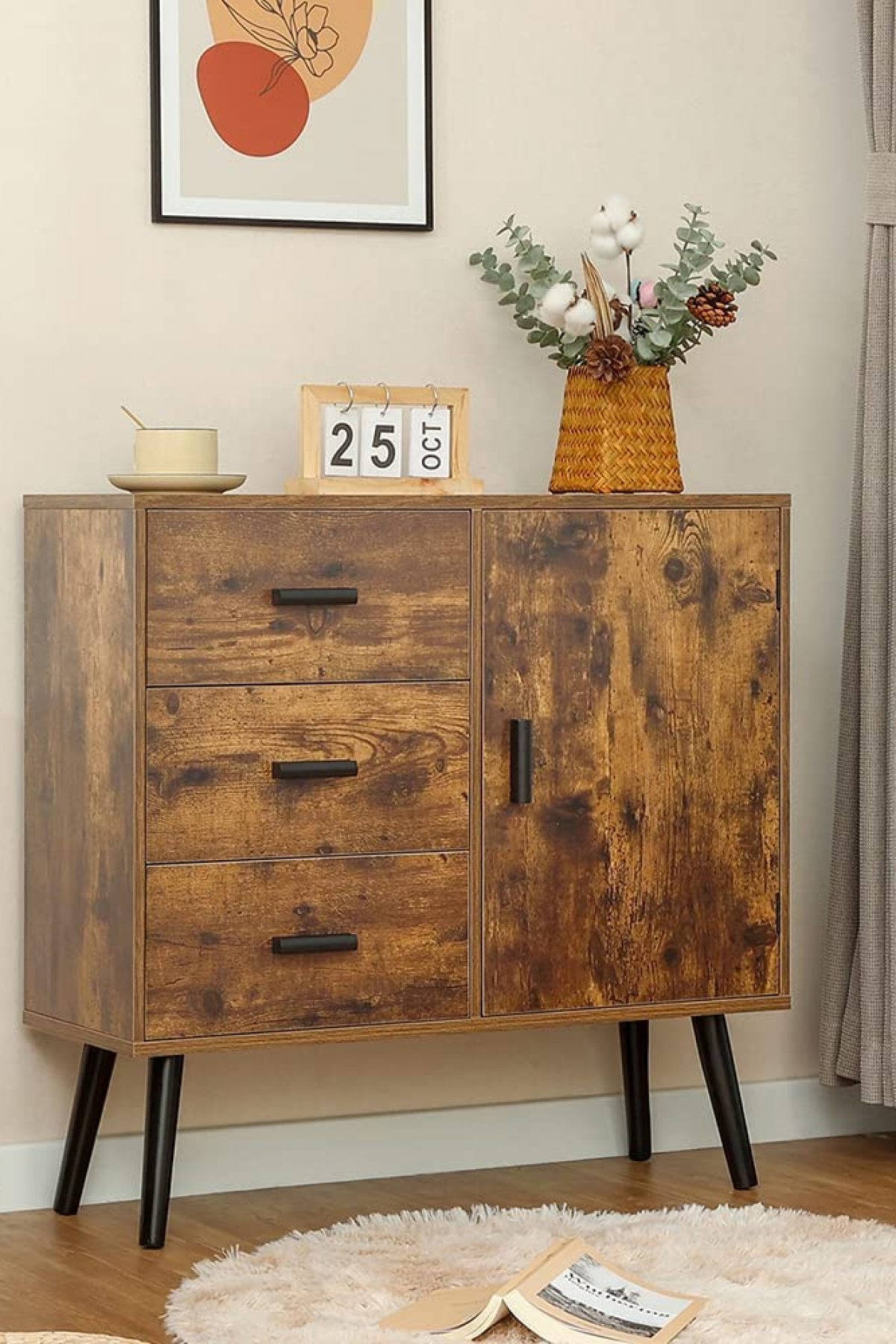 10. BEST-PRICED STORAGE CABINET: RiverRidge Somerset Two-Door Design Cabinet
This traditional Somerset design exudes sophistication. It is sure to add a degree of elegance to any home with its detailed inset door and side panels. Not only does this piece look beautiful, but its high-quality craftsmanship also ensures its durability and longevity. This door is truly a timeless piece that is sure to remain stylish for years to come.
It has two interior shelves, one adjustable and one fixed. This allows for maximum customization and convenience when organizing your items. The upper inner part is adjustable. It is 22.88 in W x 7.88 in. D x 24.38-in. H.
PROS:
The adjustable shelf can be moved up or down to accommodate larger items
The fixed shelf offers a sturdy and dependable surface for smaller items
Items are secure while easily accessible
CON:
Can cause damage to the wall without stronger anchors
This is an excellent cabinet for the cost. "Nice cabinet for the price," writes a buyer. "Easy to assemble, clear instructions with parts list, and easy to install. I just ordered a 2nd one."
While, using stronger anchors, such as metal ones, to ensure a secure mount and to prevent damage to the wall or the cabinet. "The only problem is that they give you plastic drywall anchors to mount the cabinet," explains a buyer. "Each anchor can hold 20 lbs for a total strength of 40 lbs."
Conclusion
Storage cabinets are an essential part of any organized space, whether you're looking for something to store items around the house, the office, or even the garage. With this in mind, we've compiled a list of the best storage cabinets on the market. We have everything from tall, lockable cabinets to low-level shelves.
Each of our picks is built to last and provides excellent storage and organization solutions for any type of space. So whatever you need there is something in our roundup for you!