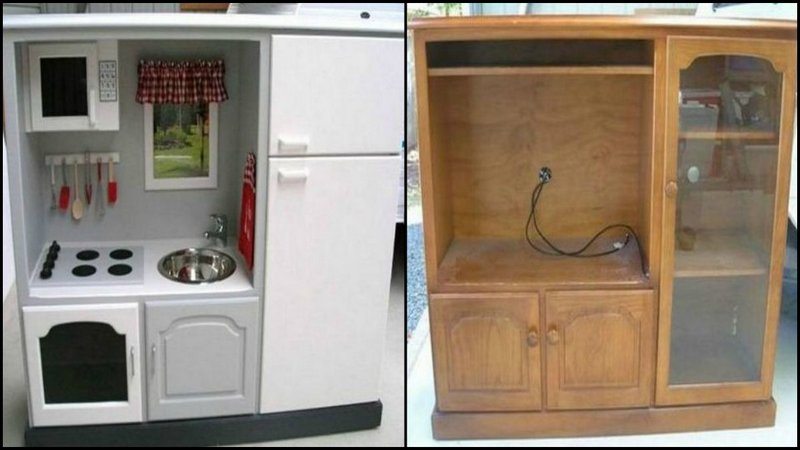 We've all had that same difficult experience of trying to move an old, boxy, heavy TV set. But did you know that trying to get rid of the clunky TV cabinets they once occupied can be just as laborious?
Now that we're all digital, there are millions of old, discarded TV cabinets that are unloved and unwanted. If you still have one in your garage or storage, here's how you can turn it into a play kitchen. If you discarded your cabinet 'way back when', just check Craiglist or Gumtree. There are lots listed for free.
A DIY play kitchen is more stable and hard-wearing than commercially sold plastic versions. And have you checked play set prices in toy stores lately?? We think this is a wiser option to go for. What do you think?
They're also closer to real kitchens. We say it's a gift for kids they will surely love!
Materials:
Old TV Cabinet
Extra Wood Boards/Pieces
Undercoat Paint
Jig Saw
Sink Set
Dark Perspex
Kitchen Accessories (curtains, towels, etc.)
Knobs and Coasters – for stove
Drawer Pull/Cabinet Handles – for microwave and cabinets
Little Baskets/Racks – for fridge interior
Hinges
Tools:
Click on any image to start lightbox display. Use your Esc key to close the lightbox. You can also view the images as a slideshow if you prefer 😎
If you liked this project, you will also like viewing these projects for kids…