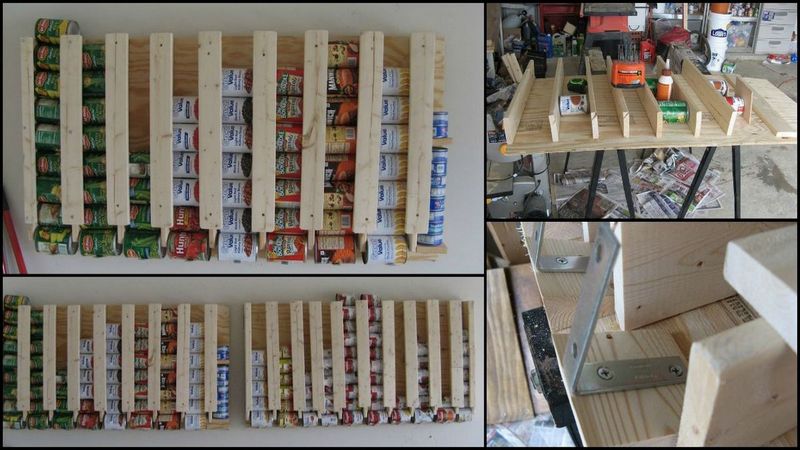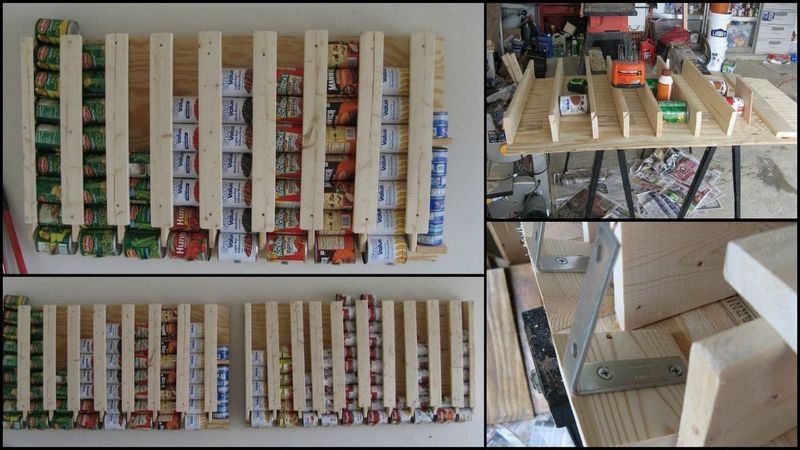 Looking for some space-saving canned goods storage for your pantry? How about this easy DIY canned food dispenser? It's an inexpensive project where you can use off-cuts and scrap wood from previous projects.
Aside from saving space or getting more space for a small pantry, this dispenser also provides easy, hassle-free access to your canned goods. The labels are conveniently displayed, plus you don't have to reach up or squat down to find what you need.

Canned Foods often have a bad reputation, but they can be brilliant store-cupboard standbys. In the world of long-term food storage, they are one of the best options around.
They are widely available, easy to store, have an extended shelf life, and are usually inexpensive. There is also a great variety of canned goods available, so you can always find something to suit your taste.
Not only are canned products convenient, but they require very little preparation and heating time.
If you have a small business and are using some canned ingredients, this is also recommended for you as it is a clever way to keep track of what needs to be replenished. Now doesn't it make things a bit easier?
With very basic carpentry skills and just a couple of hours of your time, you can build one and get your pantry more organized with this canned food dispenser storage system.
Do you know someone else who will be interested in this idea? Don't forget to share it! 🙂
Materials needed to build a canned food dispenser
You'll need these materials:
1/2″ Plywood
1/4″ Plywood
1×2 and 1×3 Wood Planks
Screws
L Metal Brackets
Wood Glue
And these tools:
How to Build a Canned Food Dispenser
1. Measure and gather the materials.
2. You'll be needing plywood, where we can screw the pieces of wood rows, and this will be attached to the wall.
3. Screw an L-bracket to the wedge piece, to make sure that the cans don't fall.
4. Attach the base to the plywood as additional support. (optional)
5. Slice a few pieces of plywood with the same sizes, and screw these as rows for the cans.
6. Slice a few pieces of plywood for the front of the rack, and screw these with the rows as a stopper to avoid the cans from falling.
7. Make sure that the cans that we want to put on the canned food dispenser fit in each row.
8. Once assembled, we can now mount the canned food dispenser to the wall.
Thanks to Amy and Toby for this great project. You can get the step-by-step instructions here…
On the other hand, if you are too busy, here is another way to keep your pantry organized: set up a premade canned food dispenser.
Are There Premade Canned Food Dispenser Options?
An organized kitchen pantry can make cooking and meal planning a breeze. And there are "prebuilt" canned goods organizer options you can use. There are many different types of canned food dispensers/organizers available for purchase.
Some are designed to fit specific pantry sizes, while others are more universal in design. Many organizers come with multiple shelves and compartments, making it easy to organize your canned goods by category. Modern designs include a tracker system that deals with expiration dates, dispensing your food from oldest to newest.
5 Easy-To-Install Canned Food Organizers
The FIFO Can Tracker is a great way to save money and reduce food waste. By using the First In First Out model, you can be sure that your food is always fresh.
The tracker stores and rotates your canned goods on a First In First Out model, meaning the cans you've had longest are used first. This is perfect for preventing those pesky diced chili cans, soup cans, or standard vegetable cans from going bad before you've had a chance to use them. The tracker can hold up to 15 ounces of food, making it the perfect size for any kitchen.
PROS:
This saves you money on expired food and waste
It can accommodate up to 54 cans and can be easily linked with other units to increase storage capacity
It is designed to fit onto existing shelves in your pantry or cabinet with dimensions of 12″ H x 16″ W x 16″ D
CON:
Its assembly can be effortful without watching the instructional video
If you need a can organizer, this is an excellent option. The best part is that there will be no can expiration dates to worry about. "Overall they are wonderful as far as organizing your canned goods are concerned, I think I'll be able to keep them for many many years," says a buyer.
It must be assembled, but, there is also a YouTube instructional video that can help you ensure you understand the steps. "It was fairly easy to assemble," writes a buyer. "However, this was because I watched youtube videos and I saw how an elderly gentleman did it. I used a wrench to turn the crossbar things and that helped a LOT…also a rubber mallet is your friend when assembling this."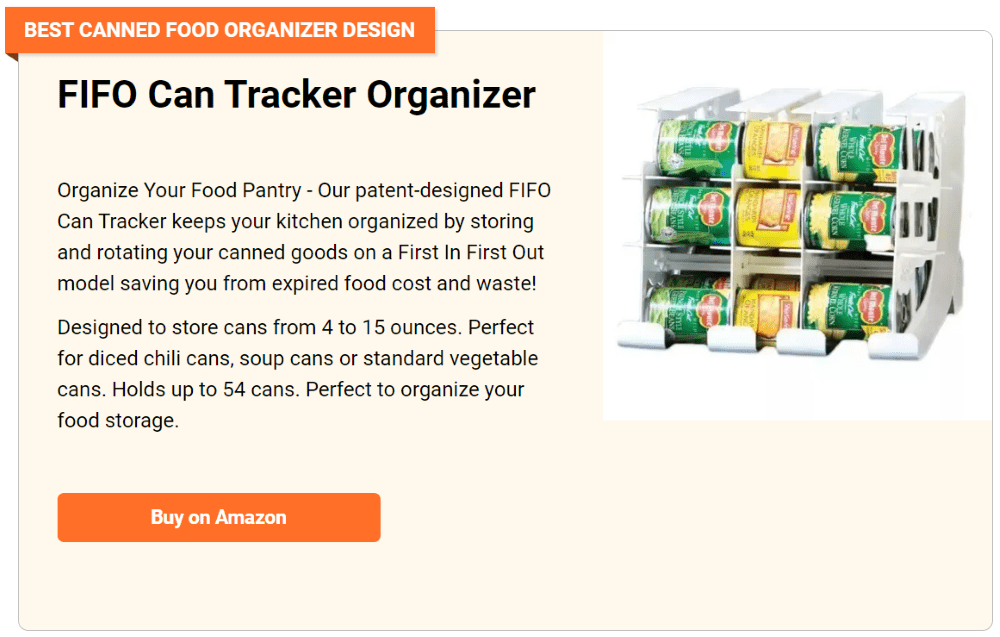 This canned food dispenser is perfect for those who have a lot of cans to store and need a reliable way to keep them organized. The five-layer can rack is a great storage option for those who need to store a large number of cans. This rack can store a variety of cans, giving you a lot of storage space.
This shelf has ten adjustable plastic dividers that allow you to store different sizes of cans and jars. You can easily find what you need and keep your kitchen organized by aligning and organizing these items.
PROS:
This a real space saver which provides plenty of space to store canned goods
It can hold up to 60 cans or jars of various sizes
It is made of heavy-duty metal with bronze plating and has rubber pads to keep it from sliding or scratching surfaces
It is simple to set up and comes with all the necessary tools for assembly
CON:
Assembly can be also tricky but it is doable
If you're looking for a great way to free up a significant amount of space in your pantry, this is the item for you. "This is a great product," says a buyer. "I purchased this item to free up space in my pantry. It's very strong, built well, and holds about 60 cans depending on the can size. Very happy with this product."
While the key is not to tighten all the screws until the end, once all the shelves are in place. "Pretty easy to put together as long as you don't tighten all the screws till the end once all the shelves are in place," explains a buyer.
It is an aesthetically pleasing option to add to your home. This incredible product not only organizes your cans but also adds a decorative touch to your kitchen. It maximizes available storage space and is an excellent addition to your countertop, refrigerator, or kitchen cabinet. Take one can and the others will automatically roll into place.
PROS:
Its powder-coated finish makes it resistant to chipping and fading
Its four rubber connectors allow it to be stacked up to multiple units
It is perfect for both home and office use
CON:
Take extra precautions when loading it to avoid accidents
It does what a buyer expects it to do. "Good purchase for the money," she says. "I like that you can use them singly or double up."
Although this product appears to be a little unstable when fully loaded, it also works as advertised once properly set up. "Doesn't seem totally stable when fully loaded but once in place it works as advertised, " writes a buyer.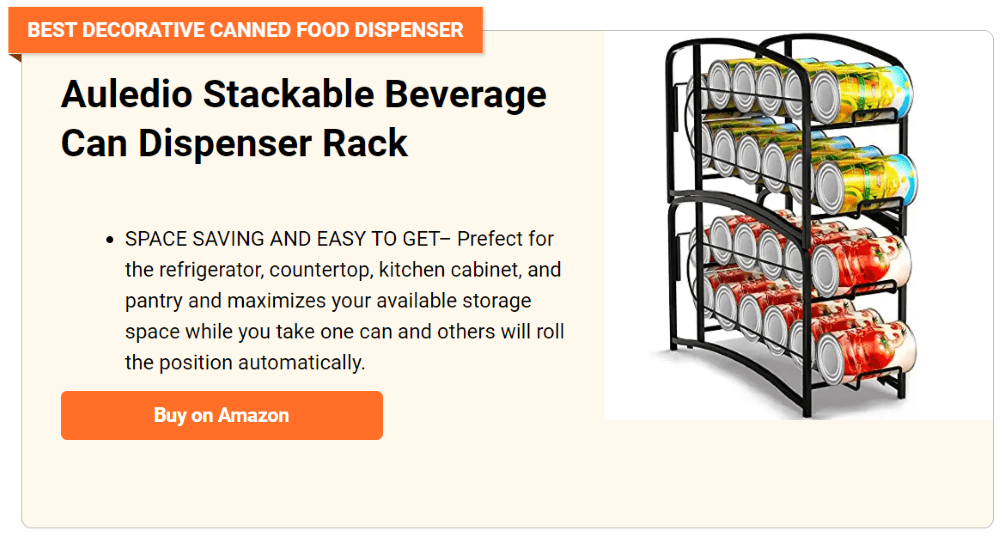 This sleek and stylish can dispenser is perfect for any kitchen. It holds up to 10 cans and takes up minimal space on your table or countertop. This vertical can dispenser is a great way to organize and store your cans while providing a stylish look.
Whether you're going for a country-chic look or something a little more rustic, this combination is sure to give your space the perfect finishing touch. This combo of black metal wire and burnt brown solid wood is ideal for adding a cottage touch to your home decor.
Its angled device and open design make it ideal for storing canned goods. The cans roll down the platform easily and are collected at the bottom of the storage rack.
PROS:
It is perfect for use in your home kitchen or commercial setting and takes up a minimal countertop or table space
Simply place your canned food into the organizer and it will do the rest
CON:
It is extremely useful. According to a buyer, "They will keep my food storage fresh as it rotates automatically. Love this product."
If you see it out of stock, check back frequently or sign up for notifications from the retailer so you don't miss your chance to buy it. "They work perfectly in our pantry and are very sturdy. The only downside is that they appear to be no longer available. I would have loved a couple more."
This metal canned food dispenser is perfect for organizing your canned products. They come with four connectors, so you can stack multiple units to maximize your storage.
The adjustable plastic dividers are also the perfect solution for storing different-sized cans, jars, and beverage cans. They keep everything aligned and organized, so you can easily find what you need. Plus, they're easy to adjust as your needs change.
PROS:
Its stackable design is both stylish and functional
It is perfect for small apartments or homes
Durably constructed of sturdy metal and finished with a silver paint
CON:
There are no extra dividers for sale
It is highly recommended to anyone looking for an easy and effective way to organize their canned foods. A buyer can attest to this from personal experience, "I ordered 2 and they worked so well I ordered 2 more. They have helped me get my canned goods organized and under control in my pantry."
But the downside for some buyers is that extra dividers can't be purchased separately. "I would have given this 5 stars if it came with more of the plastic dividers – or if they were at least available for separate purchase," explains a buyer.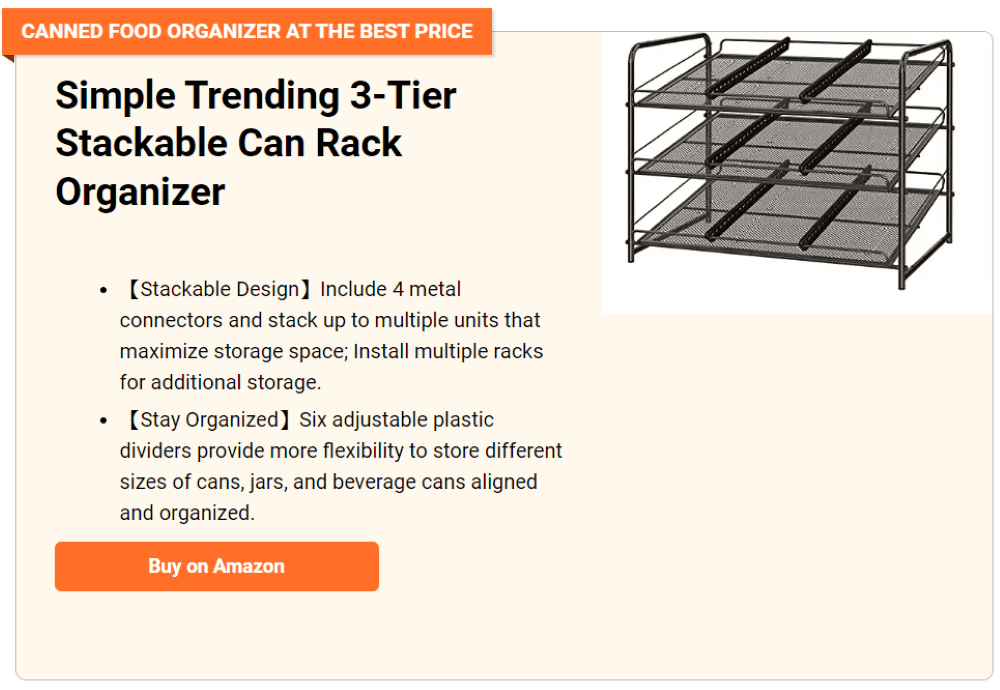 How Well-Organized Your Pantry Will Be?
With a little bit of planning and some elbow grease, you can turn your pantry into an organized oasis. Start by taking stock of what you have and what you need. Then, invest in some can organizers and shelves to help you get the most out of your space. A few hours of work will pay off the next time you're looking for that canned tuna or canned pinto beans.
Click on any image to start the lightbox display. Use your Esc key to close the lightbox. You can also view the images as a slideshow if you prefer 😎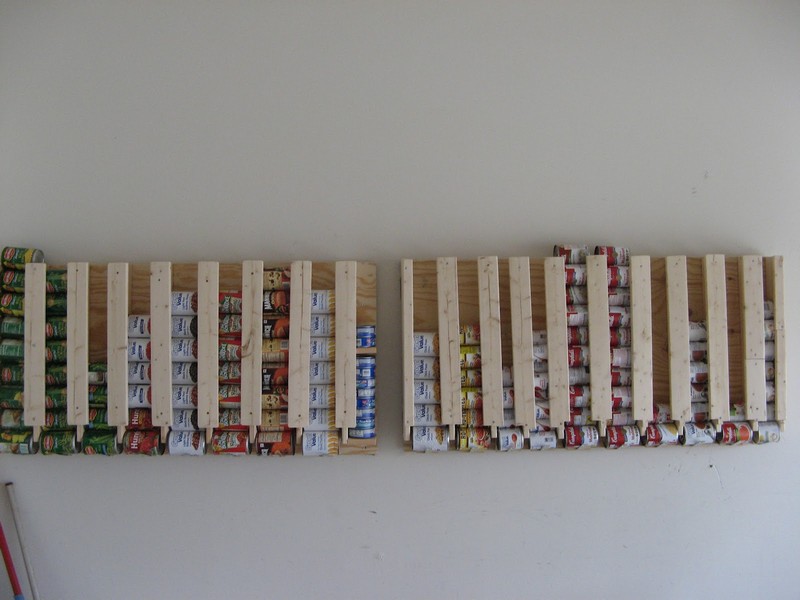 Here's a quick video tutorial on the canned food dispenser…