Want to keep your knives away from the bubs? Or maybe you just want them easily within your reach?
Knives are essential to any kitchen. Even if you have the best cooking utensils or cookbooks, if you don't have the right knives, you are not going to make much of them.
A selection of good quality kitchen knives is essential to good cooking. Kitchen knives can be used in a variety of ways, from peeling off vegetables to cutting meat. However, quality knives can be expensive, especially if it is a wooden knives that you want.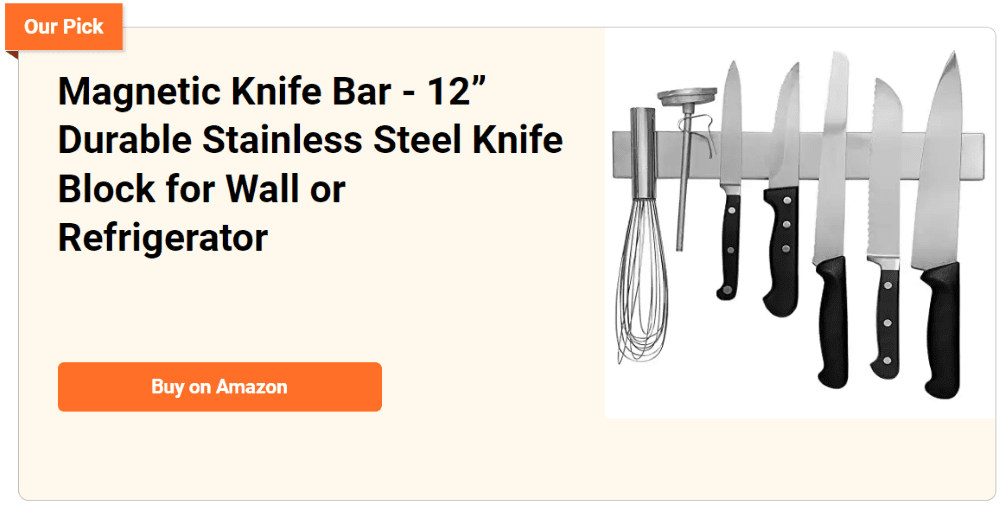 No matter where your knives originate, it is important to have a secure storage system for your knives in your kitchen.
Keeping your knives in a safe storage place, such as a knife block or a magnetic wall strip, is a must for your kitchen. This will help you avoid cuts especially if you have children and also keep your knives sharp for a long time.
The usual knife block can do the job but there are also other things to consider that might have you looking around for alternative storage ideas.
Safety and accessibility are primary considerations, but they can vary according to the age of children around, the space or design of the kitchen, or the maintenance requirement for your knives.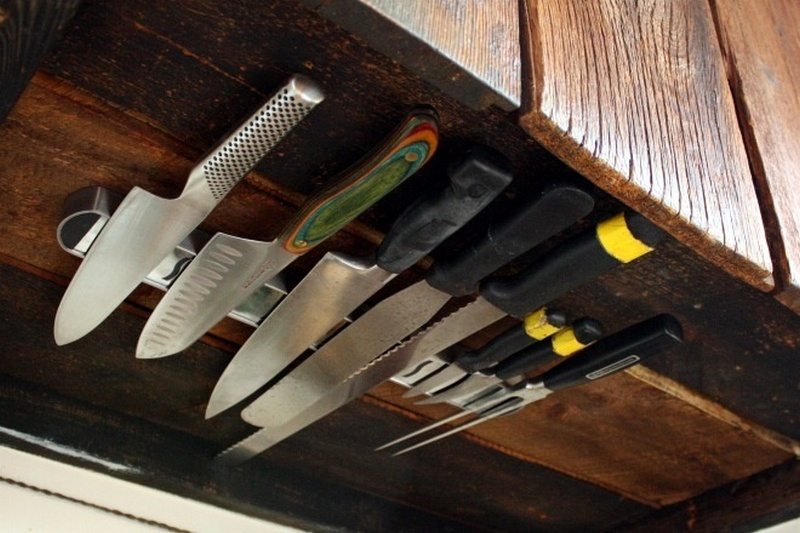 Well, we found a range of ideas for storing your kitchen knives. You can place them in a drawer just underneath the cupboard, stick them on a magnetic strip on the wall near a kitchen counter, or you can store them in makeshift or contemporary knife racks.
One of them could be the perfect storage idea for your knives! Do you know anyone who could use one of these ideas?
Click on any image to start the lightbox display. Use your Esc key to close the lightbox. You can also view the images as a slideshow if you prefer 😎
Check out these clever kitchen knives idea!
Under Cabinet Knife Block
An under-cabinet knife block is an organizer which is designed to hold all the sharp knives safely. It can be installed above the kitchen counter or drawer.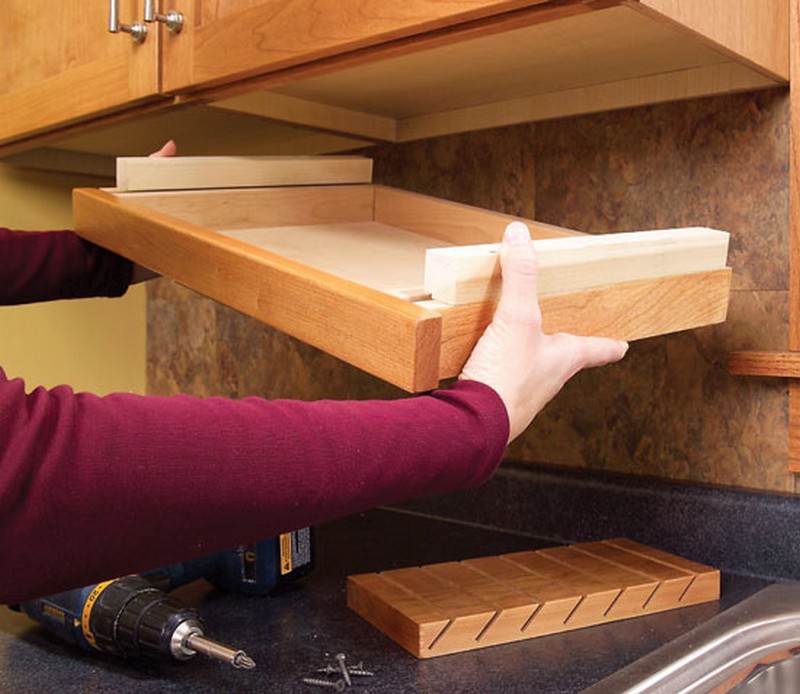 Magnetic Knife Strip
Magnetic knife strips are perfect for storing knives. Magnets offer a secure and safe way to store your knives. There are many reasons why a magnetic knife strip is the best option for your knife storage needs.
Magnetic knife strips are extremely secure. The magnets are placed on the knife holder, and the knives rest securely on the magnetized strip.
The knife will stay in place, but it is easy to remove the knife when you need it. You can place your knives in a magnetic holder on your refrigerator, in a cabinet, or on the wall.
Bamboo Skewer Knife Box
A bamboo skewer box can be a great option for storing kitchen knives on their own. It's a good idea to buy a wooden skewer box from a reputable store as a few other options may not be as safe to use.
A skewer box can be made from a variety of different materials but a bamboo is a great option for storing a large number of knives as it is very hard and durable and because it is made from wood it will not damage any knife blades.
Using a skewer box can allow the user to store a large number of knives in one place. The bamboo box itself is compact and will add to the look of your kitchen without taking up too much space.
Roll Out Knife Block
A Roll-Out Knife Block provides a convenient and easy way to store your kitchen knives. These blocks are generally well-built, they are easy to store and they give you that extra workspace on your countertop. Plus it can add beauty to your kitchen design.
Counter Knife Block
The kitchen knife block made of wood is more appealing than other materials such as plastic and metal. Usually, the wooden knife block is equipped with multiple slots to hold several kitchen knives.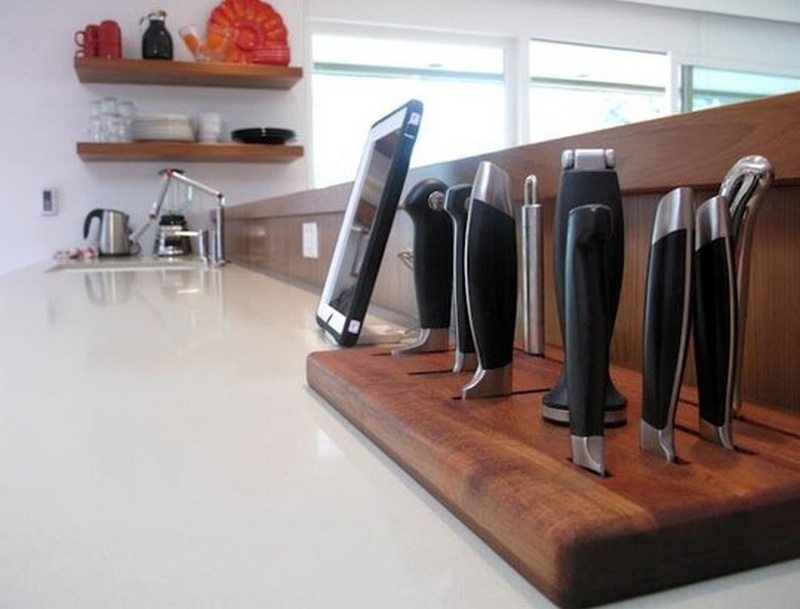 Drawer Knife Block
Spartan Knife Block
The Spartan Block is also excellent for countertops. It has the ability to store up to 6 knives, and it looks sleek and modern.
Book Knife Block
Making use of your old books as a knife block is a unique way of storing your kitchen knife.
If you liked this project, you will also like viewing these storage ideas…