Want to keep your knives away from the bubs? Or maybe you just want them easily within your reach? Knives are essential to any kitchen, but they can also cause accidents especially with children around.
Our Pick
The usual knife block can do the job but there are also other things to consider that might have you looking around for alternative storage ideas. Safety and accessibility are primary considerations, but they can vary according to the age of children around, the space or design of the kitchen, or the maintenance requirement for your knives.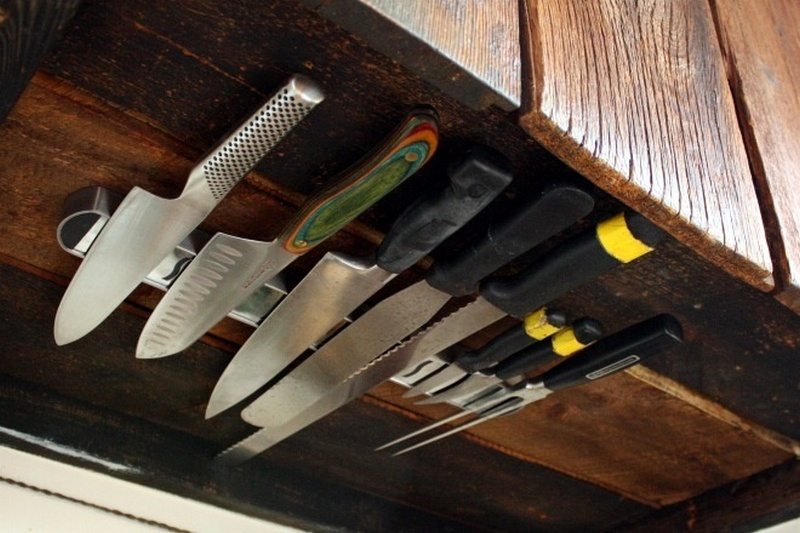 Well, we found a range of ideas for storing your kitchen knives. You can place them in a drawer just underneath the cupboard, stick them on a magnetic strip on the wall near a kitchen counter, or you can store them in makeshift or contemporary knife racks. One of them could be the perfect storage idea for your knives!
Do you know anyone who could use one of these ideas?
Check our gallery and find out what works best for you.
Click on any image to start the lightbox display. Use your Esc key to close the lightbox. You can also view the images as a slideshow if you prefer 😎
Under Cabinet Knife Block
Magnetic Knife Strip
Bamboo Skewer Knife Box
Roll Out Knife Block
Counter Knife Block
Drawer Knife Block
Spartan Knife Block
Book Knife Block
If you liked this project, you will also like viewing these storage ideas…