Short on space for a garden? Then this gardening DIY Topsy Turvy Herb Garden project is for you!
For people who are not very green-thumbed, a Topsy Turvy is a gardening tool that makes it easier to grow herbs indoors. This self-watering system allows you to grow plants in containers, not on the ground.
The Topsy Turvy is a self-watering, upside-down, or stacked planter that allows you to grow your herbs and plants not only outdoors but also indoors, all year-round.
The Topsy Turvy consists of a plastic reservoir that fits into the pot with a built-in watering system, and a tray or a rod that holds the soil and plants. In short, topsy turvy planters are vertical planters.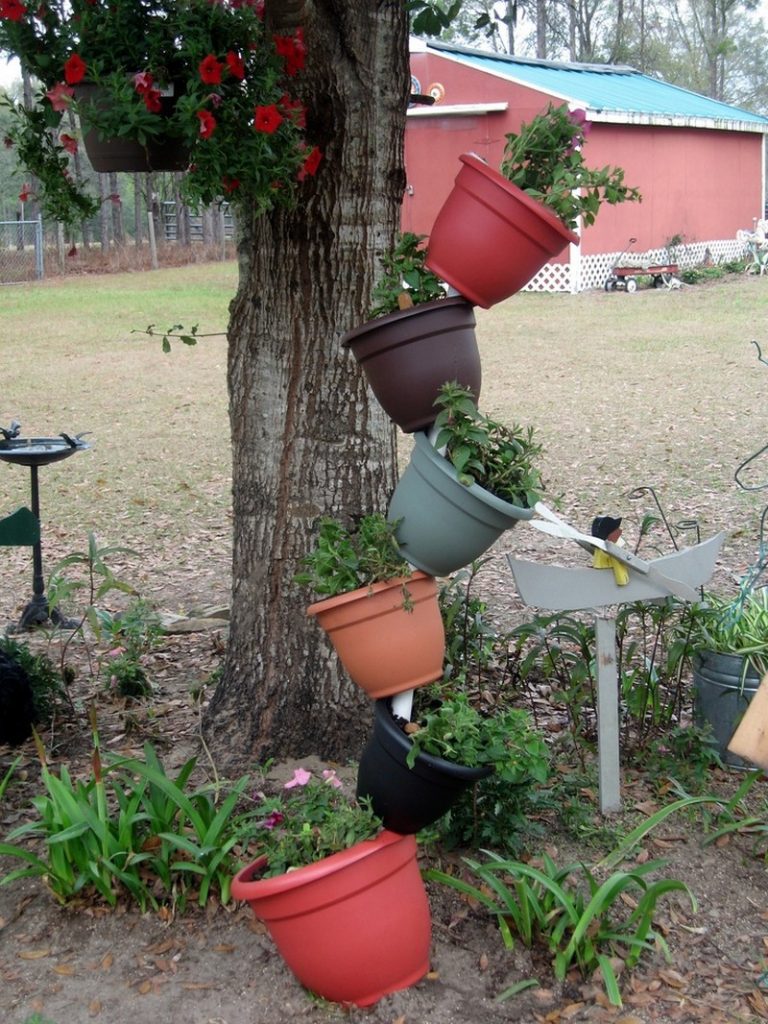 Going vertical is an economical use of space. Topsy turvy planters make your garden even more interesting by the way your pots look. It is a herb garden that grows upward (in addition to sideways).
It is a smaller version of their larger container herb garden. The Topsy Turvy Herb Garden is ideal for growing mint, parsley, and other herbs that do not need a large amount of space.
A Topsy Turvy Herb Garden is a vertical herb garden that stands on its own. It has several advantages over a traditional garden, including that it has a small footprint, it is easy to maintain.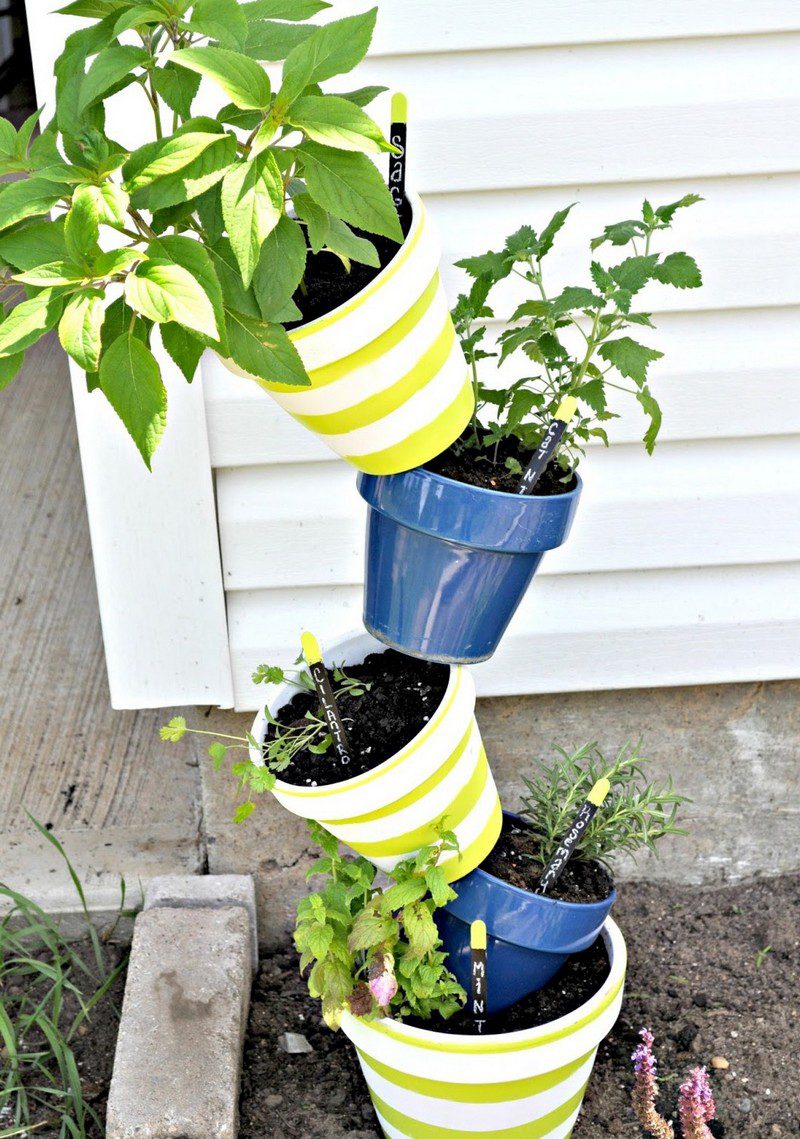 It doesn't require staking, you can grow many more kinds of herbs in it, and you can grow herbs in places where you can't grow a traditional garden, and it is much prettier than a traditional garden.
By growing herbs in an upright position, you are able to grow a greater amount of herbs in a smaller area because they are growing toward the light. 
Using only steel rebar or a wooden rod, and a couple of terra cotta pots, you can have your vertical garden.
The materials you need to finish this project might be found in your garden already. If you don't have them yet, you can be assured that they're inexpensive and easily found in your local gardening store.
Are you ready to start your vertical garden?
You'll need these materials for your Topsy Turvy Herb Garden:
4 pcs – 6″ Tall Terra Cotta Pots
1 pc – 8″ Tall Terra Cotta Pot (for base)
1 pc – 3/8in x 4ft #3 Steel Rebar Pin
Spray Paint & Primer (optional)
Herbs/Flowers
Steel rebar or wooden rod
And these tools:
Click on any image to start the lightbox display. Use your Esc key to close the lightbox. You can also view the images as a slideshow if you prefer 😎
What do you need to do to have one? Well, it's very basic so you won't be having difficulties. Securely anchor your steel rebar or wooden rod to the 8″ tall terra cotta pot to create the base. This rod will serve as a holder for the other pots that you will stack.
Stack the other terra cotta pots together by letting the steel rebar or wooden rod go thru the bottom holes of the pots. This way, the pots will be slightly slanted.
You can then add the soil-fertilizer mixture to the pots. Adding a water system is fantastic but optional. Then with this set-up, you can start planting the herbs of your choice in the planters. Since it is not fixed on the ground, you can easily bring it to where there is enough sunlight to make sure of better produce.
So what are you waiting for? Will this be a good addition to your homes?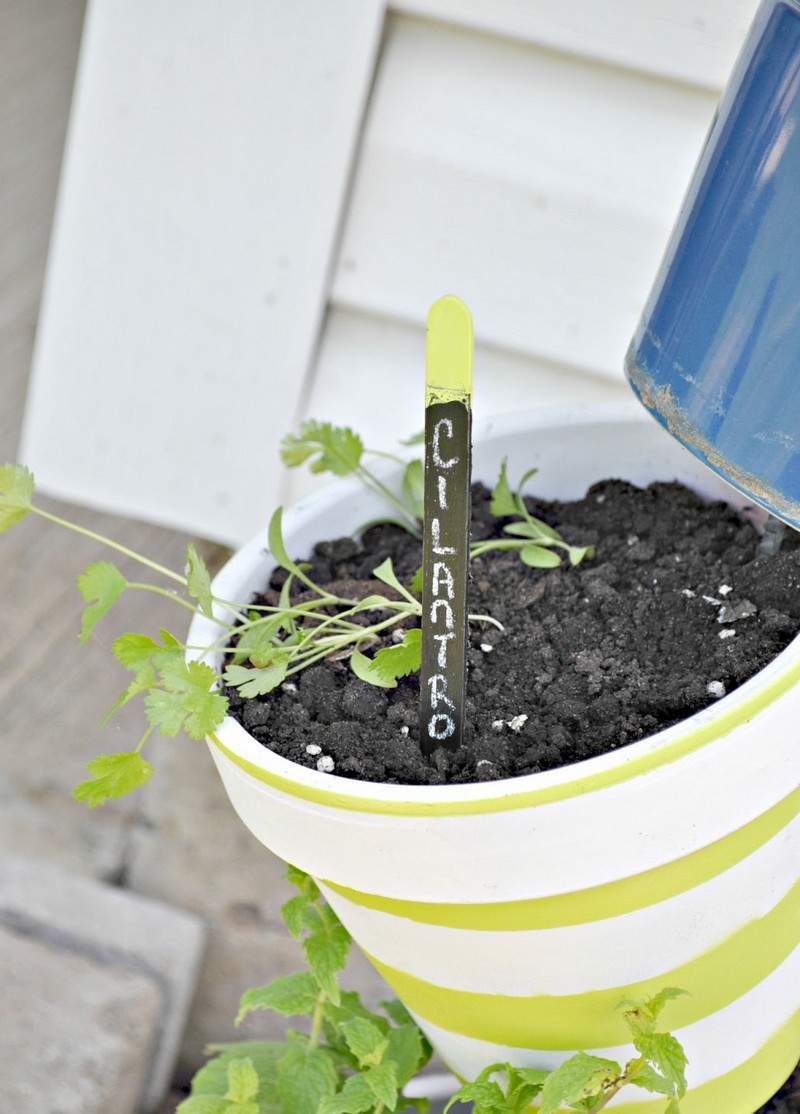 Thanks to Keep Calm and Decorate for this great project. You can get step-by-step instructions here…
If you liked this project, you will also like viewing these gardening ideas…