Do you like to bulk buy long-shelf-life food to save money? Or maybe, like us, you like to have an 'emergency food cache. The challenge, as always, is having the right storage system in your home. It's not just about a place to keep it, but rather a place to be able to easily access what you want when you want it.
Our Pick
Stackable Can Organizer
Get multiple sets and stack them together in a second.
Buy on Amazon
We earn a commission if you make a purchase, at no additional cost to you.
05/14/2022 01:07 am GMT
Building your own canned food rotation shelf is a great way to utilize maximum food storage capacity and maximize the shelf life of your emergency food stock. The slanted shelves are perfect for storing and rotating canned foods and provide easy access from all sides.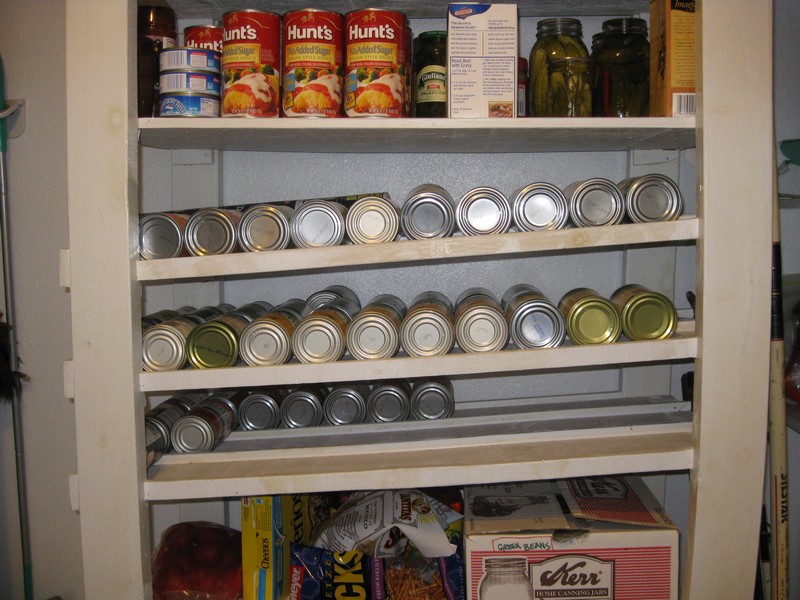 This rotation shelf uses the first-in – a first-out system where the cans are fed from one end and are dispensed on the other, ensuring that the oldest can is consumed first.
Is this the next project for your pantry or cellar?
Materials:
3 sheets of 4'x8', 12" thick Plywood
9 pcs of 2"x4"x8' Boards – Shelf Frames
11 pcs 1"x2"x8" Boards – Shelf Supports and Can Stoppers
1-3/4" or 2" Wood Screws
1-1/4" Wood Screws
1" Nails
6 pcs/shelf of ¼"x36" Strips of Wood – Can Dividers
Tools:
Power Drill
Table Saw
Nail Gun
Dado Blade with Bench
Sander
Click on any image to start the lightbox display. Use your Esc key to close the lightbox. You can also view the images as a slideshow if you prefer 😎
Thanks to Intelligent Living Poes for this great project. You can get the step-by-step instructions here…
Here's a quick video tutorial…
If you liked this project, you will also like to view these easy DIY projects…