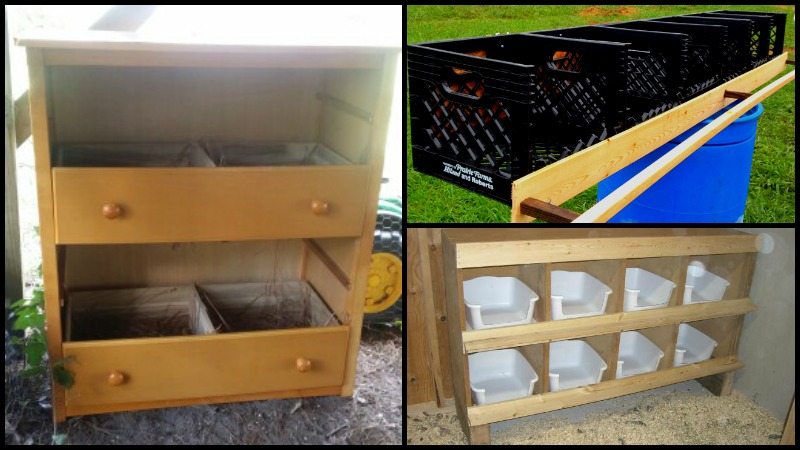 If you are raising chickens for the purpose of having your own supply of eggs, then a chicken nesting box is essential in your yard. Now while there are many stores where you can buy nesting boxes, there is a better option for you… Repurpose to make your own chicken nesting box in your backyard.
It is easy to make a DIY standard chicken nesting box. But making a nesting box yourself using repurposed items can lessen your expenses even more. Some of these re-purposing ideas are easier to make, too!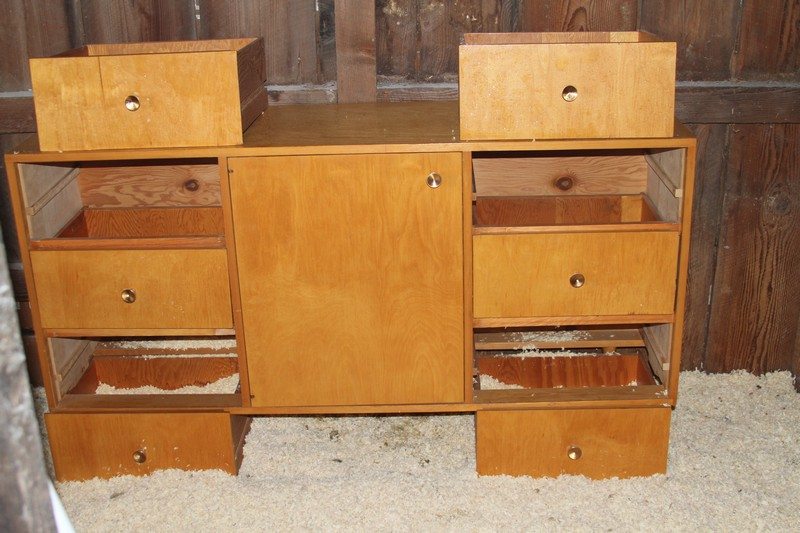 And if those are not enough pros for you, most of the ideas below also prove to be easier to maintain than the standard nesting box design.
These DIY chicken nesting box ideas work just like the common, store-bought units. They all provide private and comfortable places for your laying hens. The only difference is that they are cheaper and better!
Look at these clever re-purposing chicken nesting box ideas that your chooks will surely love! 🙂
Click on any image to start the lightbox display.  Use your Esc key to close the lightbox.  You can also view the images as a slideshow if you prefer.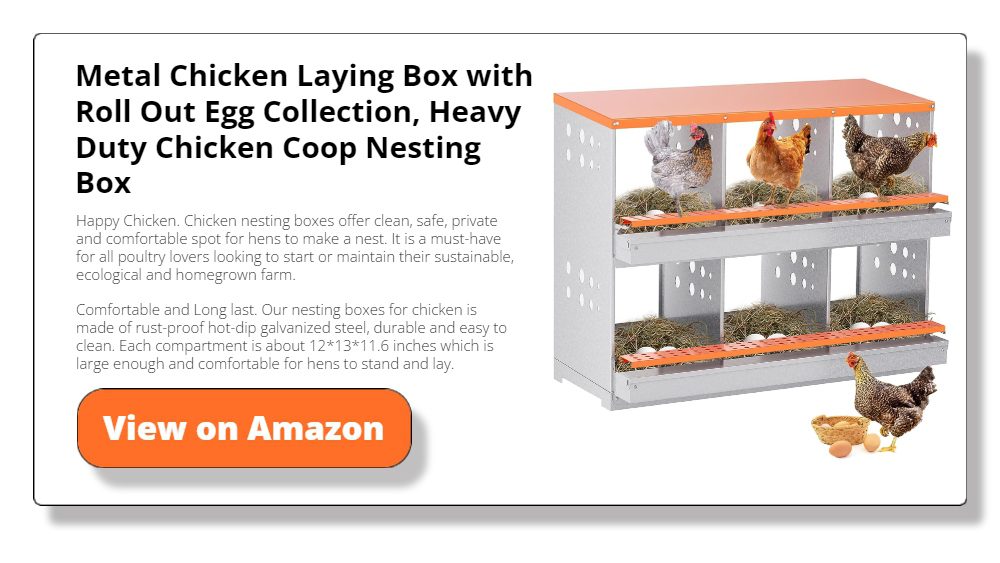 Old Dresser Chicken Nesting Box
Thinking of throwing out your old dresser? Please don't! Make them a nesting box for your chickens. This is an idea that requires virtually no effort to make.
By incorporating a layer of straw, you can create a spacious, private, and inviting area where your hens can comfortably lay their eggs. This straightforward adjustment guarantees that your chickens have sufficient room to nest and lay their eggs, all while enjoying a sense of privacy and security.
However, be careful when selecting the location for this nesting area. Placing it in a secure and sheltered spot within the coop or coop-adjacent space is essential to protect the eggs and ensure your chickens feel safe and undisturbed. Create a well-thought-out nesting space that caters to both the comfort and security of your feathered friends.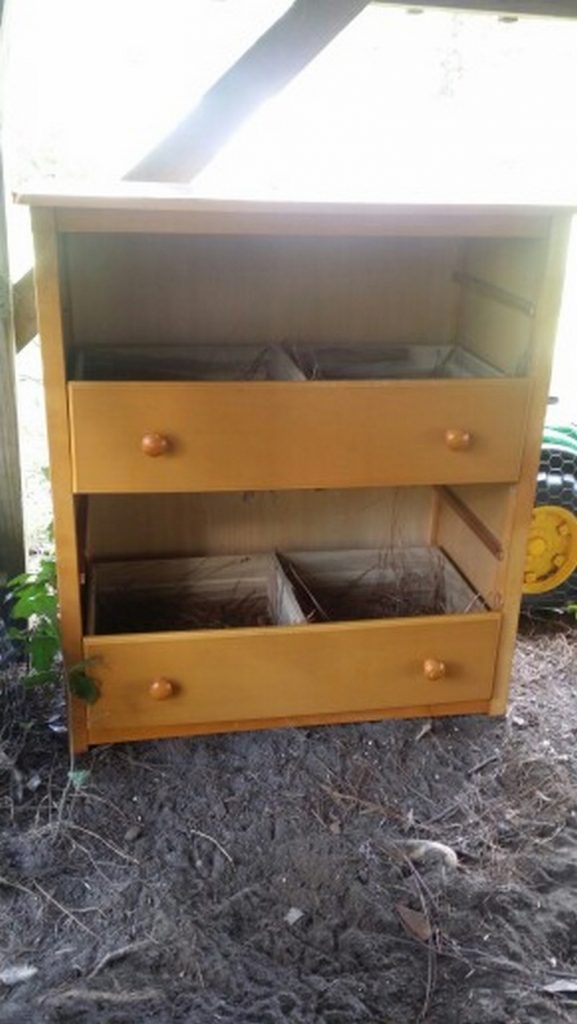 Milk Crate
If you've got access to a good number of milk crates then you can use them to build a good chicken nesting box for all your hens, this is an easy DIY project for you.
Creating a practical chicken nesting solution can be remarkably straightforward. All that's required is the construction of a basic frame designed to house the milk crates. Within these crates, a soft layer of straw can be thoughtfully placed to create a welcoming and snug environment for your chickens to lay their eggs.
This uncomplicated approach can yield excellent results, providing an accessible and comfortable nesting space for your poultry. Additionally, you have the flexibility to stack these milk crates vertically if your coop layout demands it. This adaptability ensures that your nesting area is not only efficient but also makes the best use of available space.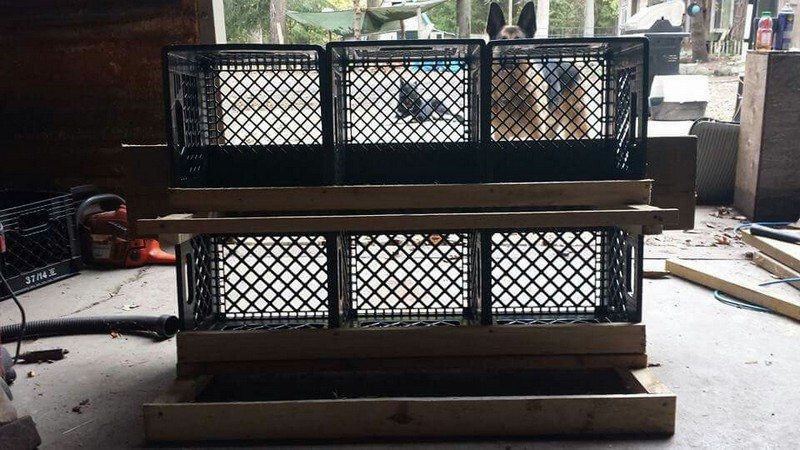 Gallon Buckets
Here's one of the more common items you can find in many homes. Do you have some empty gallon buckets waiting for a new purpose? They can be easy-to-clean nesting 'boxes'!
These spacious gallon boxes are ideal for providing a secure and comfortable nesting space for your chickens.
These boxes are cool since you might not have to put in a lot of time and effort to get them ready for your bird friends. Check out the images provided for a visual tutorial on how to make the most of them. Make these gallon boxes an excellent addition to your chicken coop, ensuring a cozy and protected nesting environment for your poultry.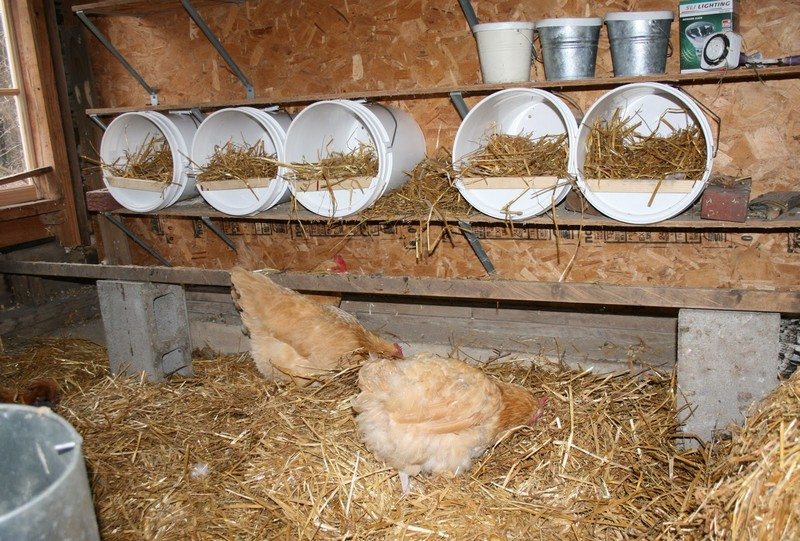 Kitty Litter Bucket
Don't like the gallon buckets? How about these square containers? These square containers will help you stack.
The Kitty Litter Bucket is a device used by cat owners. Check out this half-cut plastic bucket that's been fused back together. And get this – the upper part's got a hole for the cat to come in! Pretty cool?
The bottom part contains litter for the cat to use. When the cat has used the litter, the owner will scoop it out of the bottom into a bag and dispose of it away from the house.
If in case you don't have a cat, then your neighbors may have one, you can ask them if you want.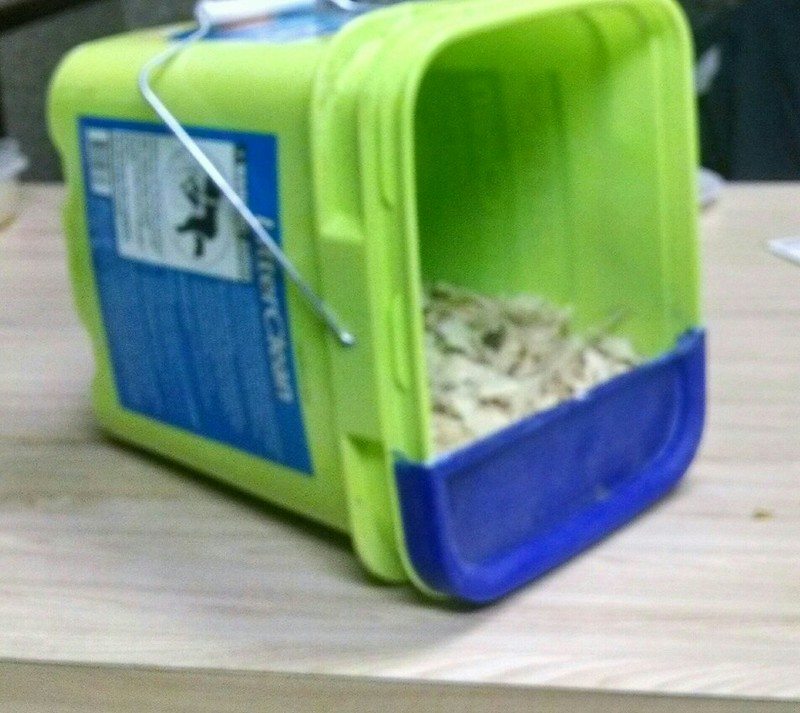 Dollar Store Plastic Bins
Here's another easy-to-clean chicken nesting box idea. Just take them out and wash them quickly if needed. And if one breaks, you can always replace it without feeling bad for your wallet!
Consider repurposing plastic bins for a creative twist on a chicken nesting box. The key to this project is to construct a reliable platform where these bins can be securely affixed. This platform ensures stability and accessibility for your feathered friends.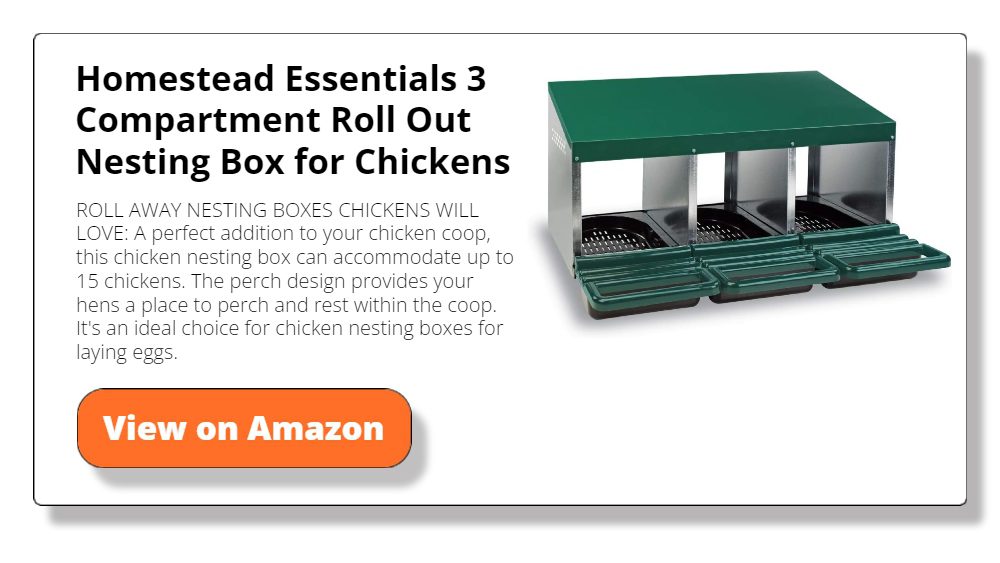 To transform these plastic bins into a cozy haven for your hens, the final touch is adding a generous layer of soft straws within each bin. This simple addition provides the perfect nesting material to serve its functional purpose and creates a comfortable and inviting space for your birds to lay their eggs.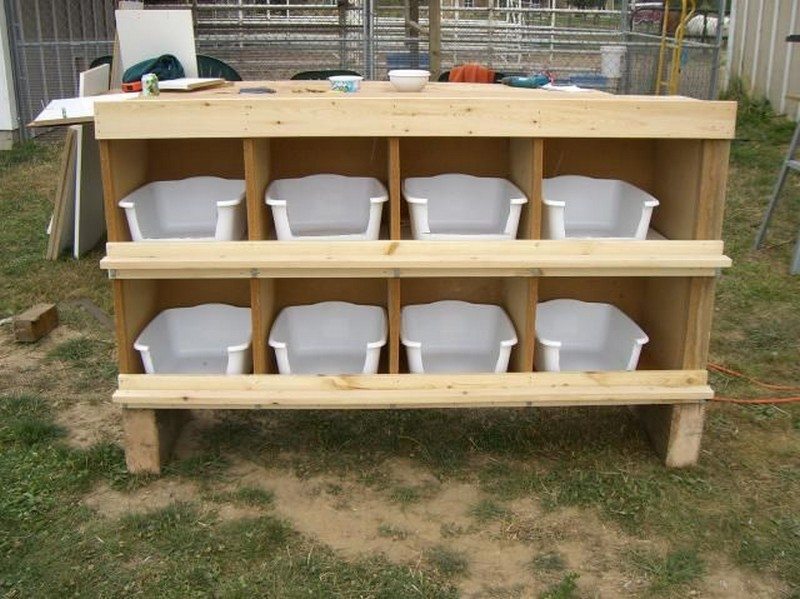 Old Pallets
Did you think we forgot all about pallets? If you've got small excess/scrap from a previous pallet project, you might still be able to make a nesting box out of them.
Rather than consigning these materials to oblivion, consider breathing new life into them. By transforming those pallet remnants into a thoughtfully designed nesting box, you not only contribute to the sustainability of your outdoor space but also infuse it with an endearing touch of charm and functionality. 🙂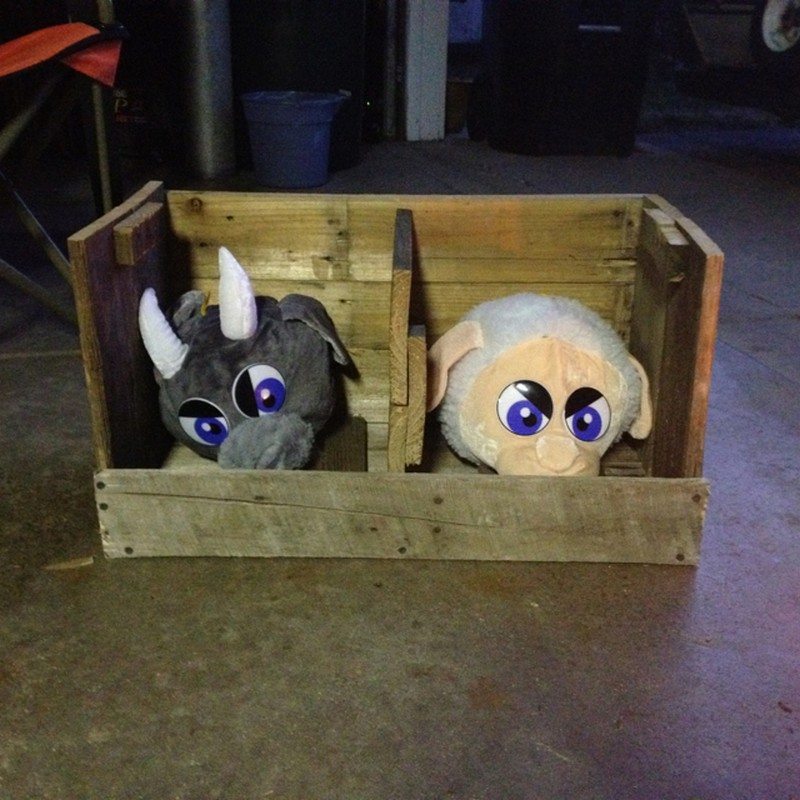 Innovative Nesting Box Ideas for Happy Hens!
Unleash your inner DIY enthusiast and elevate your chicken coop with these six imaginative chicken nesting box ideas. From a repurposed dresser to the ingenious use of a milk crate, these clever solutions provide both comfort and functionality for your feathered friends.
Whether you're seeking simplicity or a touch of rustic charm, there's a chicken nesting box idea here to suit your coop's unique needs. Transform your coop into a haven where your hens can safely lay their eggs, all while adding a dash of creativity to your poultry paradise.
Looking to build a chicken coop but don't want to spend a fortune? Check out our free chicken coop plans here…
If you liked this, you will also like viewing these chicken coop ideas…