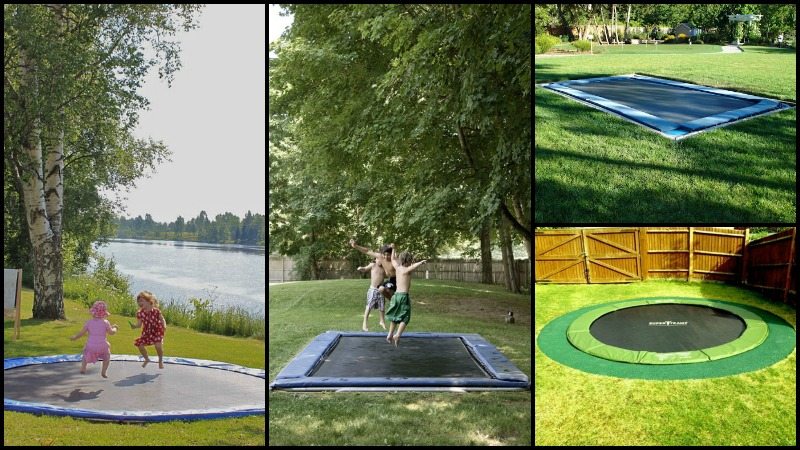 A trampoline is an excellent addition to your backyard. Kids love them and they're a great way to have fun and burn some energy. Trampolining, also called rebound tumbling, is an acrobatic activity conducted after rebounding from the thick mesh fabric into the air.
Our Pick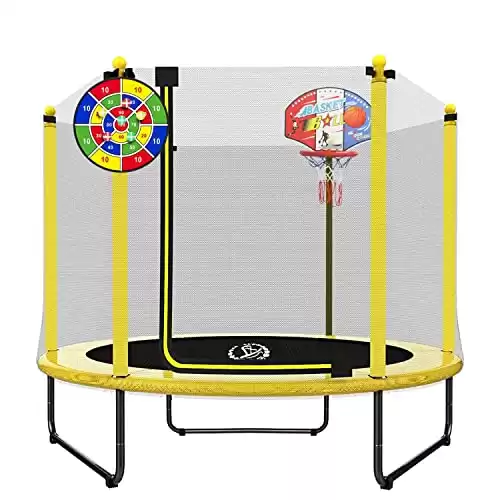 5ft Outdoor & Indoor Mini Toddler Trampoline with Net
Seamless design between the enclosure and the mat, Never need to worry that your kids will get stuck in the gap.The design of external net is different from that of other trampoline, so the trampoline has more space and more beautiful and durable and comfortable.
Buy on Amazon
We earn a commission if you make a purchase, at no additional cost to you.
11/26/2022 02:37 am GMT
What is a Trampoline?
Trampolines are often used for kids' games, adult fitness workouts, recreational activities, and gymnastics. Its structure is a stretched fabric wrapped around a steel frame, made of mesh.
The frame used is usually galvanized steel, durable, stable, and rest free than aluminium frames. In order for you to bounce around the top of the thick mesh fabric, the thick mesh fabrics are tightly attached to the competitive springs or recreational steel springs.
What are the advantages and disadvantages of a Trampoline?
It provides a vigorous aerobic workout, getting your heart to increase the rate at which it pumps blood around your body. The exercise involved also strengthens the muscles needed for a healthy cardiovascular system.
Rebound tumbling is an excellent way to build muscle power and burn calories. It is a fun way to strengthen the mind and body. This exercise that is used for aerobic fitness will improve your leg strength and enhance your balance and coordination, similar to dancing, surfing, and other sports activities.
In fact, According to a NASA study, jumping on these for 10 minutes is equivalent to a 30-minute run.
One of the reasons rebound tumbling workouts are so good for your core muscles is that when you jump, your upper body weight stretches the lower-back muscles and abdominal wall through gravity. In addition to your core muscles, you have those that stabilize your pelvis and other vital organs in your abdomen. Strengthening these muscles will prevent back injuries, improve posture, and prevent back pain.
Unfortunately, this rebound tumbling device also causes a lot of accidents. A disadvantage of this rebound tumbling device is that it occupies such a small area, thus posing safety hazards, in this case, trampoline injuries are more likely to occur. Always be careful and be aware of these safety measures.
This project will show you a great solution that's safe, easy to do, and inexpensive.
What is an Inground Trampoline?
Turn your conventional trampoline into an in-ground playground! This reduces the risk of accidents as it is at the ground level. It reduces the height of the fall while the kids are jumping, and it makes it easier to step in and out.
Another advantage is that in-ground trampolines blend seamlessly into any backyard environment. Conventional trampolines can become an eyesore because of their size and height, taking your backyard's view.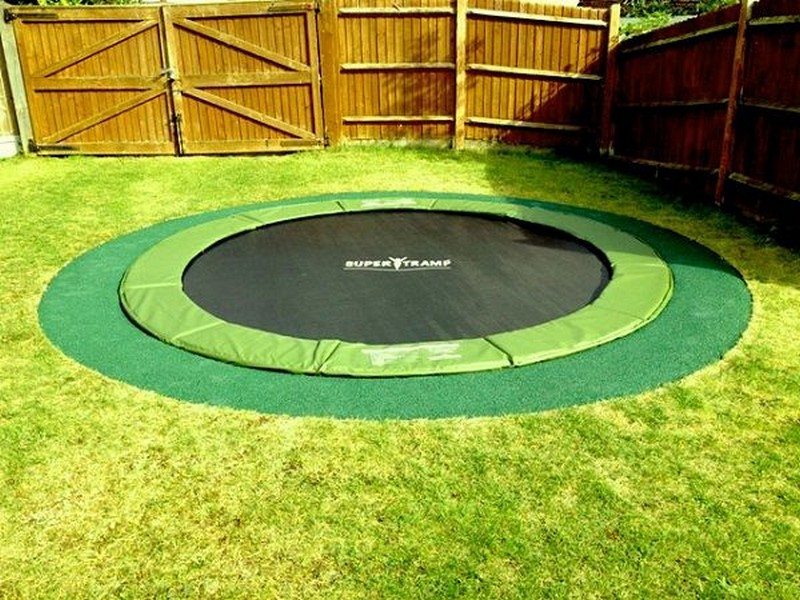 What are the materials needed to make an Inground Trampoline?
Want this in your garden without it being too conspicuous? Then turn it into an in-ground trampoline!
You'll need these materials:
8 pieces 2X4X12 Pressure Treated Wood
4 sheets 4X12 Roofing Sheet Metal
Self-Tapping Screws
16 pieces of Cinder Blocks (with u shape groove)
And these tools:
Shovel
Level
Hammer
Tin Snips
Mitre Saw
Drill
Tamper – to help compact your dirt
One word of warning… if your soil doesn't drain easily, make sure you put a good layer of gravel in your pit or you will be breeding hoards of mosquitoes. The gravel keeps the mozzies from reaching the water.
Click on any image to start the lightbox display. Use your Esc key to close the lightbox. You can also view the images as a slideshow if you prefer 😎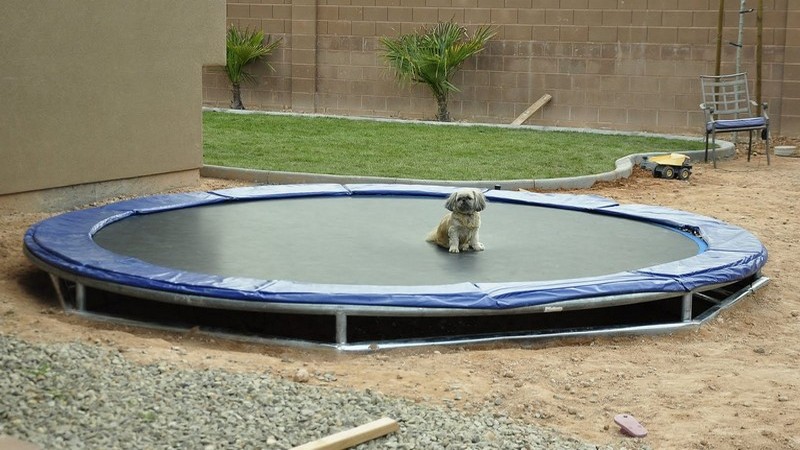 If you liked this project, you will also like viewing DIY projects for kids…
Here's a quick video…