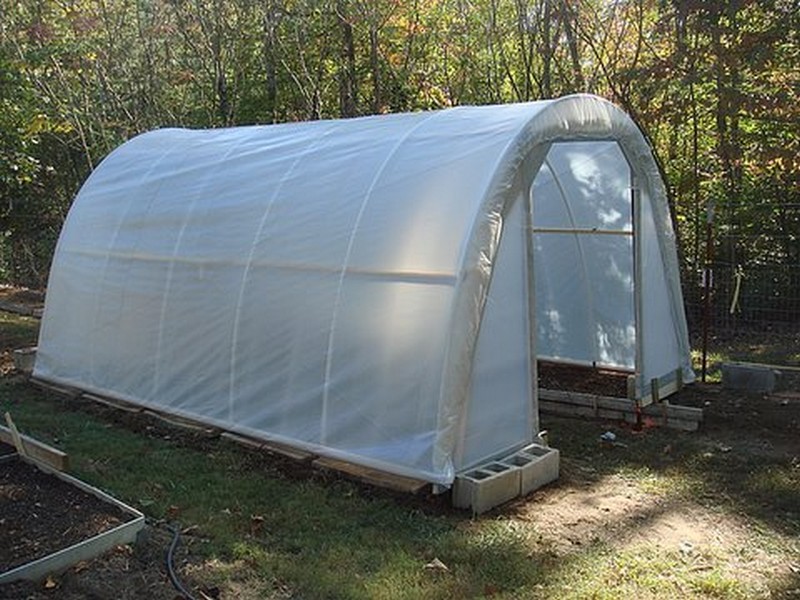 Pssst! Want a cheap greenhouse? How does $50 sound? If you want a greenhouse but don't want to spend a lot buying one, build your own! You can build this green house by recycling scrap materialsfrom previous projects. And even if you decide to buy new materials for this DIY project, you'd still spend a lot less than buying a greenhouse.
This DIY greenhouse is a great way to extend the growing season. At just 50 dollars, it can provide your plants with a good growing environment for most of the year. Adding artificial heat during cold weather is optional. The builder of this greenhouse never used one and did not have any problems with growing his produce.
Snow? Not a problem. By adding a ridge at the middle top of your structure, this greenhouse can withstand heavy snow.
Do your plants need a greenhouse?  Why not build one for them?
You'll need these materials:
20′ x 3/4″ PVC schedule 40 plumbing pipe
2″ PVC Pipe
Steel "T" Fence Posts
1×2 Studs
Plywood (scraps) – for reinforcement
6 Mil Clear Plastic
1x6x8′ pt – ripped into 1x3s
1x4x12′ pt
2×2 Wood
20′x1/2″ rebar – cut into 18′ lengths
8″ nylon wire ties – 100
1 1/4″ x 1lb drywall screws
16 guage galvanized utility wire – 200′ – for X braces
3/8″ t-50 staples – 1000
Weather Resistant Glue
And these tools:
Drill
Reciprocating saw
Handsaw
Level
Cutter
Staple Gun
Click on any image to start lightbox display. Use your Esc key to close the lightbox. You can also view the images as a slideshow if you prefer 😎
If you liked this project, you will also like viewing these gardening ideas…