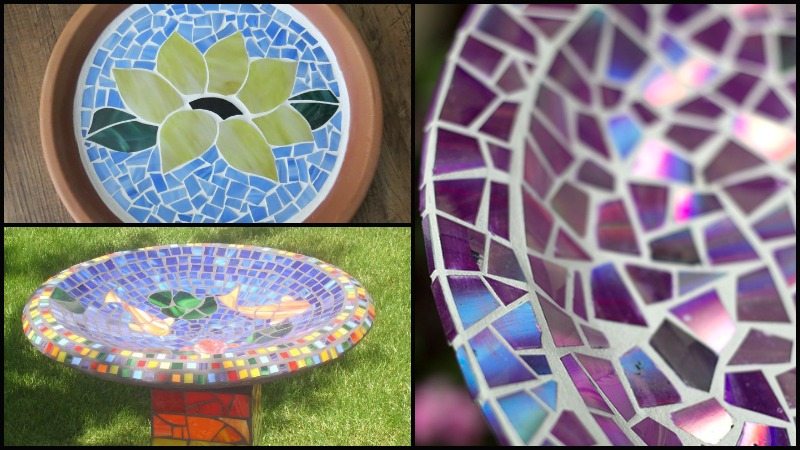 Don't know what to do with that old CD collection you don't need anymore? Use them to attract birds to your garden by making a mosaic bird bath!
Mosaics were originally created to decorate buildings. They are created using small pieces of coloured stone, glass, or tile.
These small tiles can be arranged to create a picture, which can then be used to decorate floors, walls, and ceilings. But not only these, it can also be used to create a beautiful piece of art.
Bird baths, or birdbaths, are small garden pools that are filled with water for birds to drink and bathe in. They are typically fashioned from bronze, copper, cast iron, or stone and shaped like a shallow bowl.
But did you know that you can create a beautiful mosaic bird bath? Mosaic bird baths are best inclusion to your garden.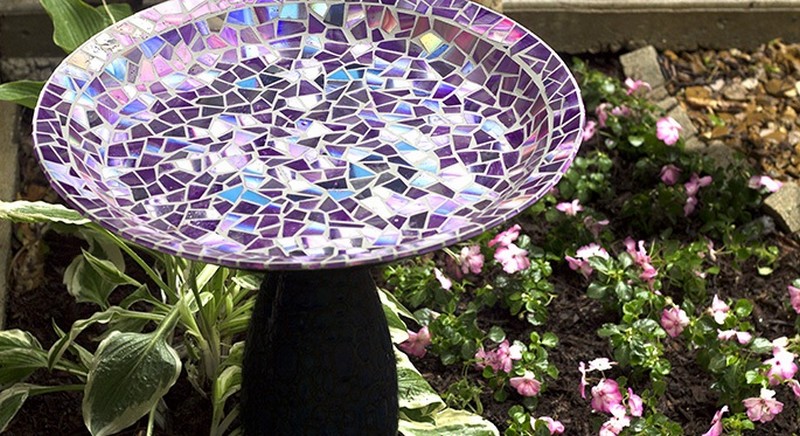 Various materials use to create Mosaic Bird Bath
CD and DVDs
As I mentioned earlier, you can use various materials for a mosaic, but your old CD and DVD collection can be put to a good use when it comes to art.
CDs have a wonderful tint that is sure to make your bird bath stand out in your garden. CDs do in fact make a great garden decor. They have inlaid copper and silver and look like rainbows and fireworks in the water. The water reflects their multi-colored light and it is really pretty.
It's an easy garden decor project that even lets you restore broken terra cotta saucers and turn them into something more beautiful!
Already used up all your DVD's and CD's for a different project? You can use other materials you might find in your storage, such as coloured glass or broken tiles.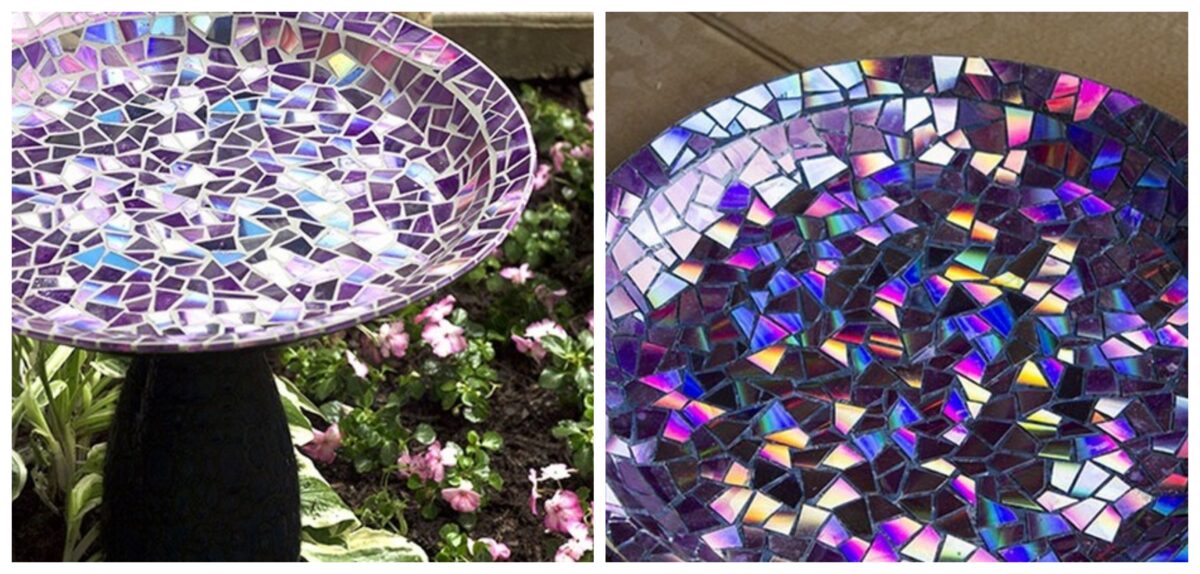 Broken Tiles
Do you have extra unused tiles from your previous project? Do you have problems of storing them? Then you might want to consider making them mosiac bird bath pieces.
Doing some creative touches in your outdoor garden can give a unique touch to your backyard, you can use broken tiles to create a mosaic bird bath.
It is a great way to give new look to your outdoor area, it can be done in a classic or contemporary style. It would be interesting to give a unique look to the bird bath using a broken tiles.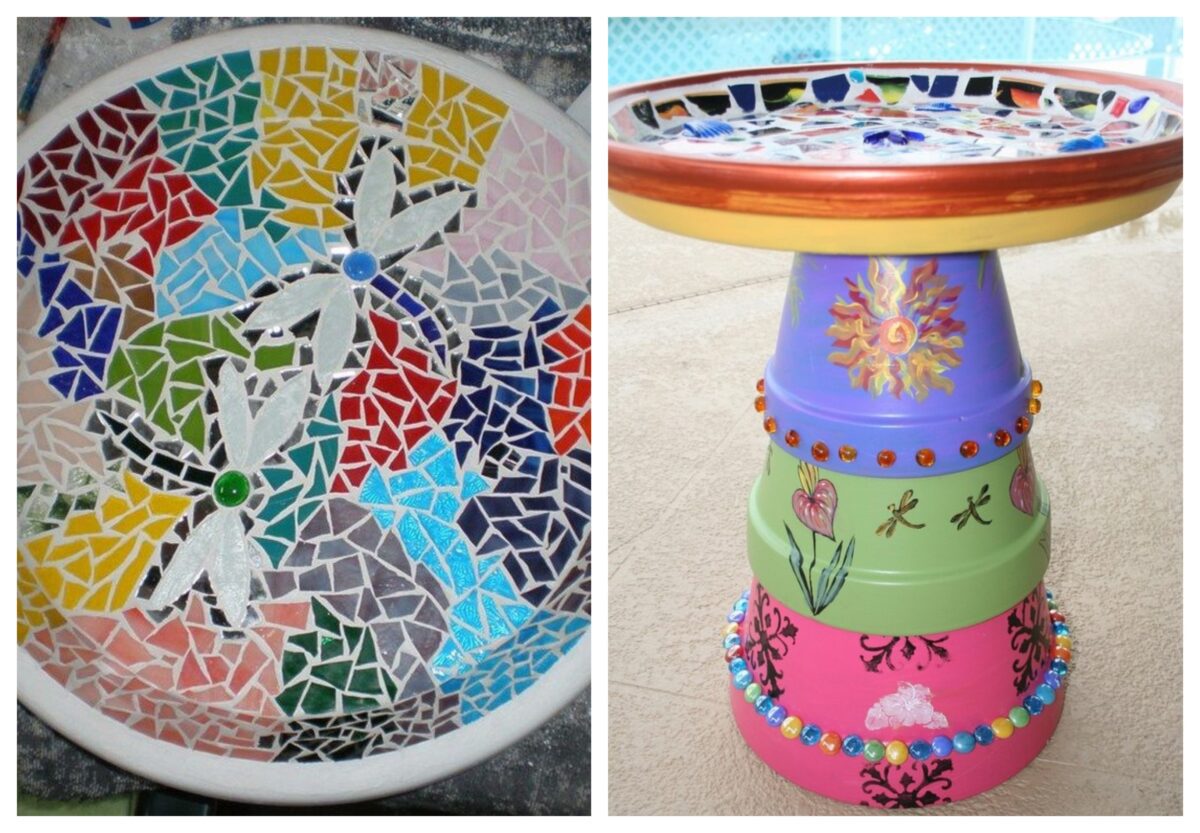 Broken Glass
You can create a vivid mosaic bird bath. Choose colorful broken glass pieces of mosaic and use them to create a bird bath. This is not just a look of art but also a very functional bird bath. People can also use this to create a beautiful garden.
Stained glass is painted glass, typically used to decorate churches, and is a type of glass art. Glass artisans use stained glass painting techniques to create beautiful, intricate works of art.
Bird baths bring wildlife into a garden or backyard. These bathing boxes provide birds a place to get out of the elements. They are easy to maintain and have a myriad of uses. They are easily placed in a garden or yard.
Could your garden use one of these amazing bird baths? Then you can be creative as much as you can. These mosaic bird baths will surely be a hit! So grab your desired materials and start creating one!
Materials:
Terra Cotta Saucer
Old DVD / CD's
Old Tiles
Broken stained glass
Tools:
Click on any image to start lightbox display. Use your Esc key to close the lightbox. You can also view the images as a slideshow if you prefer 😎