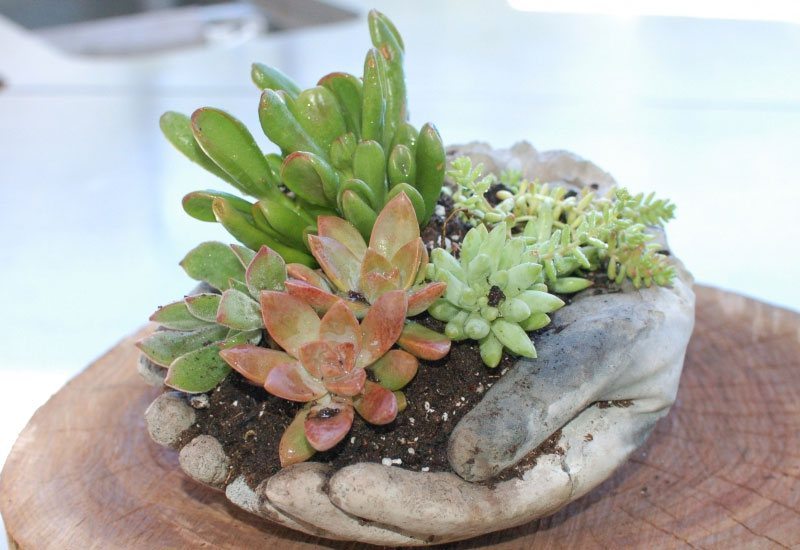 If your tastes tend toward the unusual, these hands will appeal. Relax! These are 'armless hypertufa hands 😀
Hypertufa is a 'rock' made from aggregates bonded together with Portland cement. It's a manufactured substitute for natural tufa, which is a slowly precipitated limestone rock. Being very porous like the real thing, hypertufa is popular for making garden ornaments.
Here's a great example of art meeting function – hypertufa hands!
You can easily make as many as you want as they're simple to make, and they're sure to be a talking point. All you need is the recipe for making hypertufa, mixing bowls, and rubber gloves!
These are perfect for planting succulents, and would make a great centerpiece on a table in your outdoor living space. You can also personalize them to fit the theme of your garden.
Does your garden need one of these helping hypertufa hands?
You'll need these materials:
Hypertufa or Soil Cement Mix
Water
1 Pair Kitchen Rubber Gloves
And these tools:
Spatula For Mixing
Duct Tape
Scissors
2 Large Buckets
Towels
Click on any image to start lightbox display. Use your Esc key to close the lightbox. You can also view the images as a slideshow if you prefer 😎
If you liked this project, you will also like viewing these gardening ideas…