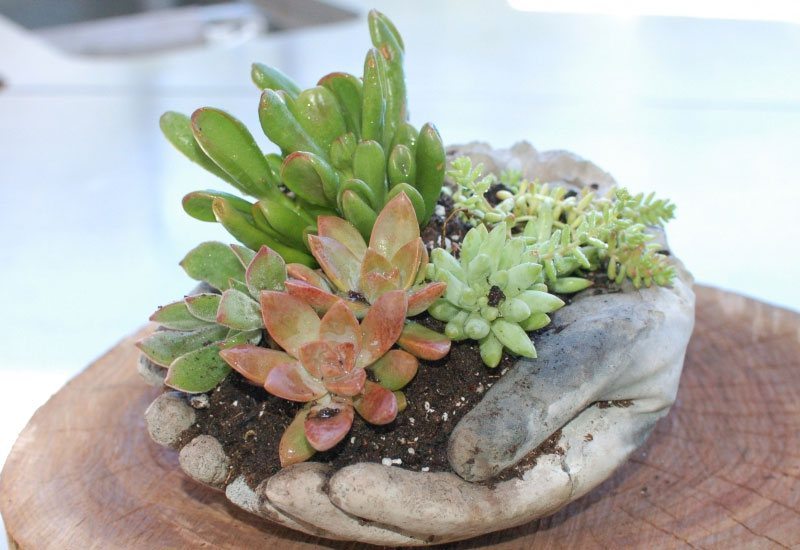 If you're looking for something a little different, these hand planters are sure to appeal. They're made from hypertufa, a material that resembles stone but is much lighter and easier to work with.
Relax! These are 'armless hypertufa hands 😀
Hypertufa is a 'rock' made from aggregates bonded together with Portland cement. It's a manufactured substitute for natural tufa, which is a slowly precipitated limestone rock. Being very porous like the real thing, hypertufa is popular for making garden ornaments.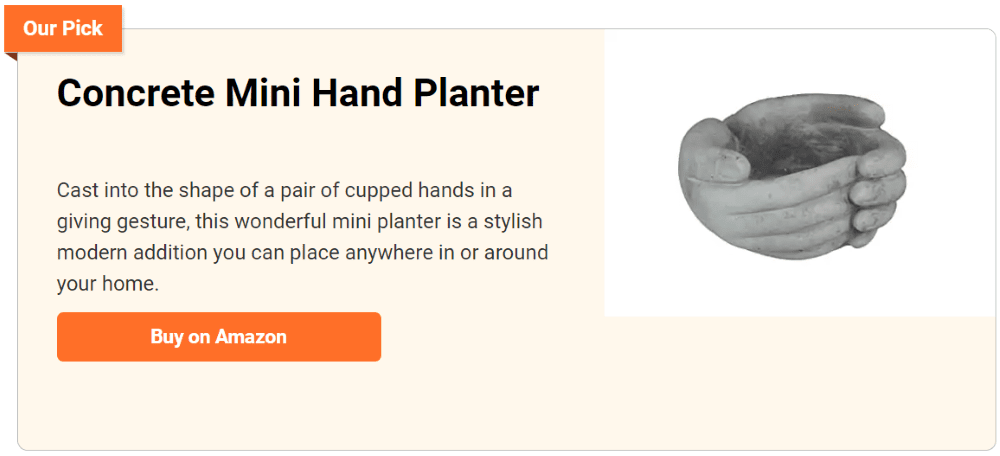 Hand-designed planters are extremely popular today and can be seen just about everywhere. They are often used in malls and roadside landscaping, but can also be a beautiful addition to any home.
Hand planter comes in a wide variety of styles and colors, so it's easy to find one that will fit your specific needs. Whether you're looking for a small planter for your desk or a large one for your patio, you're sure to find the perfect hand-designed planter for your space.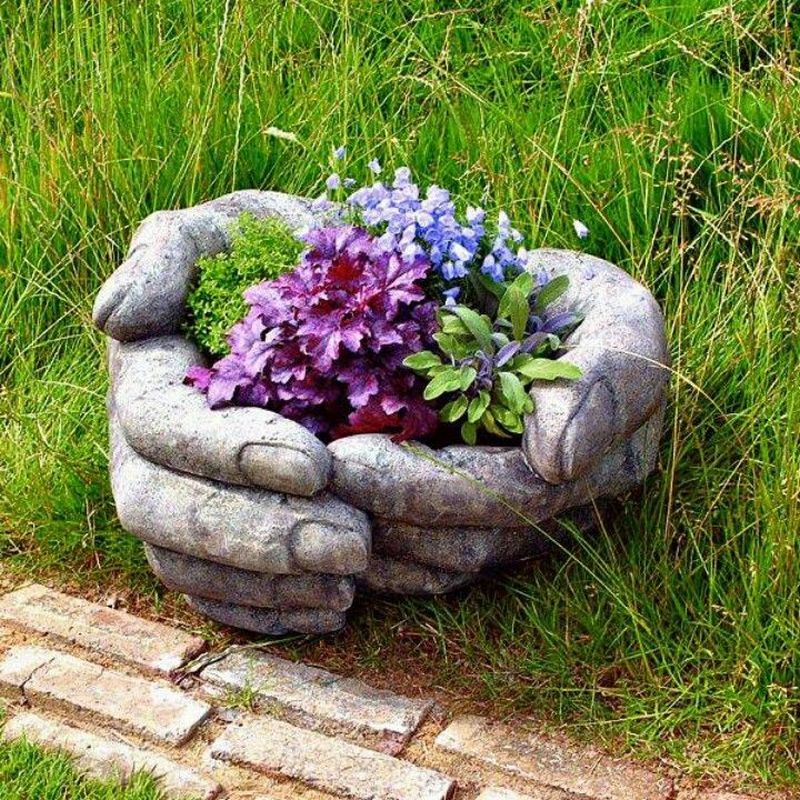 These hand-designed planters are perfect for planting succulents and would make a great centerpiece on a table in your outdoor living space. You can also personalize them to fit the theme of your garden.
To further illustrate, if you have a beach-themed garden, you could paint the hand planter with a beach scene. This would add to the atmosphere of your garden and make it feel more like a vacation spot.
Similarly, if you have a more rustic garden, you could distress the wood to give the hand planter a more antique look. This would add character and charm to your garden, making it more inviting and unique.
How to create a hand planter?
First, mix together Portland cement, peat moss, and coarse sand in a ratio of 1:1:2.
When mixing together Portland cement, peat moss, and coarse sand, it is important to use a ratio of 1:1:2. This ensures that the cement will properly bind with the sand and peat moss, creating a strong and sturdy mixture.
Add water a little at a time until the mixture is the consistency of oatmeal.
Add a small amount of water at a time, stirring constantly until the mixture resembles the consistency of oatmeal. You may need to add more water if the mixture is too thick. Then, use a trowel to scoop the mixture into a bucket. Add more water, a little at a time, and mix thoroughly.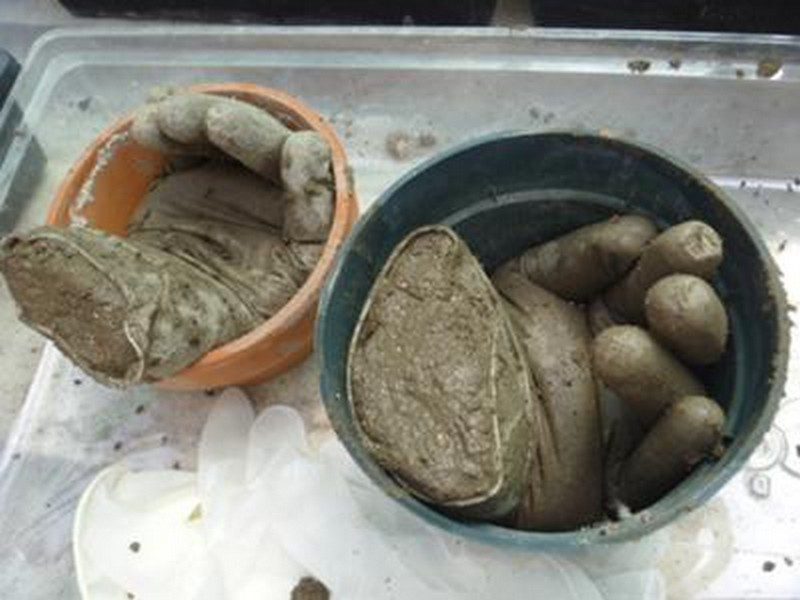 Once the mixture is the desired consistency, pour it into your hand planter mold.
Make sure to vibrate the mold as you pour the concrete so that it settles evenly. This will help to ensure that your finished product is of the highest quality.
After you have poured the concrete into the mold, continue to vibrate it until the concrete has settled evenly. Once it has settled, allow it to cure for the recommended amount of time.
So if you're feeling crafty and want to add some personality to your garden, give hypertufa a try!
Materials needed to make a hand planter
Does your garden need one of these helping hypertufa hands?
You'll need these materials:
Hypertufa or Soil Cement Mix
Water
1 Pair Kitchen Rubber Gloves
And these tools:
Spatula For Mixing
Duct Tape
Scissors
2 Large Buckets
Towels
12 lovely hand planter designs
Click on any image to start the lightbox display. Use your Esc key to close the lightbox. You can also view the images as a slideshow if you prefer 😎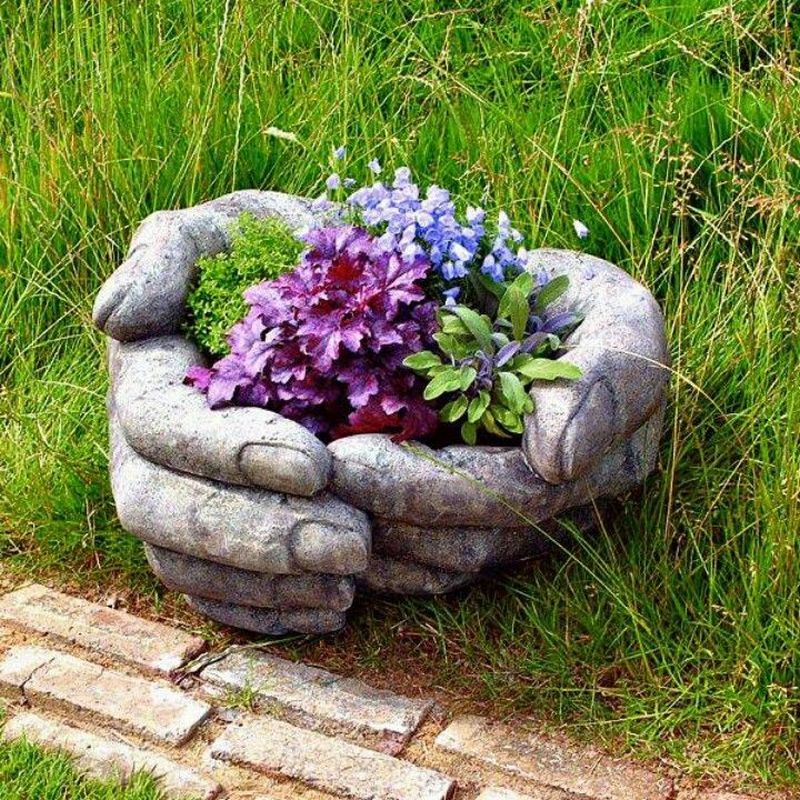 If you liked this project, you will also like viewing these gardening ideas…