What is a Craft Desk?
Craft Desks are customized tables in your house where you can come up with all your creative work and projects. A customized craft desk can have a built-in storage, drawers, a bookshelf, and a sewing machine area. The best size for a customized craft desk depends on the use if it would be for work, study, kitchen, sewing, etc. You will definitely want your craft desk to be comfy for you, and if 32" in length is the most relaxed for you, then this is the size you should create.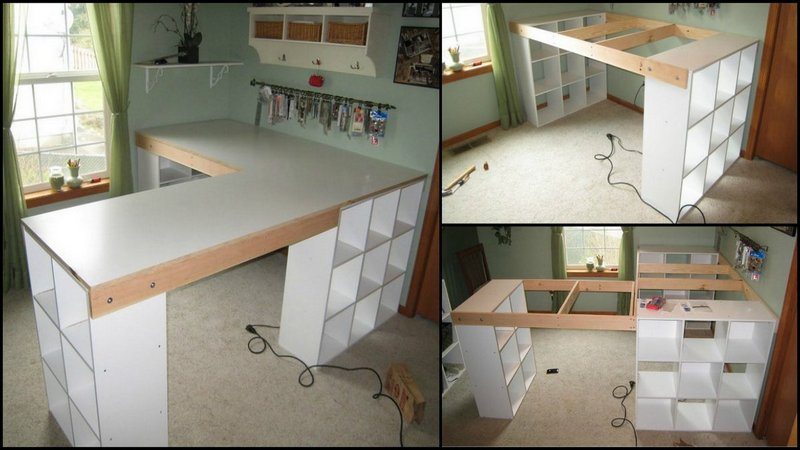 What are the benefits of building a custom Craft Desk?
One of the best things about being a DIYer is the sheer pleasure that comes with building something new. It is no surprise then that some of our favorite pieces of furniture are hand-made! Over the years, we've seen quite a few fantastic DIY projects. People build some of the best, most practical furniture – in their spare time! For instance, this craft desk with pigeon holes will let you keep everything tidy, organized, and close at hand.
Our Pick
Hollow-Core Left or Right Facing Corner Desk
Ample surface space with its 60-inch length; plenty of space for a laptop, printer, writing material, and other accessories including your coffee.
Buy on Amazon
We earn a commission if you make a purchase, at no additional cost to you.
06/04/2022 01:09 am GMT
Having a store-bought/prefab desk as big as this could be expensive for some, especially if it's custom-made to suit a room. You can save a lot by doing it yourself… like the owners of this craft desk who spent only a total of $112!
It's easy to build and modify to fit your own room as it is basically three shelves connected by the tabletop frames. What's great about this is that it gives ample storage with ease of access to everything!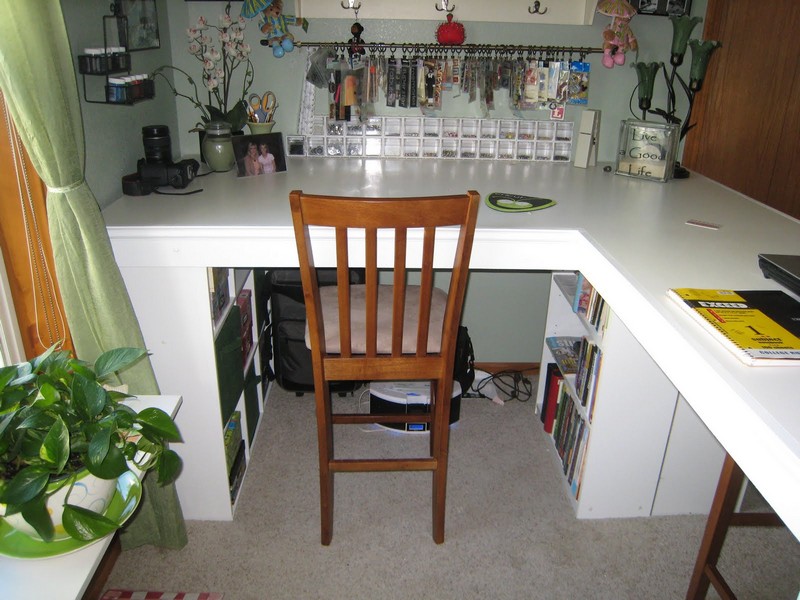 The desk comes with cubbies that you can use as bookshelves but you can also use one of those collapsible fabric drawers or woven baskets to store your materials. The table is a bit tall but that makes it great for projects that require a lot of standing and it gives you a lot of space to work on.
With this craft table, you can comfortably work on your crafts while keeping everything organized.
Supplies needed to create a DIY Craft Desk
Want to have this table on your own? Here are the details you will need for this project.
Desk Size:
Main Desk — 75″ long X 38″ wide X 36-3/4 tall
Side Desk — 50″ long X 26″ wide X 36-3/4 tall
You'll need these materials:
2 sheets – 4'x8′ X 3/4inch Thick MDF (with Melamine top)
3 pcs 12′ long 1″x4″ Pine (or your own personal choice of wood)
12 Bolts & Nuts (to secure 1″x4″ boards to cubicles)
2 pcs -12′ long Trim (your choice for the top edge)
3inch Screws (for the pieces of the frame)
1 quart of White Primer
1 quart of white paint (high gloss)
1 tube of Liquid Nails
1 tube of Caulk (or Hole Filler)
Small Finishing Nails (with no head on them)
And these tools:
Drill & Drill bits
Philips head for drill
Tape measure
Caulk Gun
Square
Hammer
Table Saw
How to make a custom craft desk?
Arrange the storage blocks.
To attach the main desk, drill holes on each side of the storage blocks and measure the board.
Attach both boards to the storage blocks.
Measure and cut the sheets that will fit on the frames.
Use sandpaper to finish some imperfections on the wood.
Thanks to Little VWS for this great craft desk project. You can get step-by-step instructions here…
Click on any image to start the lightbox display. Use your Esc key to close the lightbox. You can also view the images as a slideshow if you prefer 😎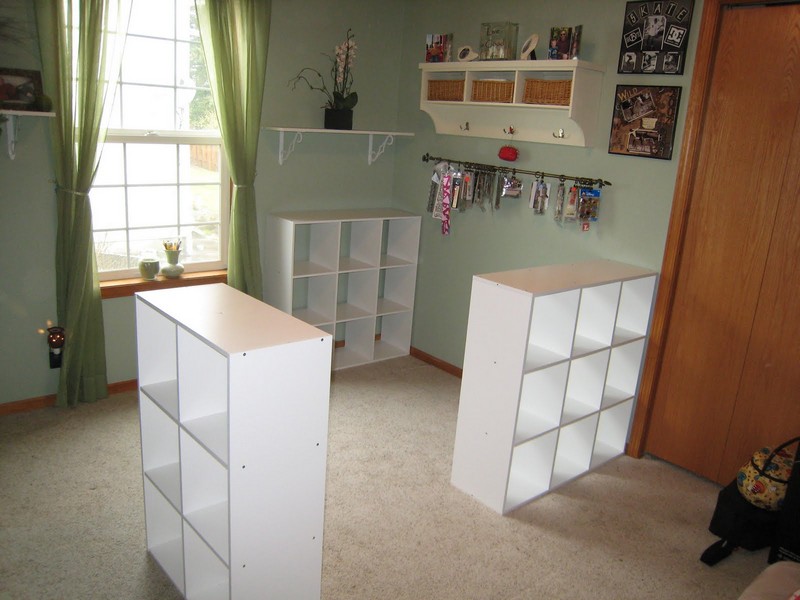 If you liked this project, you will also like viewing other furniture ideas…