Pergolas are not only architecturally attractive, but when you add some climbing plants, can provide some protection from the summer sun.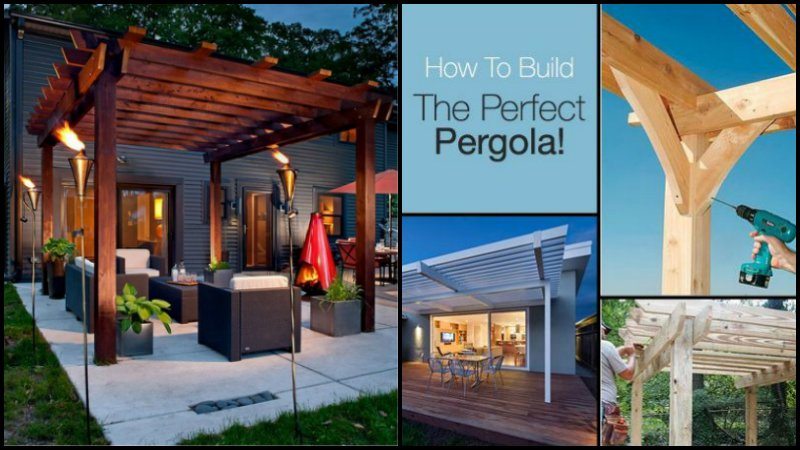 This structure is great for any yard as it adds beauty without consuming too much of the space. Its beautiful frames blend well with its environment, making people enjoy the outdoors while still giving a sense of protection and privacy.
This can be a costly project, of course, as you will need large and strong wood posts such as Cedar to build a good foundation for your pergola. But every other part or feature of your DIY pergola can be made with recycled or reclaimed materials. You can use pallets for making the deck or porch (like this beautiful example) that will go with your pergola, for instance.
Then add some plants to improve its beauty and to allow for more fresh air while you relax outdoors.
Here are some pergola designs to inspire you!
Materials:
4×4 Pressure-treated Lumber sheathed with Cedar
2×4 Cedar Beams
2×4 Cedar Beams
Steel Post-base Anchors
Concrete
1/4-inch Tapcon Screws
3-in #10 Screws
Galvanized Finishing Nails
Construction Adhesive
Tools:
Miter Saw
Hammer Drill
Cordless Drill
Level
Hammer
Jigsaw
Wood Clamps
Table Saw
Click on any image to start lightbox display. Use your Esc key to close the lightbox. You can also view the images as a slideshow if you prefer 😎
Thank to Popular Mechanics for this great project. You can get step-by-step instructions here…
If you liked this project, you will also like viewing these DIY deck and patios…