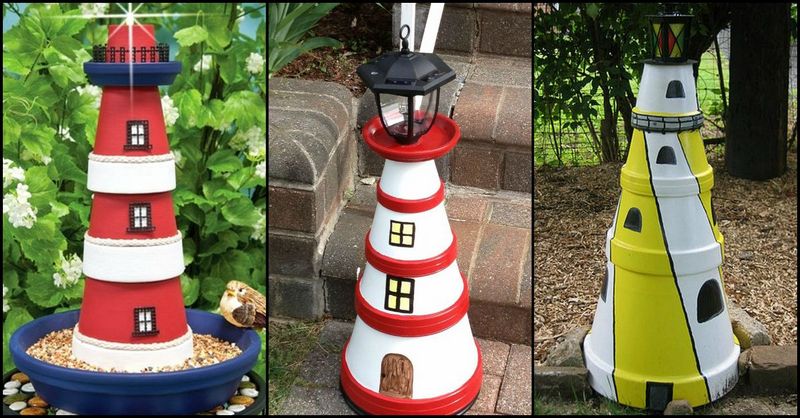 Looking for a simple project to decorate your yard? Why not make this DIY clay pot lighthouse?
This quick project is very easy to do and would only take a couple of hours of your time. You could use a battery-operated light or better yet a solar one for safe and more inexpensive lighting.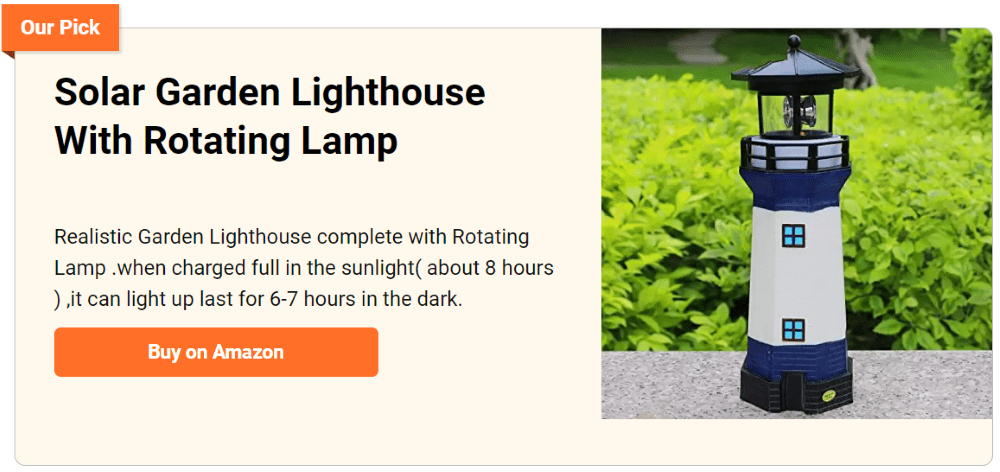 It's great decorative lighting that would really make a statement in your outdoor area. You could also use this as a table centrepiece for when you're having an outdoor party/dinner.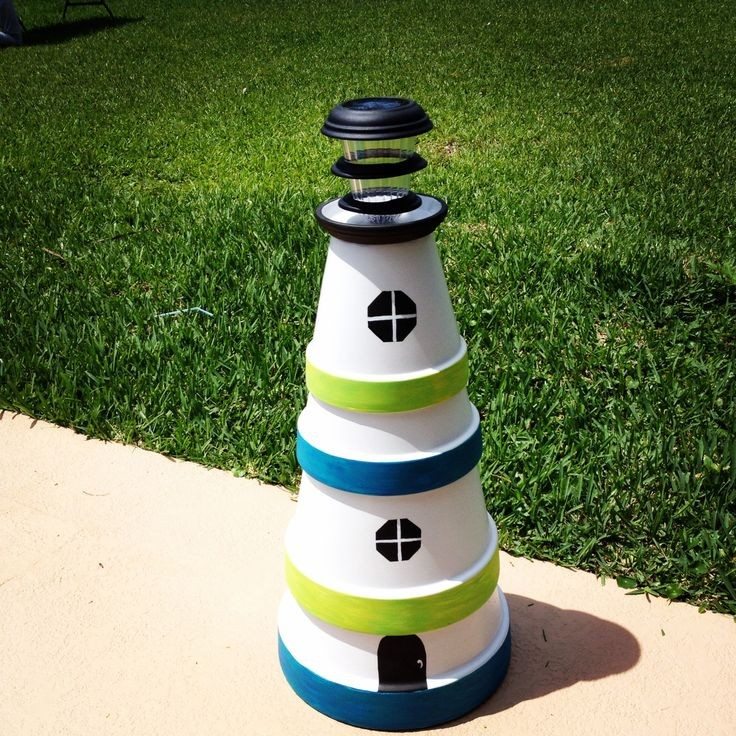 What are the benefits of a DIY lighthouse?
1. Recycle your old clay pots and saucers
Instead of throwing away used and old pots. We can fix them, by gluing and painting them with beautiful colours. We can always save money on recycling instead of buying a new lantern.
2. Make a lovely design for your backyard
Diy lighthouses will always give an additional attraction to your backyard. This can serve as a decor that will definitely stand out at night.
3. Gives light to your garden
The flameless battery-operated tea light gives a small but shiny light to your garden plants, which will make your beautiful plants and flowers become more visible even in the evening.
4. Easy to make
Using your painting skills and few materials, you will have your own beautiful lighthouse in no time.
5. Brings out your creative skills
This will improve your imagination and painting skills. And if you have no painting skills, then better start from this to learn these skills and improve later on. 🙂
What are the materials needed to make a DIY Clay Pot Lighthouse?
You can build DIY lighthouses out of foam cones, boxes like oatmeal boxes and cardboard cereal boxes, these can also be from plastics, like plastic cups, plastic bottles and more. In addition, you can use paint to transform certain items into decorative lighthouses, such as wooden candle holders and peppermills. Adding light to unexpected places can be a good way to brighten anything. In this project will we be using clay pots.
Do you need to make one for your yard? A cute lighthouse will do. 🙂
You'll need these materials:
4 Clay Pots (all of the different sizes)
2 small Saucers
Outdoor Acrylic Paint (your choice of colours)
Permanent Adhesive
Glass Votive Holder
Flameless Battery-Operated Tea Light/ Solar Light
And these tools:
How to make a DIY clay pot lighthouse?
1. Paint the pots
Clean all the pots and saucers thoroughly. Paint the three pots with your desired colour (like red). Sizes of these pots will be from extra-large, large to medium. Choose acrylic paint or any weatherproof paint. We recommend three coats and let them dry completely between coats. You can be more creative and add some designs to these pots, like a square box type window, by painting it black or any colour you desire.
2. Creating the lantern
To create the lantern, paint the two same-sized saucers in the same colour (like blue), but different colour from the three pots earlier. The smallest pots shall also be painted the same colour as the saucers.
3. Attach them together
Pile up the 3 pots upside down. From the extra-large pot at the bottom, the large pot in the middle, and then on top is the medium pot. Glue them together with an adhesive. Next, glue one saucer on top of these three pots.
4. Make the cover top
Attach the second saucer upside down, to the smallest clay pot by applying glue to the rim. This will serve as the cover top of the lantern later.
5. Add the candle
Place a glass votive housing on top of the first saucer over the lighthouse, then add a flameless battery-operated tea light. Finally, cover the holder with the cover top we have made earlier. Now, you have your own fantastic lighthouse.
Click on any image to start the lightbox display. Use your Esc key to close the lightbox. You can also view the images as a slideshow if you prefer 😎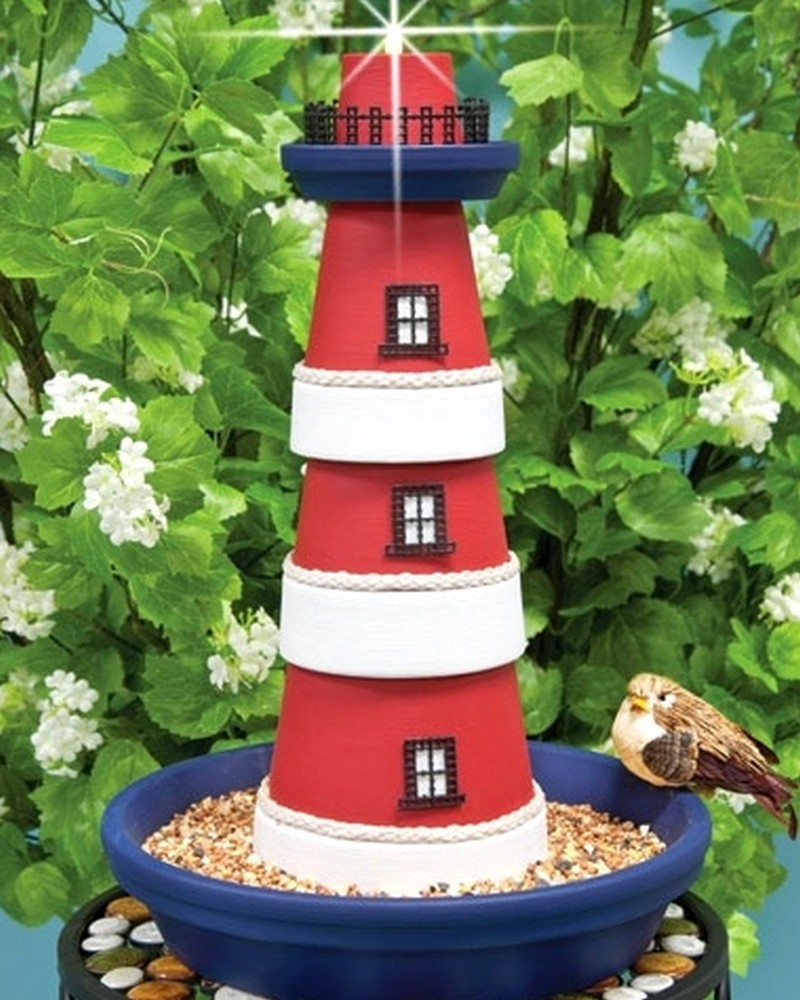 If you liked this project, you will also like viewing these clay ideas…