How many bikes get discarded every day around the world? Lower-end bikes sold through major retailers cost more to repair than replace!
These bikes can be transformed into a DIY bicycle coffee table which you can display in your homes and offices. Now you can see where some of those unloved bikes end up. It proves that just about anything can be repurposed with a bit of creativity.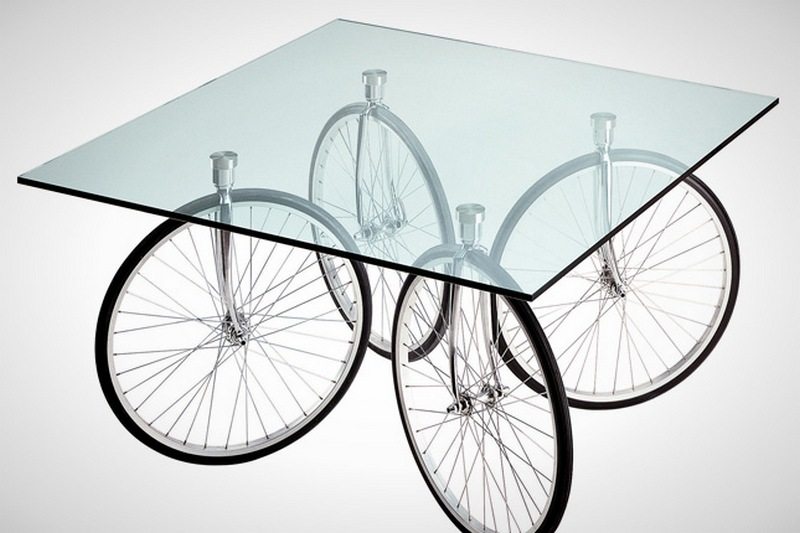 This coffee table made from bicycle parts is just one example of the things you can do. If you saw this on Fab or any of the 'now' sites, it would have a four-figure price tag. We think it's clever, a real conversation piece and 'doable' with minimal skills.
Which bicycle coffee table best suits your needs?
Bike Rim and Forks
We all know that one person in our lives who is impossible to shop for. They either have everything they could ever want or are impossible to please. But have you ever thought about making them a gift?
A homemade gift is always thoughtful and unique and shows that you care. If you're someone who loves to DIY, then this bike rim coffee table is the perfect gift for the impossible-to-shop-for person in your life.
This upcycled coffee table is made from a bicycle rim and forks, with the spokes still intact. To give it a more polished look, a glass table top has been added, making it the perfect size for resting drinks and snacks. Not only is this table a great conversation starter, but it's also a fun way to show off your love of cycling.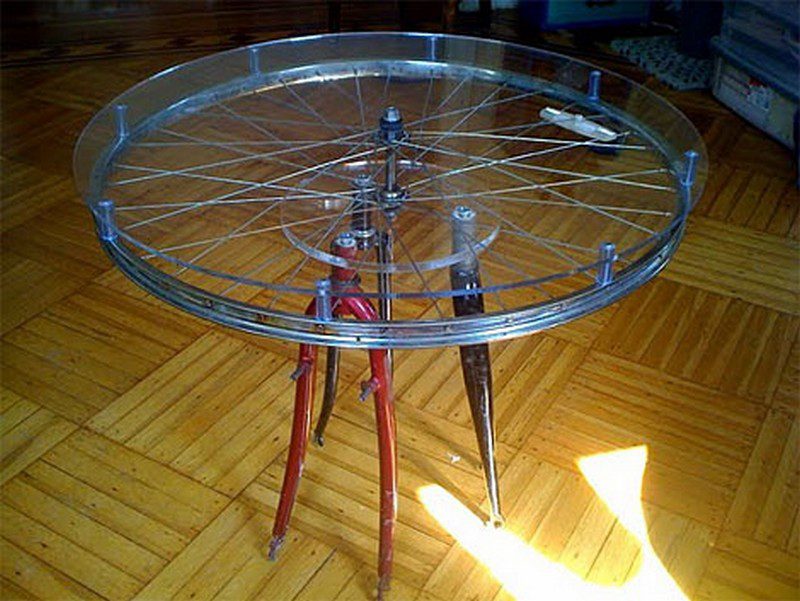 All Out Bike Rims
Why settle for a boring, traditional coffee table when you can have a unique one made out of recycled bicycle parts? By using bicycle rims (spokes removed) cut in half as legs of the table which are attached to another bike rim (spokes not removed), you can easily create an interesting and eco-friendly coffee table.
Simply add a glass table top that fits the size of the rim of the bike, and voila! You have a one-of-a-kind bicycle coffee table.
Decorated with Gear Plates
This coffee table is made from upcycled bicycle parts, making it a one-of-a-kind piece. The legs are made from bent bike forks, which are attached to another bike rim.
The spokes are replaced with gear plates, and a glass table top is added, making it the perfect size for the rim of the bike. This table is sure to be a conversation starter and is the perfect addition to any bicycle lover's home.
With Bottle Opener and Wine Holder
If you're looking for a unique and stylish coffee table, look no further than this bicycle-inspired design. This coffee table is made by attaching a bent bike fork to the legs of a bike rim, which is then topped with a glass table top. The result is a one-of-a-kind bicycle coffee table that is sure to start a conversation.
Plus, this bicycle coffee table comes with a bottle opener and wine holder, making it the perfect table for entertaining.
Are you one of those bike enthusiasts that would love to have this bicycle coffee table? Well, what do think of these unique coffee tables that we prepared for you? We know that if you have an old bike that has not been in use, you'll surely transform it into one of these.
Click on any image to start the lightbox display. Use your Esc key to close the lightbox. You can also view the images as a slideshow if you prefer 😎
If you liked this project, you will also like viewing these recycling ideas…