Who hasn't enjoyed a lazy summer nap on a porch swing or in a backyard hammock? If only you could only re-create that easy, sweet, lazy feeling in your own bedroom.
Well, if you want to wake up to the reality of a hanging bed, this is definitely a project for you!
This bed is especially great for the kid's bedroom. Its cables can carry up to 1500 lbs each. And with a hanging system similar to that of a bungee system, this bed is 100% safe to sleep on!
A hanging bed is a single bed that, instead of being attached to a frame, is simply suspended from the ceiling. It allows you to have a lot of flexibility when it comes to using your bed.
Instead of a bed that takes up a lot of room, you can have a bed that takes up little to no room at all. This is good news for both small houses, apartments and dorm rooms.
Even if you have a large bed and room in your current home, you can set up a hanging bed in an alternative space, such as a loft or basement, and then move the bed back when you need it. You can take it out of the space and then set it back up when you want to use it.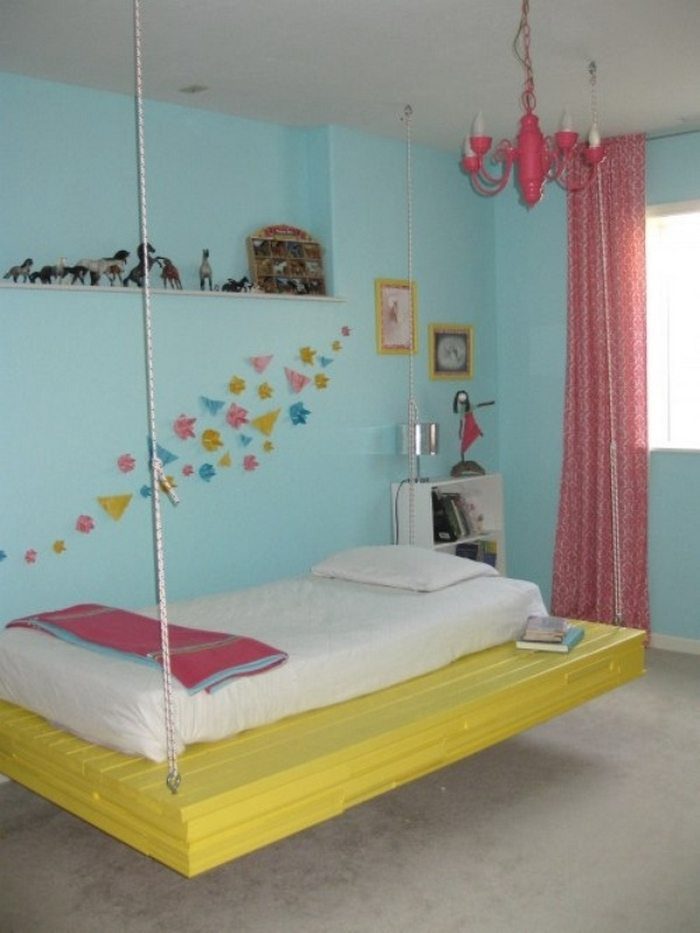 There are several advantages that hanging beds have over traditional beds. First, the fact that they hang on the wall means that there is no need for a bed frame, which can take up a lot of room.
Hanging beds also don't need a box spring or heavy metal frame and can be hung from the ceiling, making it possible to offer a guest bedroom in an apartment where there is no room for a traditional bed.
Its gentle swing could rock you to sleep. As a bonus, cleaning under the bed would be much easier!
Double Deck Hanging Bed
The concept of the Double Deck Hanging Bed is a simple one. Beds are swung out from either side of a bunk bed. This gives you a lot more room in your bedroom. You also get more sleeping space. Both beds have their own headboards.
In the past, the only way to add more beds to a room was to buy more bed frames and mattresses. Hanging beds give you more flexibility. If you want to sleep two people in one room, you can put a twin hanging bed and a twin mattress on the floor below.
Or you can put two twin hanging beds on the same floor and still have room for a desk below. You can even put a twin-hanging bed on the bottom and a queen on top.
Hanging Boat Bed
The hanging boat bed is a popular choice for children who love boats. If you have a child who dreams about being a captain, or if your child loves to read about boats and sea adventures, this hanging boat bed can be a great décor choice.
Hanging boat bed designs are important for children who love to sleep in boats. Hanging beds are in fact ideal for many types of children and adults. In addition, for families with limited space, hanging beds can make space greater utilization.
Do you know someone who would definitely enjoy this hanging bed? 🙂
You'll need these materials:
2×6 Timber
Eye Bolts
Gorilla Glue
Nuts and Washers
4″ Lag Screws
Spray Paint (optional)
1/4″ Ferrule & Stop Set
Steel Cable
Quick Link Hardware
And these tools:
Circular Saw
Drill
Measuring Tape
Stud Finder
Click on any image to start lightbox display. Use your Esc key to close the lightbox. You can also view the images as a slideshow if you prefer 😎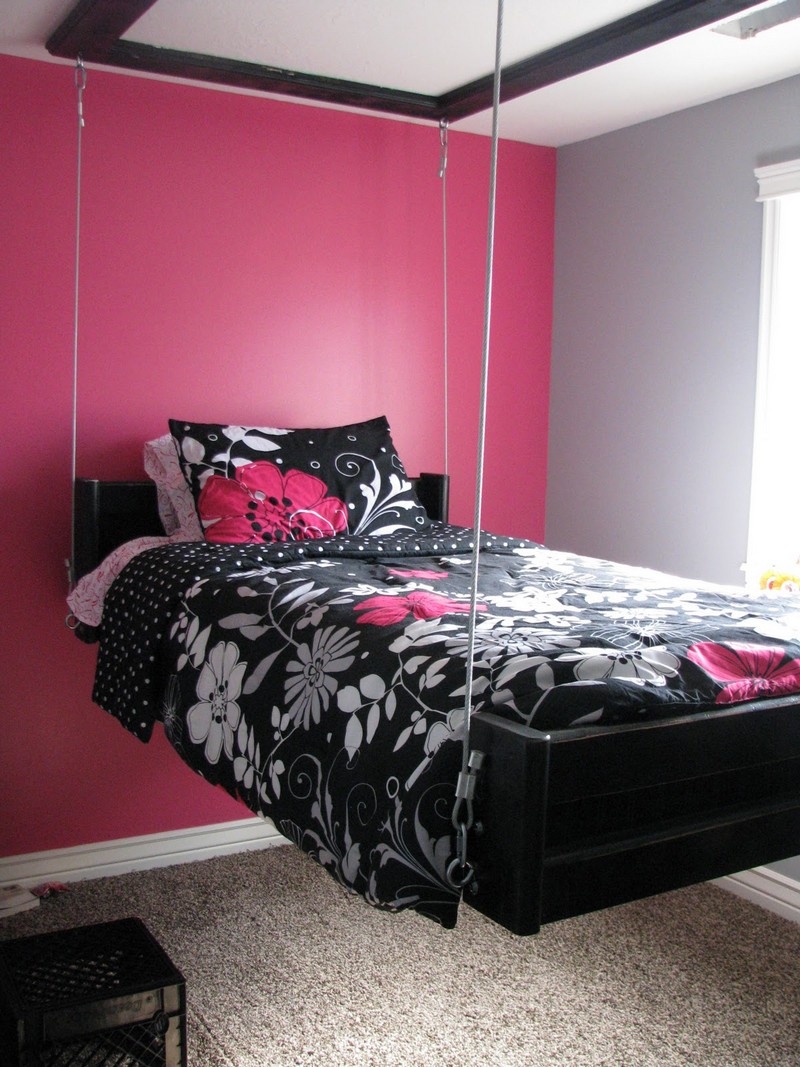 Thanks to Sticks and Stones Home Decor for this great project. You can get step-by-step instructions here…
If you liked this project, you will also like viewing these swings and hammocks…