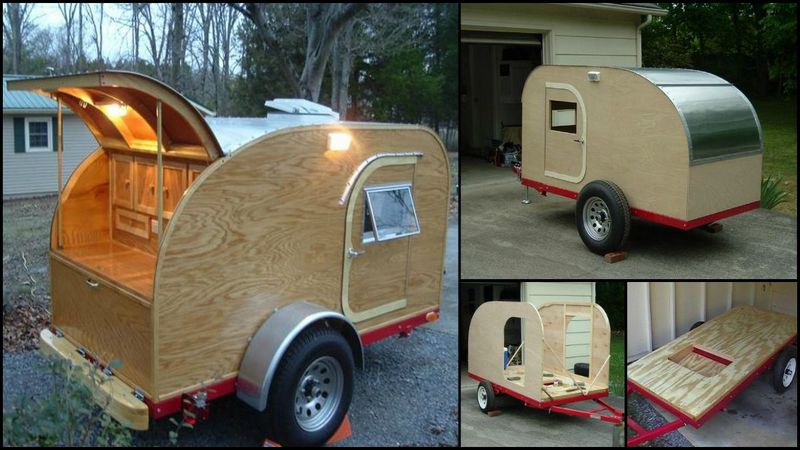 When it comes to going on the road for an extended overland adventure, you can opt for add-on solutions like vehicle rooftop tents and portable kitchens or a full-blown, tricked-out RV. Somewhere in between is the camper-trailer, which allows the family a small – but efficient – home on the go.
If you love the idea of your own camper trailer, but don't like the price tag, you can always build your own.
Not everyone enjoys camping in a tent. Some of us prefer to have the basic amenities a home offers. A camper trailer is perfect for this as it has everything you need in a home while you're enjoying the great outdoors.
This teardrop trailer measuring 4×8′, can accommodate two people for sleeping. What's nice about this trailer is that it can be towed by just about any car because of its lightweight design.
And it's not just sleeping quarters as it has a galley at the back, too! It could also contain a small DVD player, refrigerator, etc. As always, the best part about making your own, is that it can be custom built for your special requirements.
Thinking of building one?Here are some of the basic materials that you will need…
Materials:
Trailer Bed
Aluminum Sheet
¼" Oak Plywood
Torsion Axle
14" Wheels
Bolts and Nuts
Wood Varnish
Lighting Fixtures
Exhaust Fan
Hinges and Door Knobs
Outlet Covers and Wirings
Clamps
Screws
Tools:
Caulking Gun
Power Drill
Pliers
Hammer
Table Saw
Jig Saw
Click on any image to start lightbox display. Use your Esc key to close the lightbox. You can also view the images as a slideshow if you prefer 😎
If you liked this project, you will also like viewing these easy DIY projects…