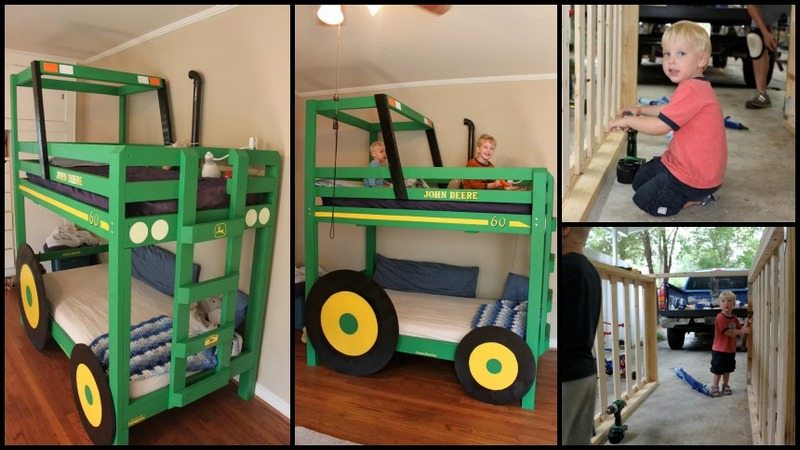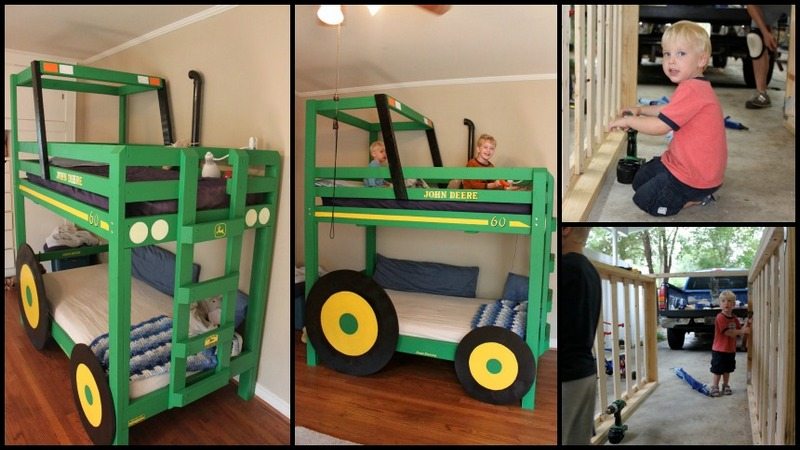 If you're looking for a way to give your kids a taste of what it's like to grow up on a farm, why not build them a tractor bunk bed? Or if you live on a farm or your kids like homesteading activities, a tractor bunk bed could be perfect for your kids.
Not only would it be a great addition to your farmhouse, but it would also be great in a small country weekend getaway home. This project is relatively simple and can be a lot of fun for your kids. Plus, they'll love being able to sleep in their very own tractor bed.
Your kids would love sleeping in their tractor bed, and you would love the rustic charm it would add to your kid's room.
Tractor Bunk beds are great for kids who share one bedroom, especially if you have lots of vertical space you can use. By going up, rather than out, you create more space in the room for the kids to play around.
Additionally, bunk beds can help create a sense of camaraderie and shared space between siblings who may not otherwise have much in common. In short, bunk beds are a great way to make the most of a small space!
If you have two kids sharing a room, bunk beds can be a great way to save space. You can put a bunk bed in the corner of the room, which will leave more space for other furniture or for your kids to play.
Bunk beds are also great for sleepovers because kids can sleep in the top bunk and have the bottom bunk for storage. Plus, bunk beds are just plain fun! They are like having a mini fort in your room that you can sleep in.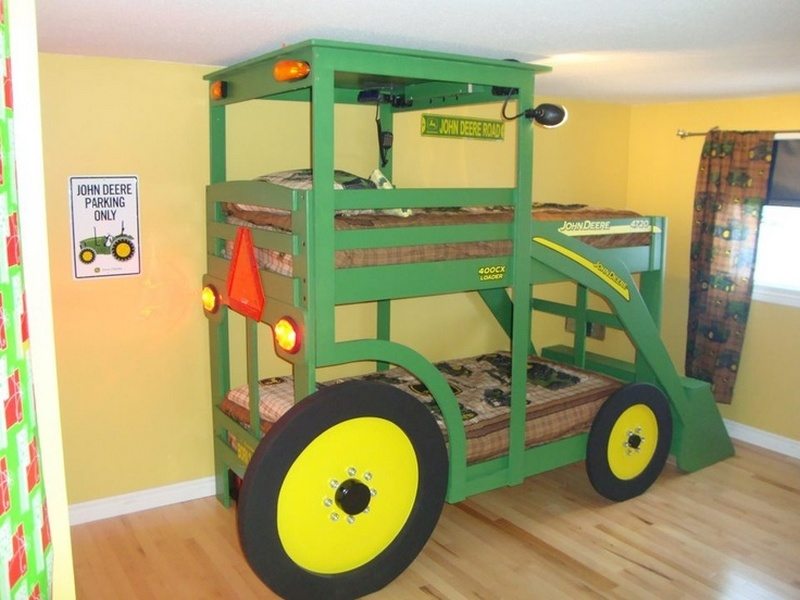 This bed design is one of the simpler DIY tractor bunk bed designs and would be perfect for very young kids. However, if you really want to impress the little bosses, you could build a more detailed and realistic tractor bunk bed.
You could buy cheap tractor parts which you can include in your DIY bed, just make sure they are safe and won't pose a risk to your child.
You could have a unique tractor bunk bed that your child will love with a little creativity and effort.
Think your kids would look forward to bedtime with a bed like this?
Check out the album to get some inspiration for starting your own bunk bed project! You'll find a variety of tractor bunk bed designs to choose from, so you can select the perfect one for your home.
Take a look at the different styles and options available, and then start planning your own bunk bed project!
What are the materials needed to build a Tractor Bunk Bed
Materials:
4 – 2x6x10
12 – 1x4x8
15 – 2x4x104
4 – 2x2x8
16 – 5/16×3.5″ Carriage Bolts
16 – Washers
16 – 5/16″ Lock Nuts
1 box – 2.5″ drywall screws
1 piece of 4×8 plywood to cut the wheels out of.
1/2″ Thick Plywood
2 – short lengths of PVC pipe
Paint colours (from Home Depot):
2 gallons of Green Grass
1-quart Sunflower
2 cans of Black Spray Paint
Acrylic Paints – for the reflectors and headlights
Tools:
Table Saw
Wood Clamps
Sander
Drill
Tape Measure
What are the 5 perfect ideas to build a Tractor Bunk Bed?
With Side Ladder
With Headlights
With Front Ladder
With Storage Ladder
With Removable Ladder
Below are the 5 perfect ideas to build your tractor bunk bed.
Click on any image to start the lightbox display. Use your Esc key to close the lightbox. You can also view the images as a slideshow if you prefer 😎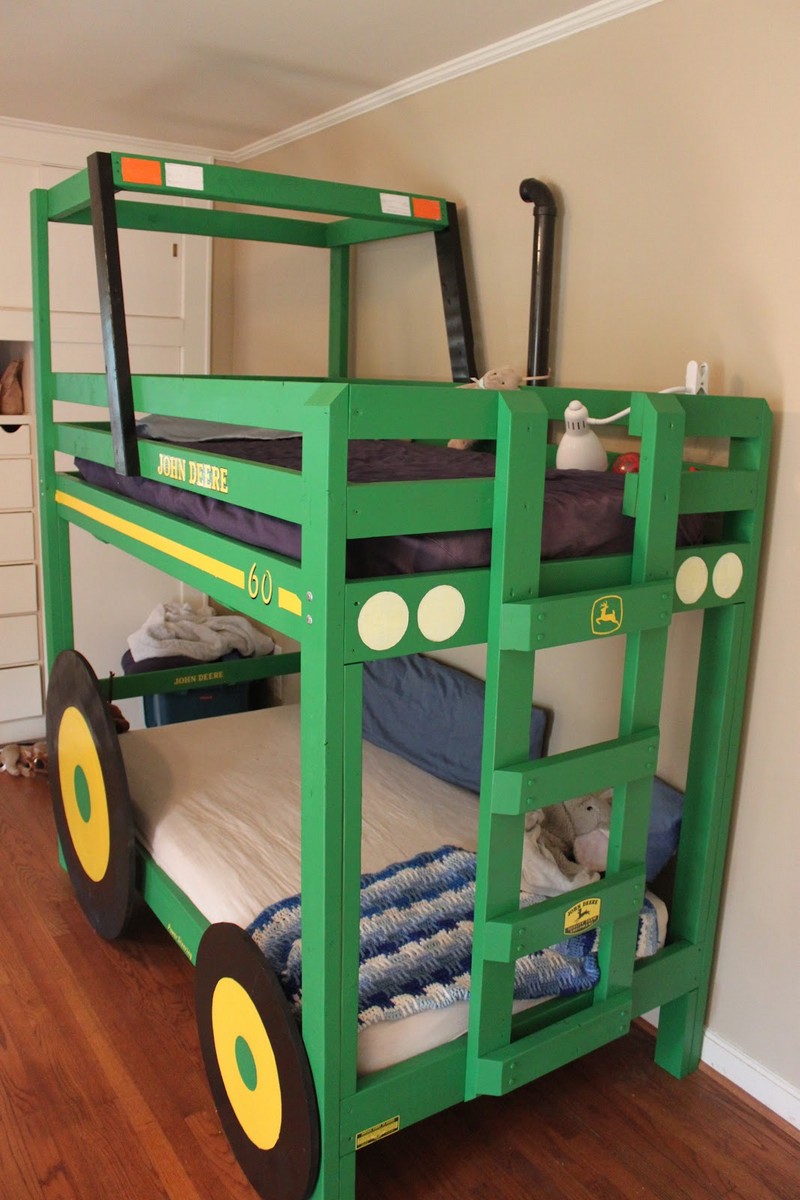 Thanks to Rucker Rendezvous for this great project. You can get the instructions here…
If you liked this project, you will also like viewing these bunk bed ideas…