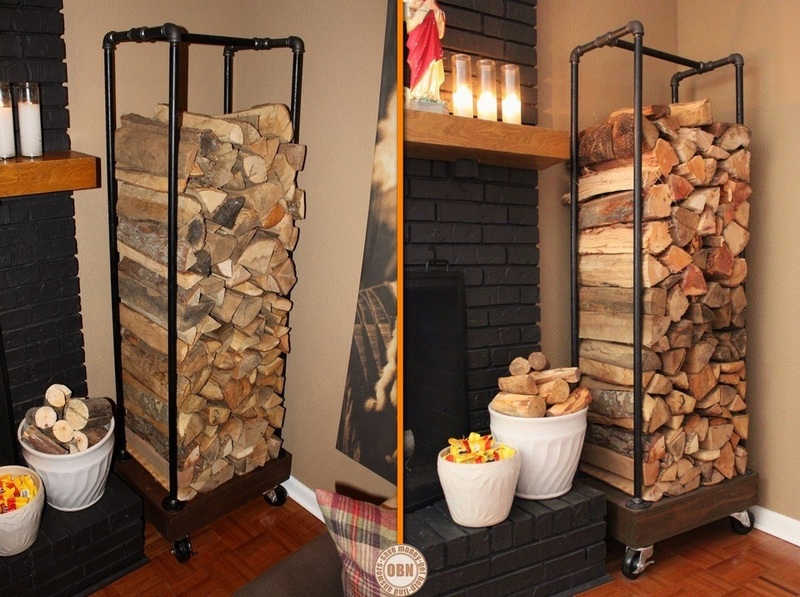 One of the best things to do on a cold winter evening is to sit near a fireplace to enjoy the toasty warmth and soft light of a good fire. Because seasoned firewood is dry wood, it's important to keep your stack dry and off the ground. That's why a good indoor firewood holder is key for homes that have a fireplace. Want a better storage solution for your firewood? This easy DIY firewood holder system would be a perfect weekend project for you!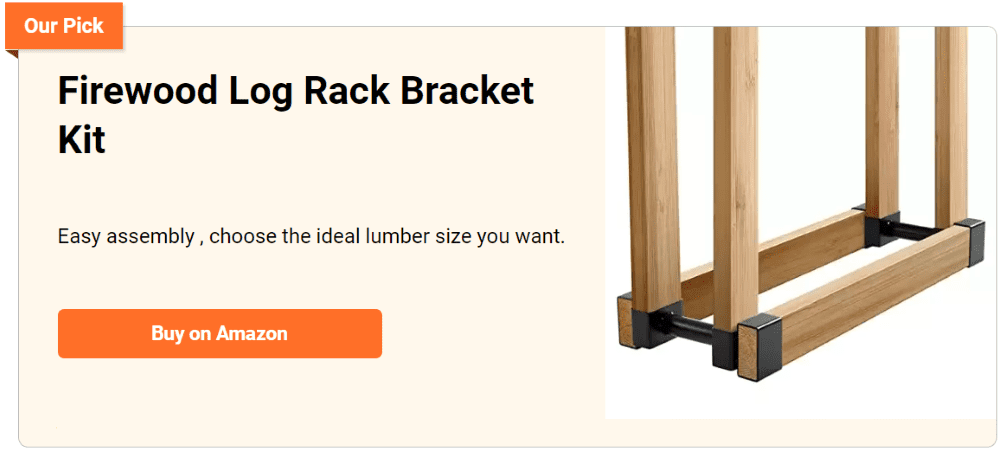 The DIY firewood holder featured here was built after seeing a similar idea from a catalogue. It was perfect but it was also priced above what some of us are willing to pay. And why spend money when you can make one using materials you might already have or can source for free or with very little expenditure?
You can use reclaimed or leftover lumber and old plumbing pipes in building this rustic firewood holder. Now isn't that a good addition to your fireplace?
Better still, by having it on wheels, you can take it close to the outdoor woodpile to load and then bring it back inside.
We say it's better than the ones in the catalogue! It will also look good with a white base and metal-coloured pipes.
What are the materials needed to construct a DIY firewood holder?
Want one for yourself? Start gathering all the materials you'll need!
You'll need these materials:
2×4 Lumber
2×4 Pine Lumber
Drywall Screws
Plywood
Brad Nails
Walnut Stain
Heavy-duty Wheel Casters
2" Lag Screws
Black Spray Paint
¾" diameter Plumbing Pipes
4pcs of 60" length
4 pcs of 5" length
1 pc of 18" length
4 pcs elbows
2 pcs T's
4 pcs Floor Flanges
And these tools:
Sander
Circular Saw
Hammer
Drill
How to construct a DIY firewood holder?
1. Make a box
Make a layered box, we recommend 2x4s and for the outer layer, we can use 1x4s.
2. Make the base
Make a three-layer base screwed using drywall-type screws. Make sure the base will be strong enough to hold the pile of woods.
Over the frame, I nailed in an 18×28 plywood sheet with brads and sanded the ends to make them straight. Coat it twice with a Minwax water-based walnut stain to give a darker satin finish.
Then turn it over, bolt-on casters underneath with 2" lag screws.
3. Make the Frames
Next, we can now build the plumbing pipe frame. Since flanges are galvanized, we can paint these with black paint. We bolted our 2" lag screws to the base after the pipe fixture was tightened together.
Click on any image to start the lightbox display. Use your Esc key to close the lightbox. You can also view the images as a slideshow if you prefer 😎
If you liked this project, you will also like viewing these firewood storage ideas…