Do you have grandma's old Singer sewing machine table in your storage? If you do, then you've got yourself a gem!
These old model Singer sewing machine tables are no longer sold in the market these days, but they are considered of high value, much like heirloom pieces. Many people who are passionate about sewing still prefer to use these machines, as they believe that the quality of the stitches is superior to that of newer models.
Our Pick
Some people even go so far as to say that these machines have a soul and that each one is unique. Whether you're a sewing enthusiast or not, there's no denying that these tables are beautiful pieces of history.
It's not only because they are antique pieces, but more so because they make gorgeous and unique pieces of furniture!
You'll learn why a Singer sewing machine table like this would cost around $80, even up to $400, on eBay! Just take a look at the wonderful ideas for these tables that we gathered for you below.
So if you're able to get your hands on one of these vintage sewing machine tables, make sure to get inspiration from this list and build yourself an upcycled furniture item that's sure to be a conversation piece!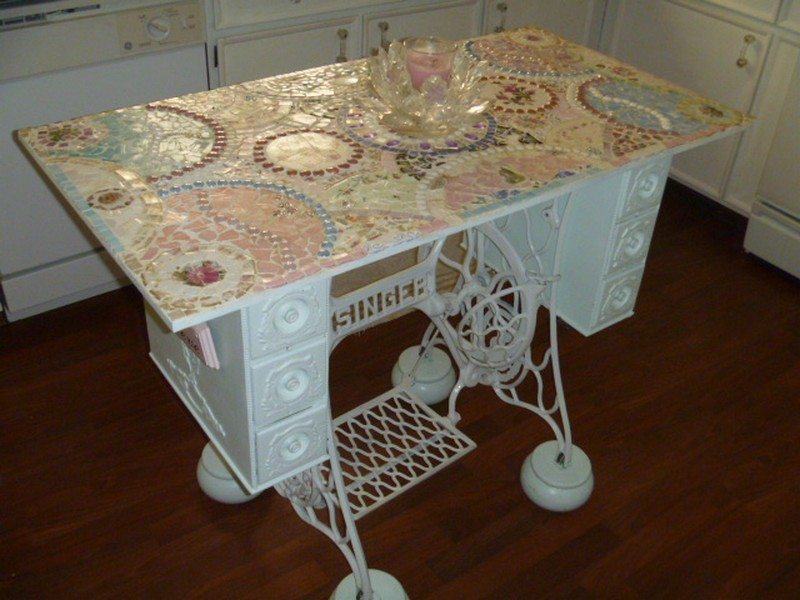 Below are 10 creative ways to reuse your old sewing machine table:
Which of these creative ideas do you like the most?
Click on any image to start the lightbox display. Use your Esc key to close the lightbox. You can also view the images as a slideshow if you prefer

Bathroom Sink
Why not give an old Singer sewing machine table new life? By turning it into an attractive bathroom sink, you can give your bathroom a great look, as well as save money.
Makeup Table/Vanity
A Singer sewing machine table can become an amazing make-up table or a vanity. Simply sand down the surface of the table, paint it in your desired colour, and add a mirror and some shelves. Voila! You now have a make-up table or a vanity.
Pair it up with a luxurious chair or stool, you will surely love to spend more time making yourself more beautiful everyday. 🙂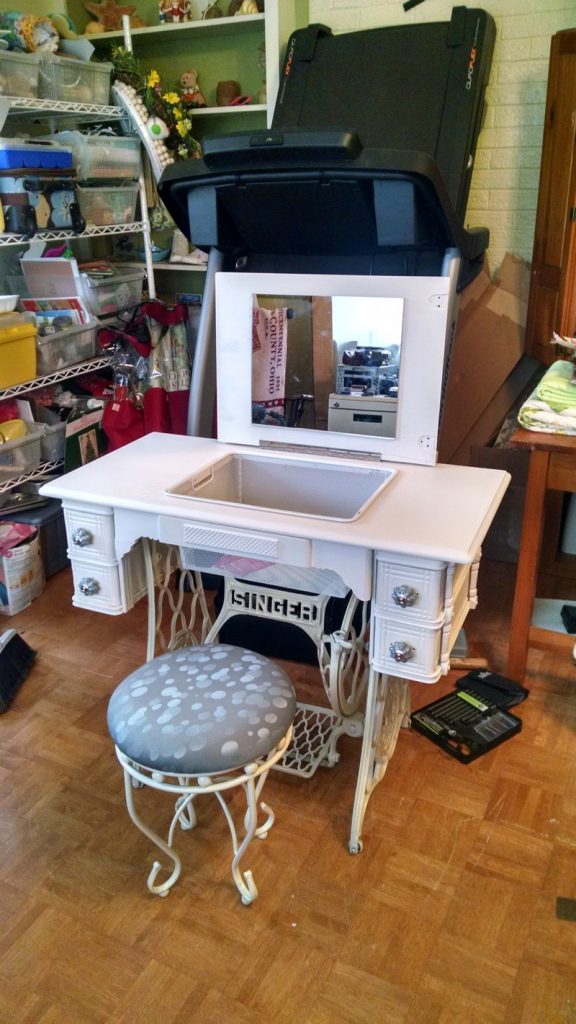 Sofa Table
When you're on the hunt for the perfect sofa table, you want something that's stylish, but also practical. An old singer sewing machine table ticks both of those boxes, and then some.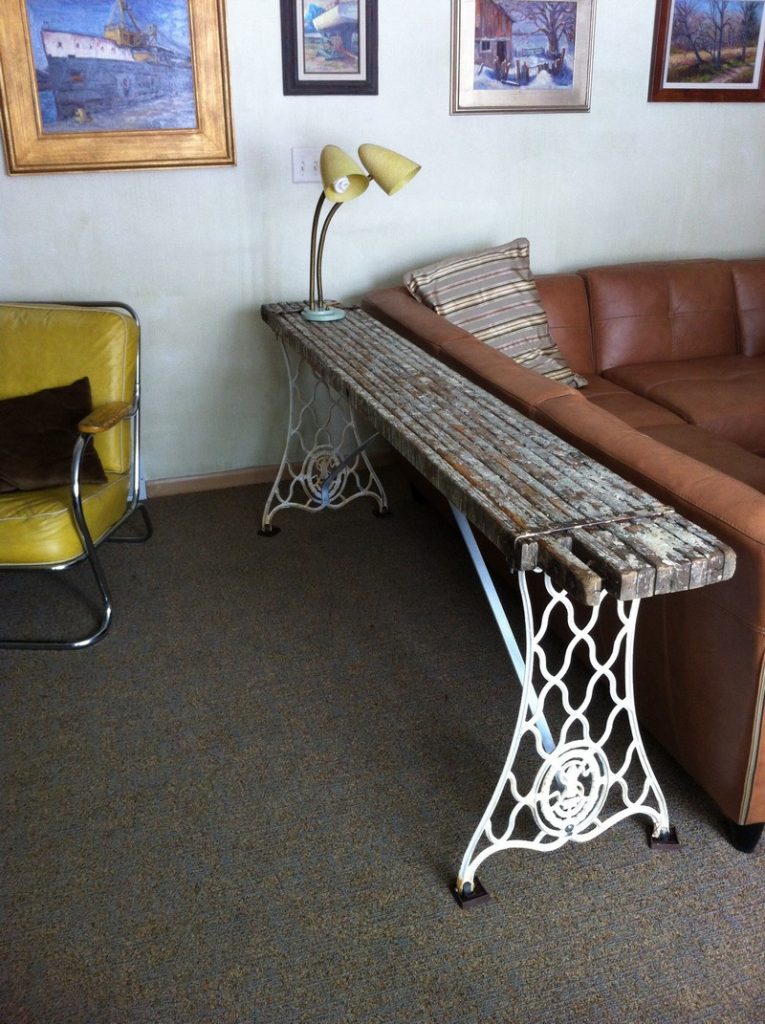 Table with Shelf
If you're looking for a way to add a bit of extra storage to your home without spending a fortune, then consider converting an old singer sewing machine table into a table with a shelf.
It's a simple project that anyone can do, and it'll give you an extra place to store things like books, magazines, or even knick-knacks. Plus, it'll add a touch of vintage charm to any room.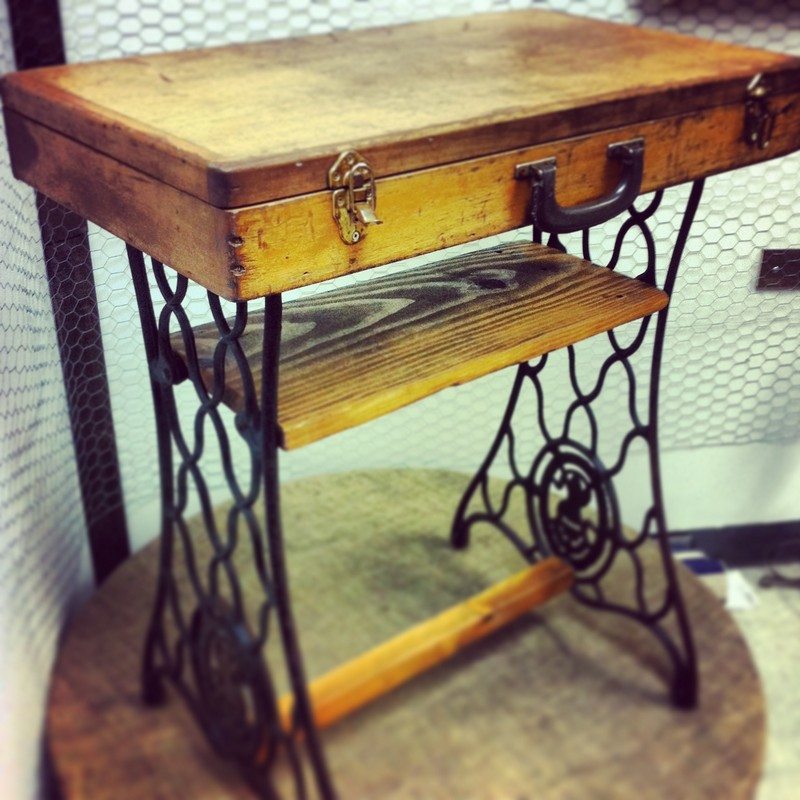 Planter
Who would have thought that an old singer sewing machine table could be transformed into a beautiful planter? With a little bit of creativity, this piece of furniture can be given new life and become a stunning planter.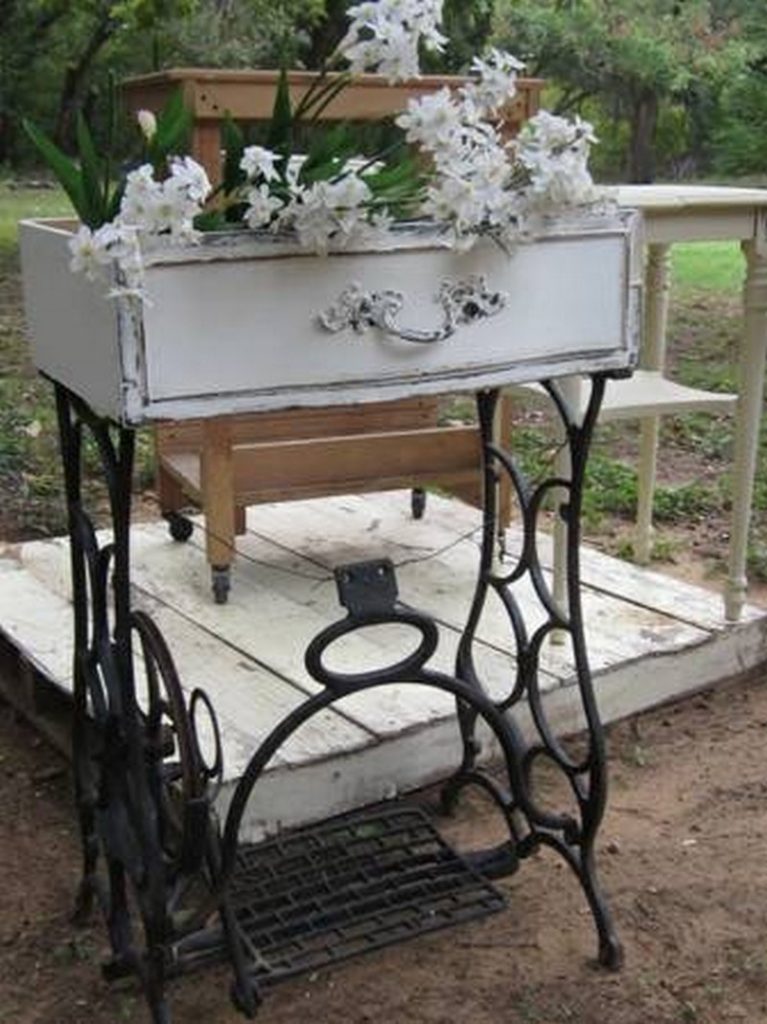 Kitchen Island/Butcher Block
This is a great way to add additional counter space and storage to your kitchen, while also giving your space a unique, vintage-inspired look.
You can attach some caster wheels to the bottom of the table so you can easily move it around your kitchen as needed
Entry Hall Table
An entry hall table is a great spot to put your keys and cellphone when entering your home. This can aid you to stay organized and prevent you from losing your belongings.
It is also a suitable place to set down any items you may be carrying when you come in the door.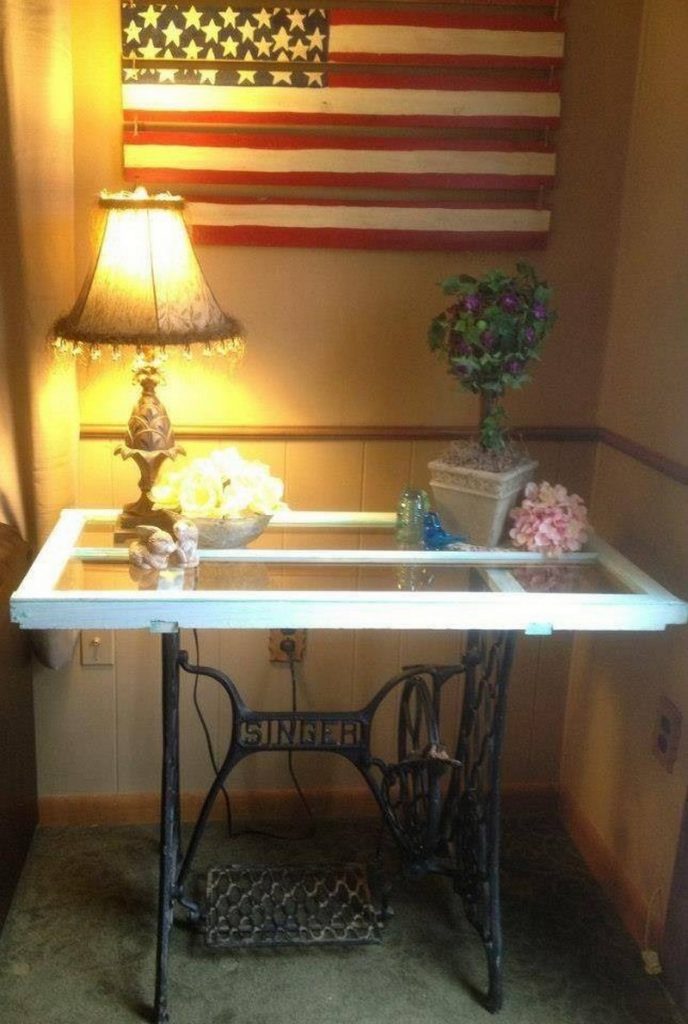 Chair
Who would have thought this is possible? Would you like to transform your old sewing machine table into a chair?
Coffee Bar/Wine Rack
Need a unique place to store your wines? Then you may have to check out this project that would help you achieve a creative unique wine which can also be a coffee bar.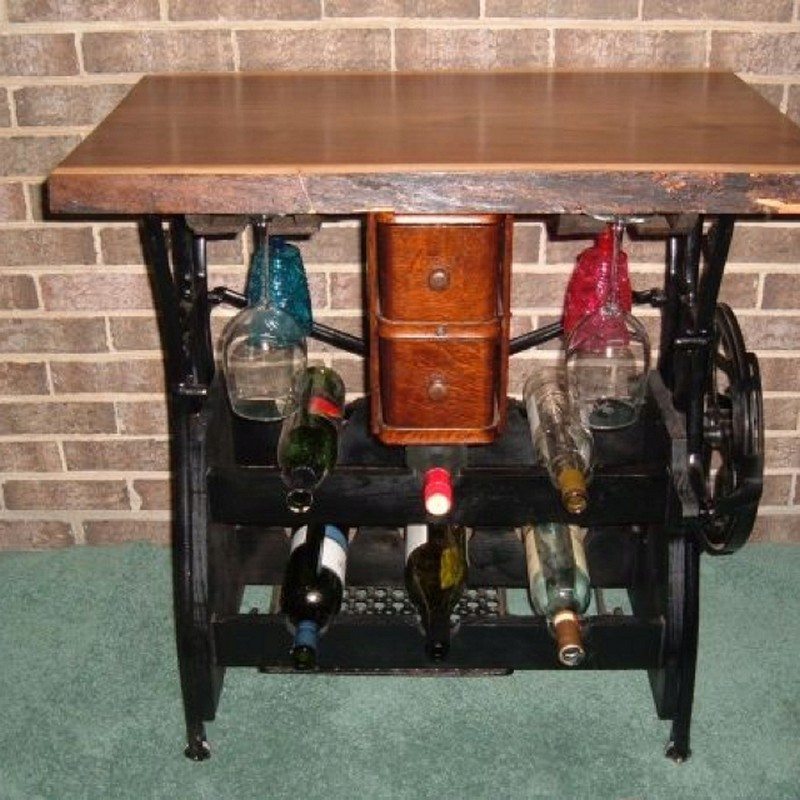 Farmhouse Dining Table
Farmhouse dining tables can be used both formally and informally, and can be a great addition to any home. They are typically made from wood, and often have a simple, rustic design.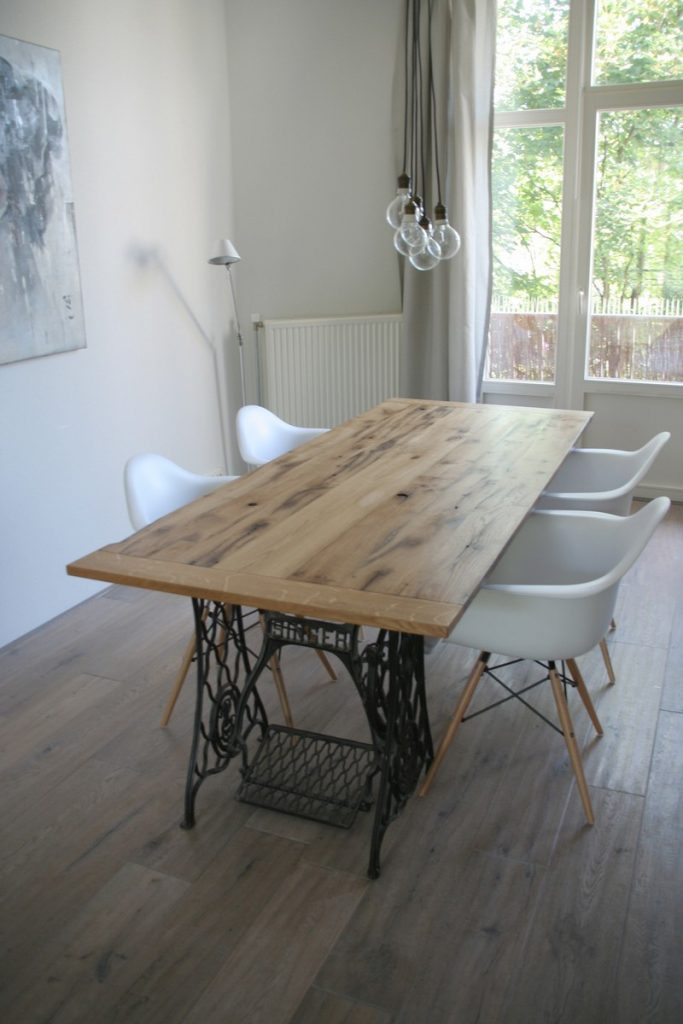 If you liked these, you will also like viewing these Recycling Ideas and Old sewing table turned colour popping planter.