Catskills, New York –  J_spy Architecture & Design
Built area:    106.37 m2
Year built:    2017
Photographs: Amanda Kirkpatrick
Catskills House is a small weekend residence for an urban family. They wanted a home where they can go to to escape the hectic city life.
The home sits in an area with verdant green landscape. Catskills, New York is known for its natural beauty with hiking trails and lush foliage. With such beautiful surroundings, having a house here is the ultimate weekend getaway.
The design is contemporary. Inside, industrial elements work together with colorful pieces to give the house a modern vibe. A double height ceiling opens up the space, making it feel larger than it really is. Sliding glass doors provides a palpable indoor/outdoor connection.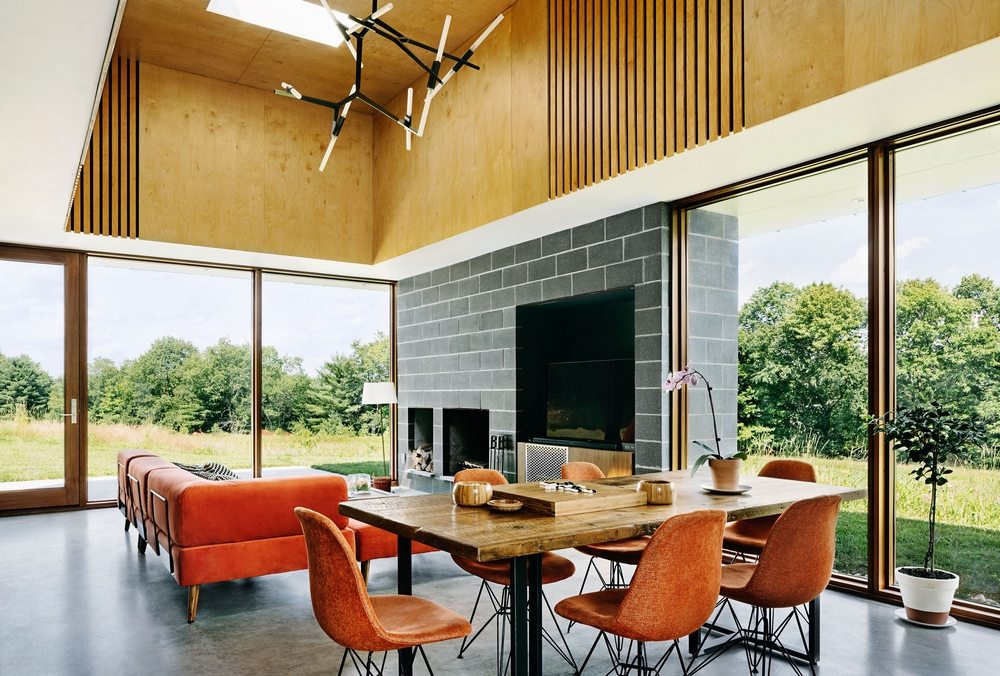 It is very hard to miss Catskills House. With gray walls and a metal volume, it stands out amidst the mostly green backdrop.
Notes from the Architect:
This small house located in the Catskills, NY is designed as a weekend getaway for a family living near New York City. The house sits on 6 acres of land, but is only a little more than 1,000 sq. ft., which is enough to provide a comfortable setting for the family to enjoy the nature of the site. What makes this house unique is the simplicity of the form which is essentially 4 volumes. The three base volumes are all clad in ground faced concrete block inside and outside, and contain the support spaces of the house. The fourth volume is clad in metal and sits on top of the 3 concrete block volumes to enclose the main living space of the house. The oversized mahogany wood windows complete the enclosure between the concrete block volumes.

On the inside, the white metal volume is a raised ceiling in the main space which is finished in plywood with operable skylights at the top. A portion of the plywood is cut into slats with a felt fabric behind to soften the acoustics in an otherwise hard surfaced space. The metal volume also overhangs the large openings providing weather protection and solar shading in the summer. The only utility at the site is electricity, so to provide energy efficient heating, a geothermal heat pump is connected to a 400 ft. well that provides the heat to hydronic radiant tubes cast into the polished concrete floor. In the summer, the geothermal system switches to a ducted system for cooling. The energy efficient mechanical system, along with the roof overhangs that provide shading in the summer and allow solar heat gain in the winter, help make this house very energy efficient. The house is the perfect outpost to explore the site and the natural setting of the Catskills.
Click on any image to start lightbox display. Use your Esc key to close the lightbox. You can also view the images as a slideshow if you prefer. ?
Exterior Views:
Interior Views:
Drawing Views:
Do you like the idea of going camping on weekends? Take a look at this Tent House. It's how to camp in style.