Built area:    56.0 m2
Year built:    2016
Cabin K sits on a Finnish lakeside property, commissioned by the owner for his family. This is a guest cabin where family and friends can get-together. Surrounded by tall trees and with stunning views of the lake, the cabin is an ideal retreat.
The cabin sits on top of a granite ridge with a limited area for construction. To minimize environmental impact of the building process, the materials were lifted via a crane.
On the southern and northern sides, the cabin features oversized windows framing stunning views. Tall trees filter the sunlight on to a quaint little loft, always a perfect hideaway spot.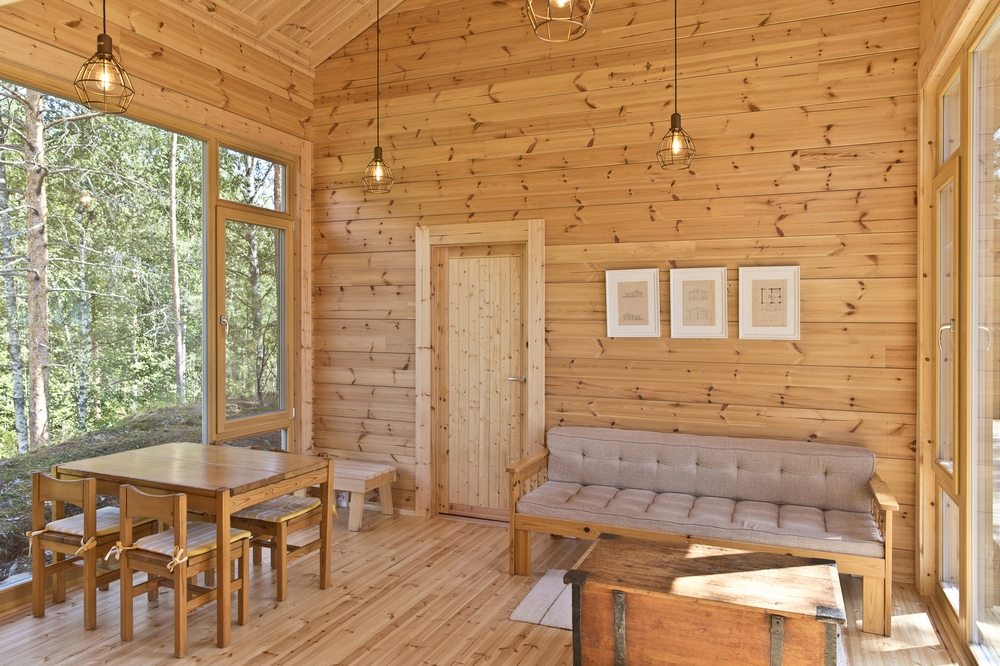 With a limited budget to work on, most of the materials used in building the cabin were sourced locally. The walls and interior finish are made of pine logs. Outside, vertically-placed timber screens were treated with iron oxide. This serves as a protection against the harsh elements.
Notes from the Architect:
This 600 square foot summer cottage is a guest cabin and owner's retreat. Perched high on a granite ridge, the cabin has panoramic views of the high latitude forest and lake Saimaa. The boundary between the inside and outside is fluid. Sunshine flows through the building, while the floor of the interior extends out towards the water.

The double height living room pulls the outside in with over-sized operable windows on the north and south. This main space connects to a loft that is bathed in filtered light. The whimsical loft feels like a tree house; it is a perfect place to hide and read a book. Generously sized bedrooms bookend the living space to the east and west, each with a picture window to the site.

High care was taken to preserve the beauty of the site. The window assemblies and logs were manufactured off site and lofted into place with a crane. The materials palette blends with the natural surroundings. The vertical screening filters light and echoes the tall nature of the forest. Wooden walkways follow the contours of the landscape, providing a path to the cabin while keeping the surrounding nature untouched.

The cabin combines traditional forms and materials with contemporary systems and details to create an instantly recognisable summer cabin that is functionally and aesthetically modern. The main structure is made of pine logs, like many traditional structures in Finland. The exterior is treated with iron oxide, a traditional treatment which accelerates the natural graying process of wood. The vertical screening protects the logs from sun and wind exposure. The screening is like a protective coat, it is removable and replaceable. The interior of the cabin reveals the untreated pine log walls and bare roof rafters. The gable roof form and log walls are common in Finnish cabins, while the details, volume, and quality of light are unexpected.
Click on any image to start lightbox display. Use your Esc key to close the lightbox. You can also view the images as a slideshow if you prefer. 😎
Exterior Views:
Interior Views:
Drawing Views:
If you liked this cabin, you'll also like Cabin at Longbranch…