Built area:    79.0 m2
Year built:    2015
Photographs: Justin Aaron
Brick House is a renovation and extension project of an old worker's cottage. The old wall was made out of bricks. Because of this, the architects decided to use the same material throughout the house.
The bricks used in the project were recycled ones. They were specifically sourced in order to match the existing wall. Bricks also found their way into kitchen and barbecue benches.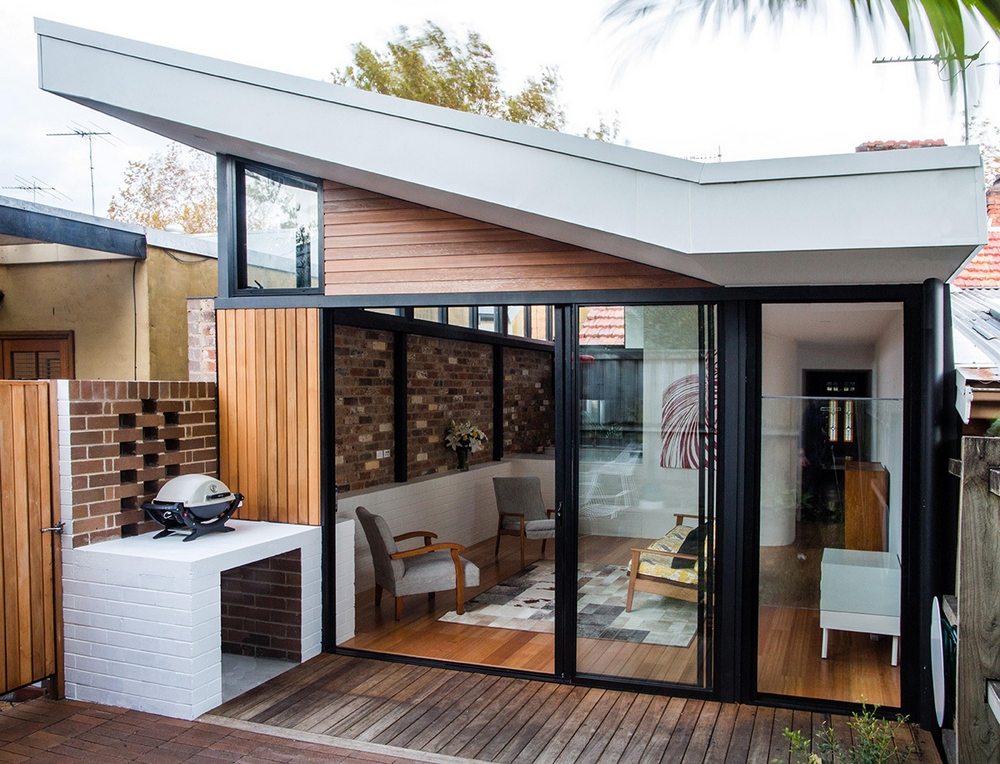 The house is small, barely 80 m2. But despite its compact size, the architects made sure that the space remains open. Glass panes were installed because they wanted to let natural light in. A sliding glass door establishes a connection between the outdoor and indoor areas.
The warm hue of the bricks provides a nice contrast to the white walls of the interiors. Overall, Brick House is comfortable and cozy – a house meant for relaxed living.
Notes from the Architect:
This revitalization of an inner city worker's cottage aimed to open the space up + provide natural light and a direct connection to the outdoor area.

The renovations + additions took cue from this wall utilizing a variety of bricks throughout the extension. Recycled bricks sourced extended the remnant wall, adding texture and colour in an otherwise monochrome extension. New bricks weave through the project, beginning inside as the kitchen bench, wrapping along the length of the room as a ledge for artwork + modern essentials, snaking outside and bulging to form a BBQ bench before finally dipping down to create a long bench seat.

The hit + miss brick of the courtyard wall visually borrows space from the shared laneway beyond, while the brick on edge paving laid in a stack bond pattern, steps its way into the landscape blurring the edges between garden + courtyard.

The materiality of the bricks is contrasted by a folded white living/kitchen/dining space. The roof folds up to North providing light + ventilation while creating a sense of weightlessness which counteracts the solid brick base.
Click on any image to start lightbox display. Use your Esc key to close the lightbox. You can also view the images as a slideshow if you prefer. ?
Exterior Views:
Interior Views:
Drawing Views:
Bricks have been the material of choice of many homeowners. One great example is Pilar House in Argentina.