Project Year :     2010
Sitting in the midst of a seemingly barren and cold piece of land is this lone structure. At first glance, there's nothing extraordinary about it. In fact, the Atrium House looks more like a fortress than a home.
Imagine a box with a hollow center – this is how the Atrium House looks like. With narrow living spaces that are relegated to the sides of the box, the house has basically eliminated whatever is unnecessary. This is no fuss, no frills, basic, minimum living.

Narrow 'hallways' make up the living spaces, surrounding an enclosed atrium. The ceiling is low which gives one a sense of restriction. This is a direct contrast with the freedom and openness associated with the wide spaces of the outdoors.
There is minimal furniture inside the house, some integrated into the walls. From an outsider's point of view, the house doesn't look inhabited. But despite the absence of obvious signs of life, large sliding windows allow unobstructed views of the outside scenery while providing natural light, making the place look bright and cheery.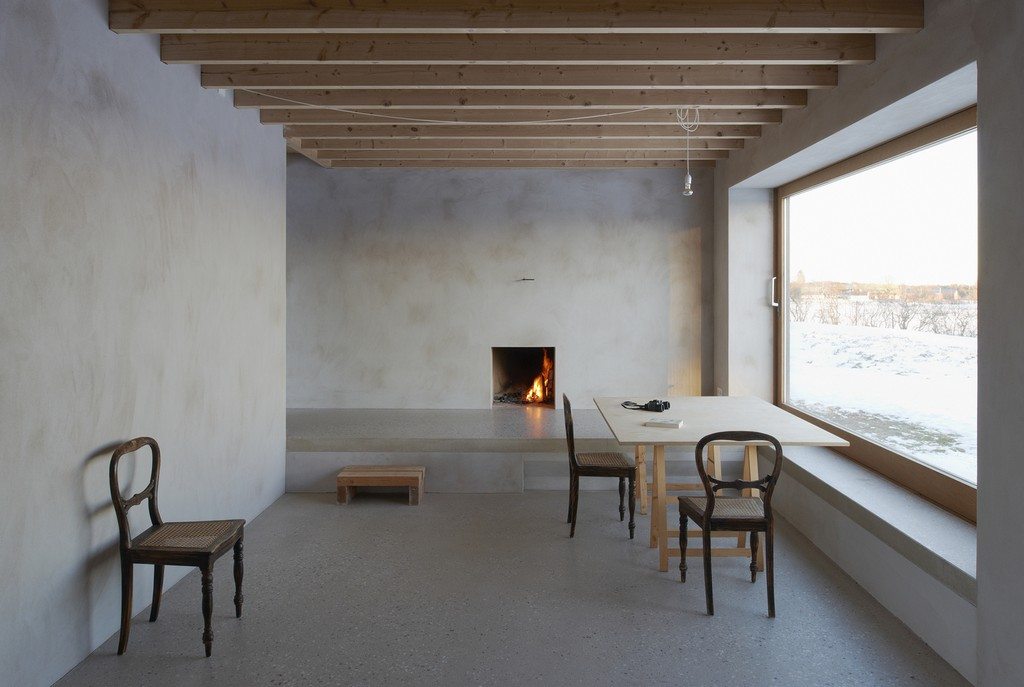 Notes from the Architect:
Atrium house on Gotland. Situated on a 10th century shoreline, a low house set in a vast landscape, overlooking the Baltic sea.

The house is planned around a completely enclosed atrium courtyard in an open, undisturbed landscape where sheep graze.

The plan is narrow, but its openings outward are broad, which gives the interior the character of a sheltering niche in the open space of the landscape. Floors in three levels relate to the slightly undulating land outside and differentiate the interior ceiling heights.

Model study. With a thin plan and large openings, the interior is treated as one continuous space, within which the smaller rooms are assembled in a number of solid blocks. Inspired by the impressive materiality of Gotland's vernacular agricultural architecture, the masonry construction has a natural plaster colour that has been mixed with carbon black, exterior metal parts made of oxidised zinc, and oak doors as well as windows that have been treated with tar oil. The large sliding glass windows are mounted on the surface of the exterior walls, according to the same principle as many barn doors. Also the interior doors are surface‐mounted, allowing the walls to appear unbroken.
Click on any image to start lightbox display. Use your Esc key to close the lightbox. You can also view the images as a slideshow if you prefer 

Exterior Views :
Interior Views :
Drawing Views :
If you liked this post of a rather unusual home, you'll most likely love this one: 30 Unconventional Homes Around the World!