Renovating your home can be quite an exciting project yet it can also be messy. And if you don't manage it well, your furniture could be stained or otherwise damaged. Your yard could also be a casualty, suffering significant damage as a result of your renovations. How do you get on with your renovation project without worrying that the mess will get out of control?
This article will give you tips on how to go about it:
1. Protect Your Furniture
Is there any furniture that you'll need to move out of your working zones for a while? If there are, then start moving them before the renovations begin. Moving your furniture will help keep it safe from damage and staining during renovations.
You may decide to leave out a room just for storage, or you can move your big furniture to the parts that aren't being renovated at the time and then still cover them up with plastic sheets to avoid dust and other things reaching them.
And for the smaller stuff, you could pack it up into boxes or bin bags before the contractors come. It will save you the trouble of moving them around during renovations. Plus, keeping your stuff in one place is one of the best ways not to lose any of your things during this process. You should know where each of your sealed boxes is and make sure they all go into the same storage facility so it's easier for you to keep track of them. If your place is too small, you might need to hire storage space for your furniture.  
If you no longer need stuff, such as small electronics, clothes, sporting equipment, and other stuff that's easy to carry, you might consider donating these instead of throwing them away. A free donation pick-up service could be of help here. You can call them up, and you get rid of all the stuff that could make your storage fees unnecessarily expensive.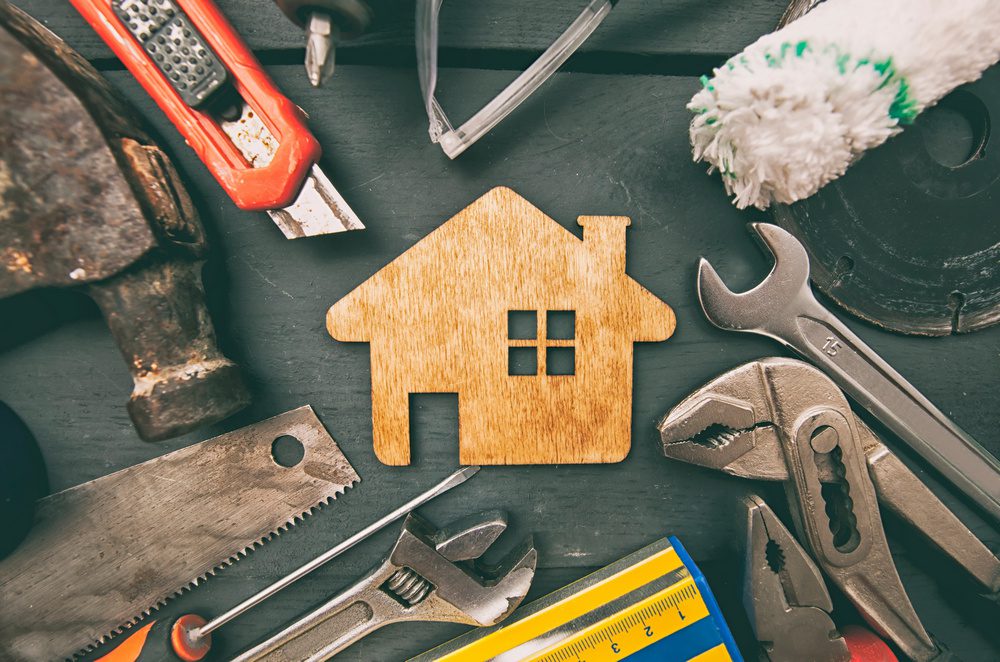 2. Have A Discussion With Your Contractor 
If you're going to have any real success in minimizing mess, the right person to help you do that is your contractor. So, you must sit down with them before the renovations even start and share with them your expectations.
Where dust can be minimized or prevented from reaching certain areas, your contractor might help you with some of the best ideas to help do that.
Talk to your contractor about your scheduled days in time to know the days when duty sheets and other protective materials are needed for your furniture and other things. You can also block out days where the weather is terrible, holidays or some staff members cannot make it to avoid messy days that don't have a corresponding level of actual work done.
3. Decide If You're Going To Leave Or Stay While The Renovations Get Done
Managing dirt during a renovation needs even more care if you're going to be home while your contractors renovate.
You'll need to plan out based on your daily activities where you will be every day. It will help your contractors know which areas are in the construction zone to keep safe and clear of any debris as they work. Having a plan helps ensure you won't have to deal with mess unexpectedly in the areas you're staying at a particular time.
4. Cover The Pathways
Based on the type of renovation you're having done; traffic is likely going to be concentrated in some areas more than it will in others. These are the high traffic that might shift daily as the renovation progresses, and you'll need to consider that.  
You don't want your pathways to look like a dumpster, so you'll need to cover them up as much as possible. You can use a plastic sheet and tape, or you may roll out a material that covers up your carpets to protect them from dirt and absorb the dirt before it goes to the rest of the house.
5. Create A Cleaning Routine
If you're in the house during renovations, you'll need to establish a consistent cleaning routine. The last thing you want is to deal with the mess in one go. If you're cleaning out the place every day, then it means you don't have to dedicate a crazy number of days daily just for cleaning as soon as the contractors are done. And your house can return to normal quickly if you do it this way.
Cleaning every day consistently for the duration of the renovation is even more critical if you're a pet owner or have children, as they can quickly spread dirt all over your house and undo every little work you might have done. So, the less mess there is to spread around, to begin with, the better.
6. Cordon Off The Construction Zone
To manage dirt within the renovation area, you might want to consider closing it off with some type of barrier. It will help people outside the construction team know how to get into this area. It will help avoid an unnecessary mess around the yard as people won't track dirt around your home by walking in and out of the construction zone.
The more you can keep dirt within a specified zone while the rest remains dirt-free, the better it will be to clean off.
7. Hire Post Renovation Cleaners
One of the best ways to deal with dirt from a renovation project is to hire professionally trained cleaners. They know specific areas not to miss when cleaning, how to remove which stains, and will generally leave your place looking and feeling fresh in a short period.
Cleaning the place on your own might seem like a great idea and even easy, but in reality, that's far from the truth. There will be a lot of carrying stuff around, reaching for corners, and a long checklist of things to do before your house can be cleaned again. When you're not a professional who does this almost daily, you might miss some spots and potentially expose your home to damage, especially if you forget to clean out a moist area that may lead to molding and other complications.
Conclusion
As you plan for your home's renovation you must factor in how you will clean the mess. Waiting to clean it once the renovation work is done can be overwhelming and can also result in unintended damage to your property. The tips given in this article will help you create a plan to help keep the mess manageable.