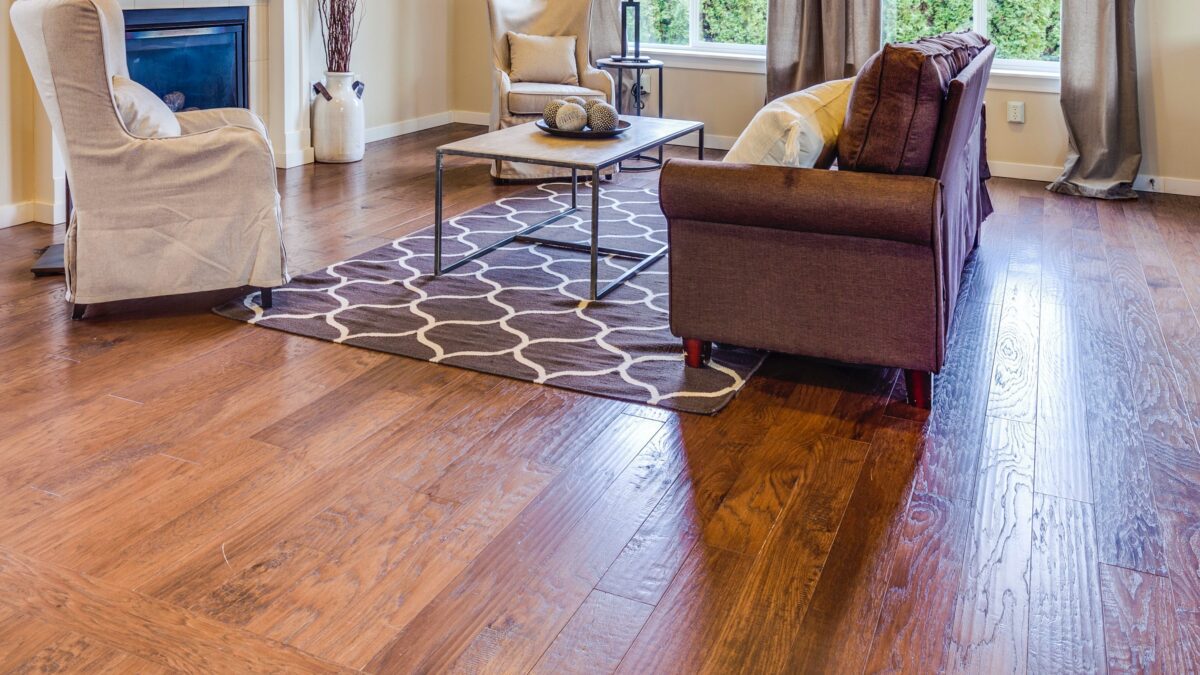 Whether you're looking to install new flooring or update your existing flooring, there are various flooring options available to you. And one of the most reliable and attractive choices is solid hardwood flooring. Hardwood is an excellent flooring material for nearly every part of your house. This is primarily because of its superior features that ensure you enjoy many benefits once you install it.
Solid hardwood flooring comes in different species, including ash, maple, oak, mahogany, walnut, bamboo, and many more. Beyond looks and durability, solid hardwood flooring offers many additional benefits that make it a worthwhile investment. In this post, we'll look at the numerous benefits of installing solid hardwood flooring in your home:
1. Boosts Your Home's Value
One of the biggest benefits of installing solid hardwood flooring in your home is that it increases its value. Replacing old tile or laminate floors with solid hardwood flooring can instantly increase the resale value of your home. That's because wood flooring is one of the most sought-after features in a home. Most buyers will be willing to pay more for a home with hardwood flooring than tiled or laminate floors.
Most buyers consider carpets an additional cost since they'll often have to replace them upon moving into a new house. That's because carpets can hold different allergens from the previous occupants, triggering their allergy symptoms. Many buyers prefer purchasing homes already with hardwood flooring to avoid the additional move-in costs. Installing hardwood flooring can increase your chances of selling your house faster and for top dollar.
2. Improve Your Indoor Air Quality
While carpets create great soft and lush flooring, they usually trap dust, pet dander, dirt, and other allergens. The dirt and allergens can get pulled into your air conditioning unit as air circulates through your house, affecting the air quality of your interior spaces. Poor indoor air quality can make breathing difficult and even trigger allergy symptoms, especially if you suffer from asthma or allergies.
Unlike carpet flooring, hardwood flooring won't trap any dirt, dust, or allergens. It's also smooth, allowing you to remove contaminants easily using a vacuum or a broom. This helps improve your indoor air quality, making breathing easier and creating a healthier environment for your family.
3. Increased Strength and Durability
Properly installed solid hardwood flooring can stay for many years without showing any signs of wear and tear compared to other flooring types like laminates, carpeting, and tiles. Even when professionally installed, laminate floors tend to easily tear, scuff, and scrape with heavy use. Laminate floors are also usually susceptible to expansion and shrinkage from humidity which can lead to damage over time.
Laminate and tile floors may experience increased tear and wear, especially if your house has kids and dogs. Carpet flooring may undergo wear and tear due to regular deep cleaning, requiring replacing it entirely for the whole room.
Hardwood flooring is incredibly durable and strong, making it able to withstand your busy household and heavy foot traffic. This ensures it will last for many years while also helping protect your foundation repair warranty. 
That's mainly because solid hardwood flooring is usually kiln-dried, manufactured, professionally installed, and finished to the highest quality standards. This makes it highly resistant to scrapes and scuffs from everyday use. It also doesn't fade quickly like other flooring options, making it look beautiful for years to come.
4. Requires Less Maintenance
Another major benefit of installing solid hardwood flooring in your home is that it requires little maintenance. When professionally installed and finished, hardwood flooring won't get stained easily or absorb spills like carpet floors or some types of laminate and tile flooring. Hardwood floors are also easier to clean, so you don't have to worry about pools of water causing mildew or mold.
You don't need to use harsh chemicals to keep your hardwood floors clean. All you need is mild soap and water to keep your floors sparkling. This makes hardwood flooring a perfect choice if you want a more hygienic type.
It also makes an excellent option if you suffer from allergies and asthma since you don't need to use chemicals to clean it, which can trigger your symptoms. You also can clean and remove dirt and dust from your hardwood floors easily by steam-cleaning, vacuuming, or even sweeping.
5. Provides a Timeless Look
Another compelling reason to replace your laminate or tile flooring with solid hardwood flooring is its timeless look. Unlike other flooring types that come in and out of style, solid hardwood flooring always looks stunningly beautiful no matter the current home décor trends. This makes it easier to sell your house when the right time comes.
Solid hardwood flooring also creates a timeless, beautiful look that compliments virtually any décor. You don't need to replace your hardwood flooring when updating your home to make it sync with the new look.
You need to regularly refinish your hardwood floor with sanding and re-stain it to keep it in excellent condition. Installing hardwood flooring is also a perfect way to upgrade your home's interiors without having to do a complete makeover.
6. Adds Warmth to Your Space
While hardwood flooring may not add as much warmth as carpet floors would, they're a warmer flooring option than tile floors. Walking on cold tile flooring can be uncomfortable, especially during winter.
However, hardwood flooring usually tends to retain a lot of warmth, making stepping into it quite comfortable even during those chilly days. The earth tones and natural elements of hardwood flooring also bring visual warmth, creating an inviting and cozy ambiance to any space.
Hardwood floors are also not as hard as tile flooring, making them less likely to injure you on impact. While falling on a hardwood floor might hurt, it usually provides a softer landing than falling on tile flooring.
7. Saves Money
While hardwood flooring may cost more upfront, it will save you tons of money in the long run. It also provides an inexpensive way to update your home's flooring while you're staying there. Another great way installing a hardwood floor can save money is by requiring little maintenance to keep it in its best condition.
You only need to repair the damaged boards instead of replacing the entire flooring, like laminate or carpet flooring. Unlike carpets that need to be replaced after a few years of use, solid hardwood floors can stay for decades without being replaced.
Endnote
From saving money to boosting your home's value and ensuring good indoor air quality, there are many compelling reasons to install solid hardwood flooring. Hardwood floors make an excellent long-term investment for any space, regardless of size. Ensure you choose a reputable and professional flooring company to ensure your hardwood flooring is installed correctly, so you can enjoy the many benefits for years to come.