Have you cut down a tree and wondered what to do next? Maybe you're still struggling with a stump or two.
They're tough to remove by hand and a stump grinder doesn't come cheaply. Instead of paying to remove your logs and stumps, why not turn them into something beautiful and let the removal be done in a natural way!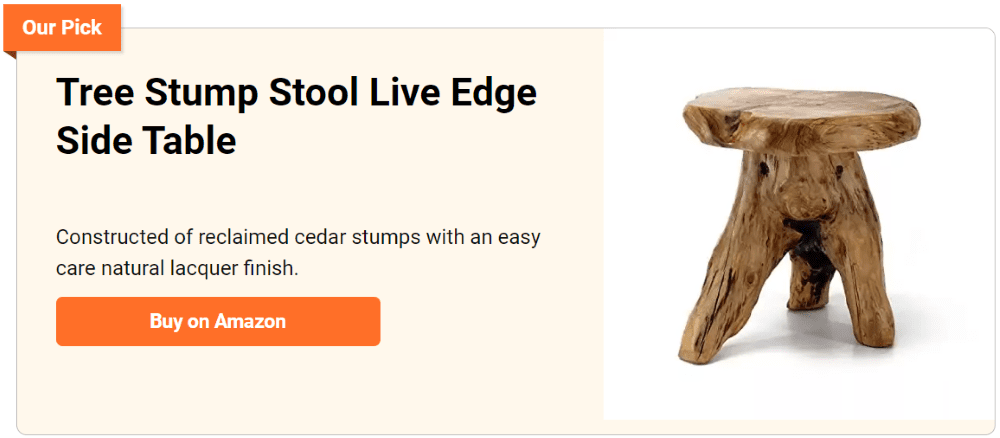 Not every log and stump is ready for the fireplace. Some are better for some awesome furniture and decorations for your home. There are tons of great ideas for tree stumps and logs to use in your home.
Upcycle – to reuse or recycle (something that would otherwise be thrown away) in such a way as to create a product of a higher quality or value than it had before. Tree stumps and logs are often thrown away as trash. Why not turn them into something useful?
Here are a few different ways you can use logs and tree stumps as accents to your garden or outdoor area. The next time you come across a tree stump or unused logs these ideas will hopefully pop up in your mind 🙂
Check out these Upcycled Tree Stump And Log Ideas
1. Planters
Tree stumps and logs make great planters. They look so natural and can easily blend into your garden. You can plant a wide variety of flowers, succulents, and even vegetables in them!
Given enough time, the logs and stumps will gradually break down, providing nutrition for your plants and the soil. Think of them as nature's pots!
Stumps can be made into planters, flower beds and even home decor items. You can find them by asking around nearby construction projects and by visiting your local exchange and resource centre in your area.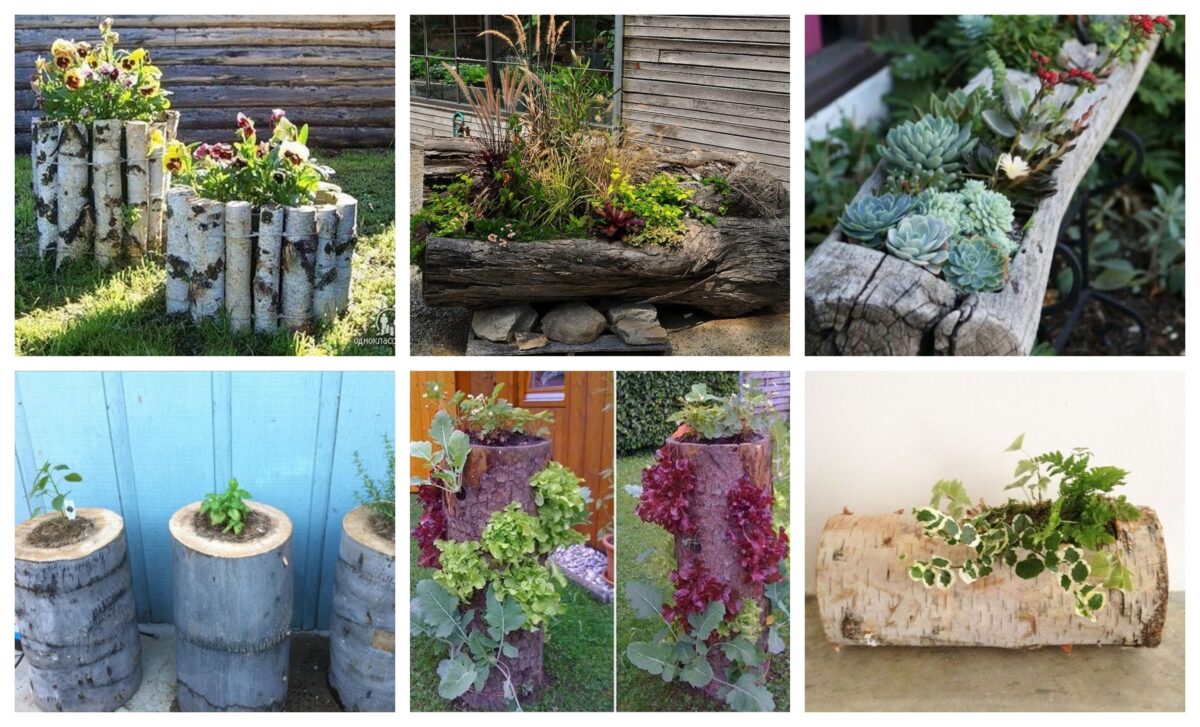 2. Stool
This rustic stool is made from a tree stump and log. The stump and log can be left outdoors as long as it is under a roof.
It is a charming accent piece and conversation starter. Because the stool is made from wood, it can be easily disassembled and moved.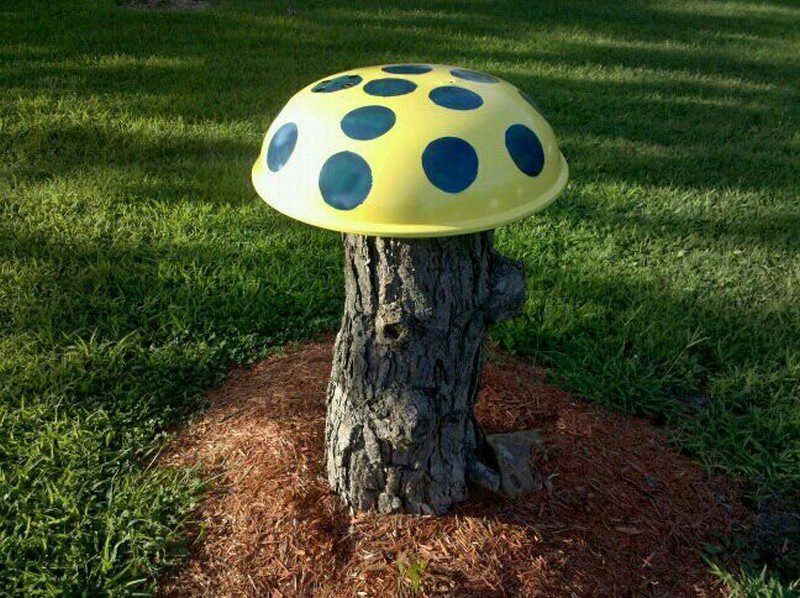 3. Stand Table
This is a really cool table made from upcycled stumps and logs with simple glass table tops. Of course, you can use other materials as table tops but glass will help you "see through" the inside of the log.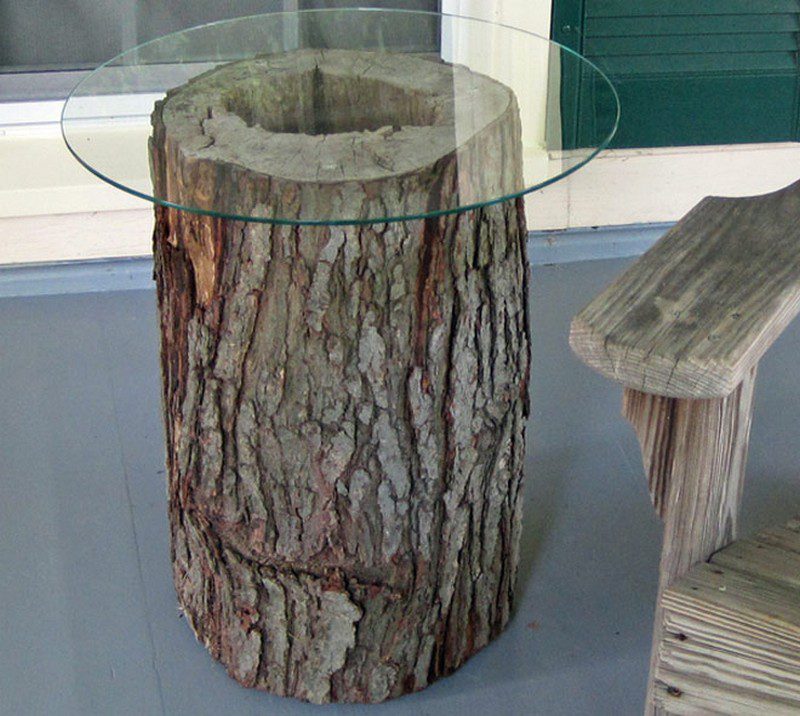 4. Outdoor Bench
A sturdy bench is a perfect addition to your patio or deck, but if you don't want the look of a traditional wooden bench, try upcycling tree stumps and logs to create beautiful and rustic outdoor seats.
This idea is that you can embellish your backyard or decking area with a beautiful piece of garden furniture made from a log or tree stump.
You can make this bench with just a chainsaw and a few hand tools. The wood may need to be stripped of bark and other surface stuff, but the real work is done by your chainsaw.
With a few cuts and a little shaping, you will have a solid bench that is both functional and beautiful.
5. Log End Garden Pathway
This log-ends pathway was created from purely natural materials and stumps. By simply cutting them into equal thicknesses, they will create a cool and rustic garden pathway.
We used these to create a garden pathway that was both functional and decorative. You won't need to spend a lot on this pathway as you can gather the materials easily.
What would you use stumps and logs for? Check out the gallery for more ideas.
Click on any image to start the lightbox display. Use your Esc key to close the lightbox. You can also view the images as a slideshow if you prefer 😎
If you liked this, you will also like viewing these gardening ideas…