Regardless of whether you build items all the time or do occasional DIY projects, there are some tools that every household should have. Here are twelve of the most useful that you should own.
1. A Claw Hammer
One hand tool that should be in everyone's home is the claw hammer. Its primary function is to drive nails into surfaces and pull nails out.
You can also use a claw hammer as a crowbar, which is handy when you need to do things like dismantling built-in wardrobes. It is best to go with a claw hammer that has a synthetic handle as wooden handles tend to break more quickly.
2. A Circular Saw
There are lots of different types of hand tools and power tools that should be in every home. One of the most useful power tools to own is a circular saw.
The versatile handheld cutting tool is ideal for making smooth, rigid, and controlled cuts through the timber. It's perfect for things like cutting mouldings for shelving and trimming floorboards.
You can also get specialist circular saw blades that can cut through metal, masonry, and granite.
For tougher jobs, such as cutting pipes and tubes, consider getting a refurbished cold saw machine. The machines use circular saws to cut metal using a toothed blade that transfers heat, enabling the blade and the material that you're cutting to stay cool.
All DIYers should have some type of circular saw among their collection of tools.
3. A Handsaw
Sometimes, handsaws are best. A handsaw is one of the most useful tools you can own, whether you need it for trimming lumber, cutting floorboards, or building bookshelves.
There are lots of different saws available, with different blades, strengths, and lengths, so consider what you'll be mostly using your handsaw for before you buy. It could be useful to have a variety of handsaws for different jobs.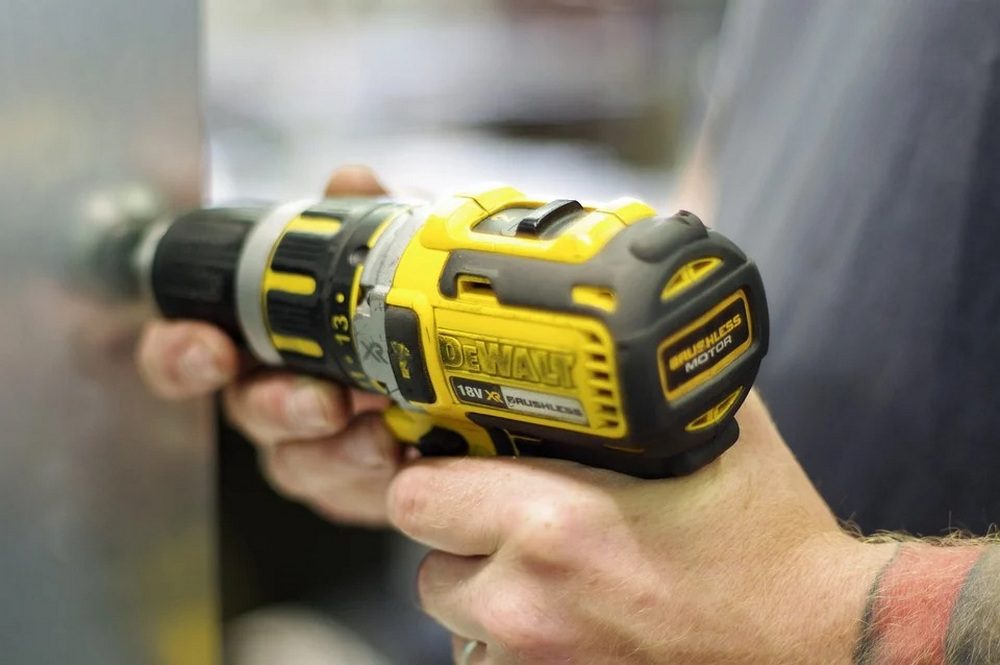 4. A Cordless Drill
You won't get far in your DIY projects if you don't have a drill. If you need to put a hole in a piece of wood or a wall, drilling is the quickest and easiest method.
But it can take time to plug in and roll out extension cables or get into hard-to-reach places, in which case it really helps to have a cordless drill that's battery-powered.
Cordless drills have enough power for most basic household DIY tasks, such as driving screws through thick materials like planks of wood.
You may want to get a corded drill as well, but having a drill that you don't need to the plugin can be very handy for accomplishing lots of different tasks.
5. A Screwdriver Set
Even if you use a drill to drive screws in, you'll still need a screwdriver for lots of different tasks, from tightening screws in floorboards to changing fuses in plugs. Screwdrivers are also ideal for opening tins of paint.
You're sure to need both a crosshead screwdriver and a flathead screwdriver. It's also a good idea to own screwdrivers of varying sizes. Owning something like a ten-piece set of screwdrivers is recommended.
6. A Level
There's nothing worse than wonky shelves. If you're putting up shelves at home, you need to have a level to ensure they are straight.
Levels can be very handy for other tasks too, such as hanging paintings or building cabinets. Levels can also be very handy for drawing straight lines when you do not have a steel rule to hand.
7. Pliers
Whether you need to bend and shape metal, cut and strip wires, or loosen nuts, you need pliers.
You can also use pliers for holding pipes in place when carrying out work like minor plumbing and for providing extra leverage when pinching metal clips. The tool has lots of different uses, so make sure you have pliers in your toolbox.
8. A Nail Gun
If you are doing a DIY project that involves hammering in lots of nails, it can take a lot of effort and sweat if you use a handheld hammer. Instead, opt for a nail gun.
Most nail guns use compressed air, but electric models are also available. They are ideal for driving in lots of nails quickly, and there are numerous types and sizes available to suit your needs.
9. An Electric Sander
It doesn't seem to matter what type of building project or DIY task one does, it always seems to involve sanding. A decent electric sander enables you to smoothen surfaces much better and much more quickly than by hand.
There are lots of different types of electric sanders available, so you should shop around to find the right one for your needs. You could consider a belt sander, which is larger than many models, making it ideal for sanding large workpieces in no time.
You could also consider an orbital sander, which has a circular sanding surface that is great at getting into corners and against edges, or a disc sander, which is perfect for rounding edges and straightening surfaces.
10. A Tape Measure
Tape measures may be small, but they help you to accomplish big things. The little tools enable you to measure anything you need to measure, from the thickness of a plank of wood to the wall area for a painting project.
You can find tape measures at varying lengths to suit your specific needs.
11. A Jigsaw
How did builders survive before the invention of the jigsaw? The power tool can cut shapes into numerous types of materials, including shapes like curves, which are difficult to do with other tools.
For any hard-to-cut angle, a jigsaw is ideal. Also, you can adjust the angle of the blade on many models to get even more versatility.
12. A Mitre Saw
Another cutting tool that's invaluable to people who do lots of building projects is the mitre saw. The power tool's circular blade can cut a wide variety of angles. The blade is attached to an arm that pulls down to cut the workpiece.
Despite being hefty and powerful machines, mitre saws are easy to use. You can use them for numerous tasks, such as timber cutting and crown moulding.
Summing up:
"Making do" with what you have is generally a very inefficient use of your time. The right tool for the job at hand will ultimately save you time and money and give you a better-finished result! That means you, the DIYer, are going to be happier with your work.
Were you able to tick these items off your checklist?