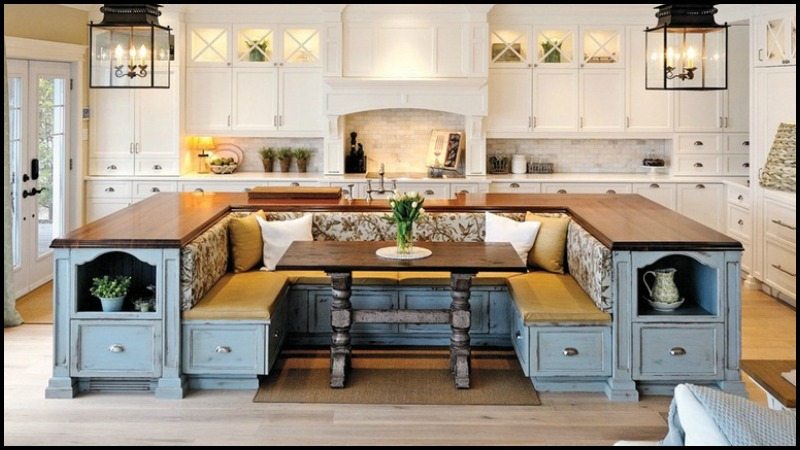 Kitchen island with built-in seats! It is a great option if you are into breakfast nooks but your kitchen layout cannot accommodate the usual design for it—built in a corner, adjacent to a wall…
This island does require a good amount of space, but it is a clever design for several reasons. First, it is space-efficient since you get two things in one area; a kitchen island and a dining area!
You can prepare food for the family and serve them fresh, straight from the kitchen to the dining table in no time.
Our Pick
The kitchen island also provides an extra table surface—perfect for when you have plenty of food and do not want the dining table to become too crowded with plates.
Advantages of having a kitchen island with built-in seating
Provide extra seats
This kitchen island is a great way to add extra seating without having to purchase new chairs. Plus, it can help to anchor the space and provide a focal point for the room.
Islands with built-in seats are becoming increasingly popular in home kitchens for their many benefits. The island offers a convenient and comfortable place for your family or guests to sit while you prepare food or clean up after a meal.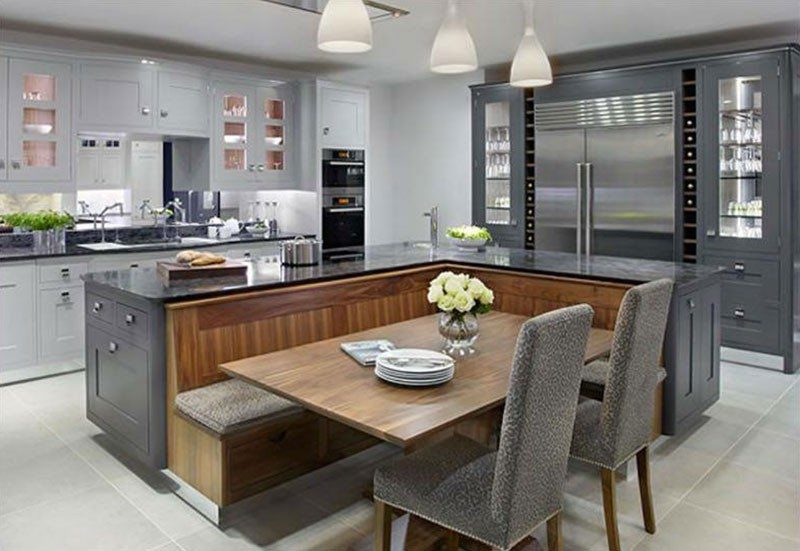 Create more counter space
Your countertop is the most visible part of your kitchen, and it is the first thing guests see when they enter your home. Depending on your kitchen's layout, it can also be the most functional space.
Having a spacious kitchen means having more counter space. And having more counter space means having more space to display the food you prepared.
This is where a kitchen island comes in handy. Kitchen islands are a great way to increase your kitchen's functionality and efficiency.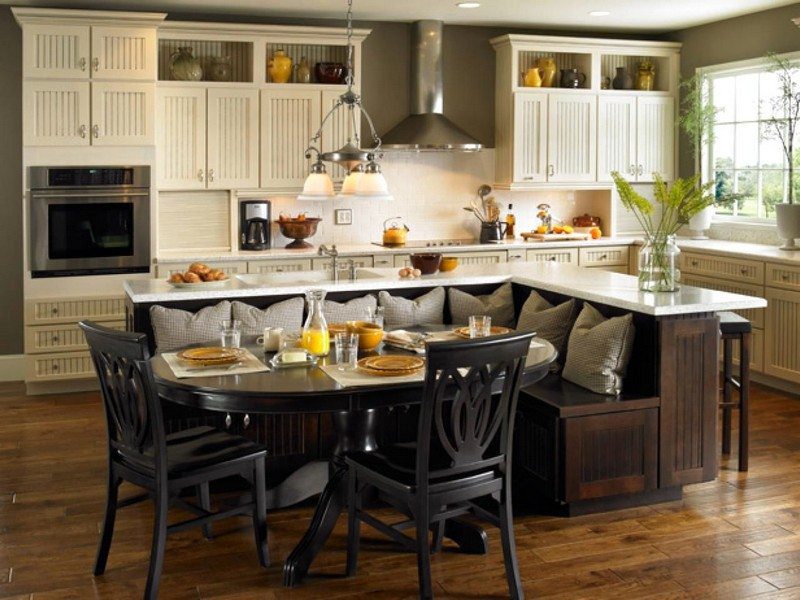 Easy to clean
If you have kids, then you know that mealtimes can be a bit chaotic. They are running around, making a mess, and you are trying to cook and clean at the same time. A kitchen island with built-in seating is the perfect solution for families with little kids. The surface is simple to clean, and since it is easily accessible, every corner is never out of reach. Plus, you can have a place to sit and relax while the kids are eating.
A complete and modern kitchen is a great asset to any home, but it is also important to have a kitchen that is clean and tidy.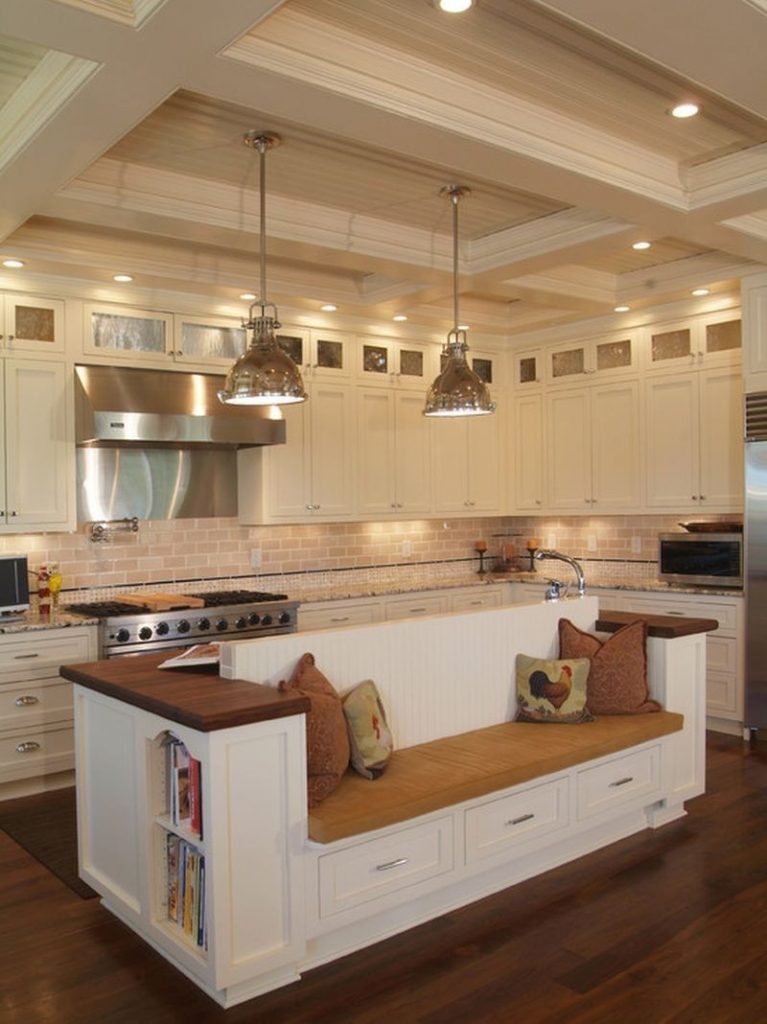 Save money
These days, you can find a wide range of kitchen island designs to choose from, so whether you are looking for a traditional or modern look, you are sure to find something that suits your taste.
Traditional kitchen islands with built-in seating offer a great place to enjoy a meal or entertain guests while remaining organized and efficient. This is also an excellent way to add a touch of class and functionality to your kitchen.
Our Pick
When you think about it, a kitchen island with built-in seats is an ideal alternative to a dining table. It is an affordable piece of furniture. It is also more versatile and functional than the dining table. You can use it as a breakfast nook, a homework station, or even as a makeshift bar for entertaining guests.
A kitchen island's cost will be determined by several factors, including size, materials, and features. You can save money by selecting smaller islands made of less expensive materials such as laminate or wood. If you are willing to spend more money, you can get a larger island made from more expensive materials such as granite or marble.
Think the kitchen island with built-in seating shown above is too grand for you? Other design ideas from our album can also be of interest to you!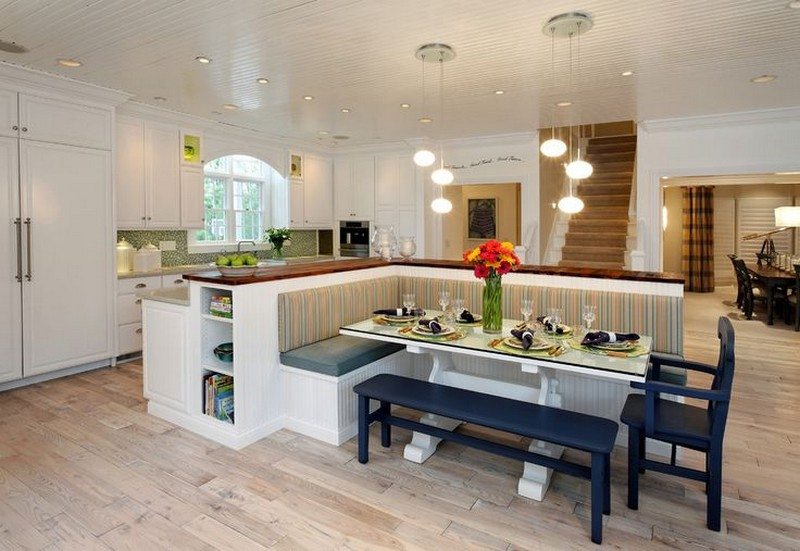 It is amazing to see how a kitchen island with built-in seats can become a place to feel at home. This is a very functional and practical addition to any kitchen. It is a new trend, and the advantages are undeniable.
It can be the perfect place for your family to gather and chat, play games, eat together, and just enjoy each other's company. It is a great alternative to having a separate dining room, which is not always practical.
The extra storage and counter space provided by a kitchen island are the best features of having one. A kitchen island can be used as a bar for serving drinks or as a display area for decorative items or books, in addition to being a great place to prep food and serve meals.
What are your thoughts on such ideas? Do you want to upgrade your kitchen with a kitchen island?
It is unquestionably useful to have this kitchen island design, particularly if you have a large family or frequently host gatherings. But even more so when the island improves the appearance of your kitchen and raises the value of your home!
Click on any image to start the lightbox display. Use your Esc key to close the lightbox. You can also view the images as a slideshow if you prefer.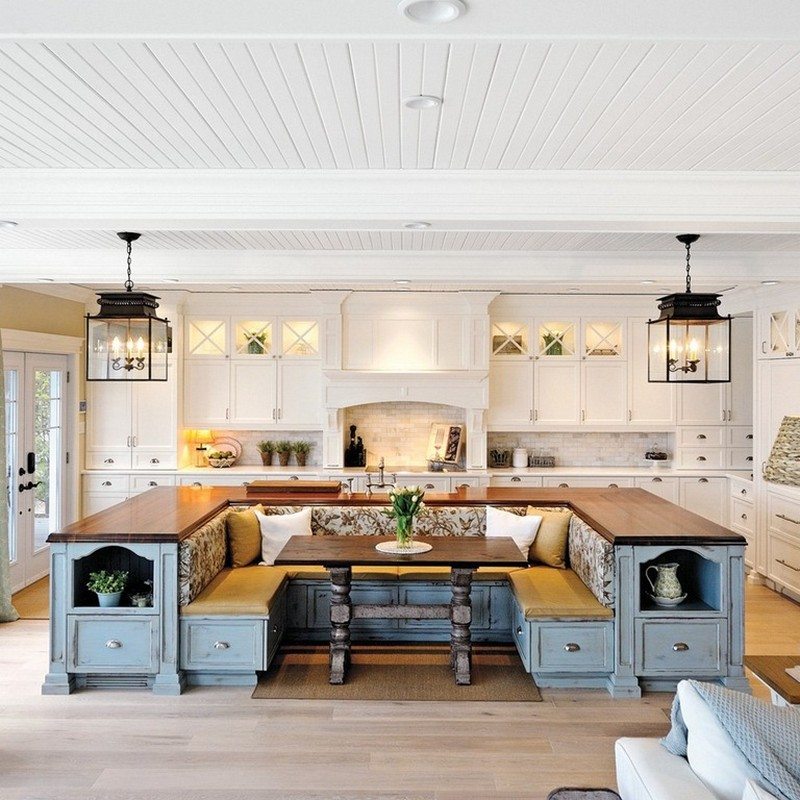 If you liked these kitchen island designs, you will also like viewing these outdoor dining ideas…