Built Area:     17.5 m2
Year Built:     2014
Photographs:     Jonas Adolfsen
Woody15 is a small and quiet retreat that sits inside a remote forest, right beside a lake. It is a basic one-room cabin that lets the picturesque views make up for its plain design. The small temporary dwelling is made from cross-laminated timber which allows for uncomplicated assembly and disassembly.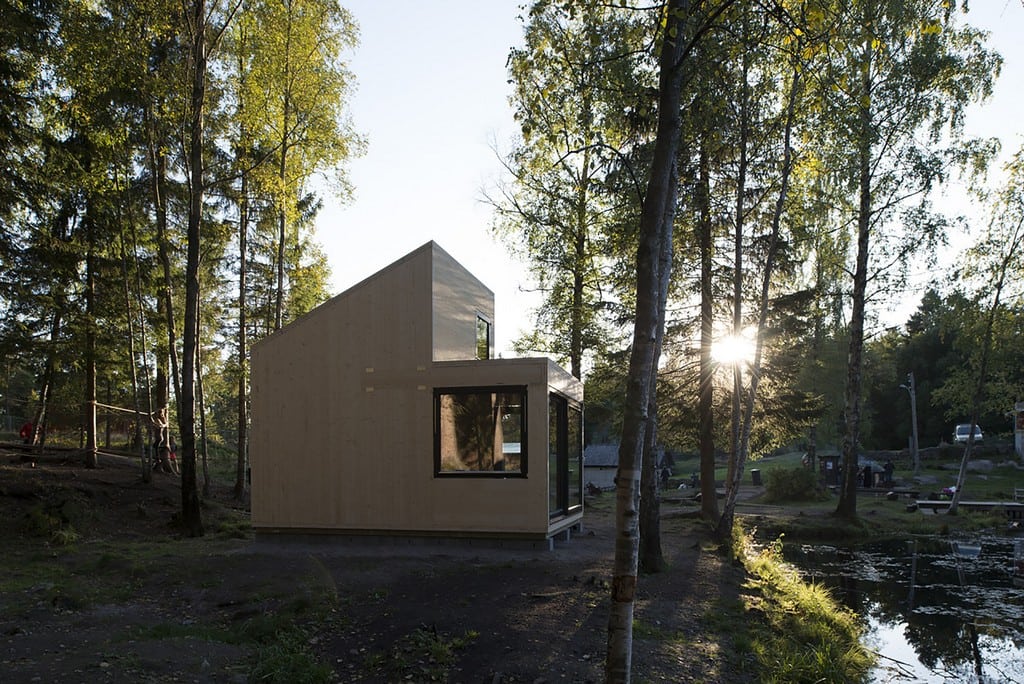 The structure is raised slightly from the ground via concrete plinths. Large glazed windows allow plenty of natural light into the structure. Sliding glass doors at the front of the cabin frame breathtaking views of the forest and the lake.
Woody15 has no electricity. The main heat source inside the cabin comes from a wood-burning stove. Thus, the structure isn't really meant for permanent dwelling.
Notes from the Architect:
Woody15 is a 17.5 sqm one-room cabin, with large glass doors opening up to the outside landscape. It has no kitchen, bathroom or electricity, and is only heated by a small wood-burning stove.

It can function as an annexe, or stand alone with an outdoor kitchen and outside lavatory.

Woody consists of 29 cross-laminated timber elements, which make Woody easy to assemble and dismantle.

Massiv Lust produced the elements, which all have a maximum width of 1.20 meters.
Click on any image to start lightbox display. Use your Esc key to close the lightbox. You can also view the images as a slideshow if you prefer. ?
Exterior Views:
Interior Views:
Drawing Views:
72h Cabin is another great idea for a temporary dwelling space…