Project Year :     2012
Developed Area :     200.0 m2
Tower House I is the epitome of simple architecture. The design is plain, basic, and uncomplicated. It's reminiscent of other houses found in the south of Greece – a huge immovable stone structure that serves both as a farmhouse and defense tower.
White stucco walls are found both in and out of the house. Inside, there's a sense of privacy and enclosure. Huge windows provide sweeping views of the sea on one side, and the great olive orchard on the other.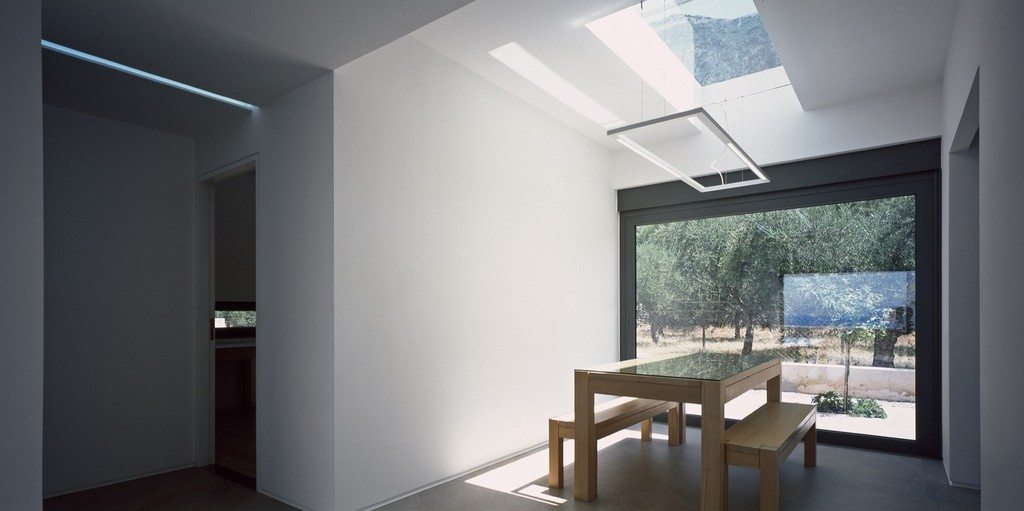 Despite the box design, Tower House I provides flexibility of space allowing it to house not just a single family, but possibly more.
Notes from the Architect:
Tower-house I interprets the form of dwelling, widely found throughout the outer Mani, ­southern Greece; a combination of defense tower and farmhouse. This was articulated by a monolithic, stone structure with few openings, so as to protect dwellers from extensive heat as well as piracy. The surrounding landscape is characterized by dry stone retaining walls transforming a steep topography into a series of arable plateaus; these long walls were the most prominent man-made intervention in this harsh landscape for centuries.

The new tower-house contemplates exactly this; a mass among existing preserved retaining walls and a few new concrete ones. There are no seams at the white, stucco facades, only the dark frames of the apertures. No elements project from the main ­volume, except a steel frame in front of the main view, ­accommodating temporary screens.

The interior of the box, articulated by the double-height living room and the shallow dining room ­emphasizes the idea of Mani topography; infinite view of the sea at living area and close vicinity of the olive orchard at dining area and the kitchen. The interior embraces a protected and quiet-zone area at the second floor, the very core of the dwelling.

The program also addresses a typical, Greek, ­cultural issue; the need for flexibility of space due to ­future family growth. Thus, the house is designed to ­potentially become a ­­double-dwelling in the future.
Click on any image to start lightbox display. Use your Esc key to close the lightbox. You can also view the images as a slideshow if you prefer 

Exterior Views :
interior Views :
Drawing Views :
Greece is home to interesting architecture. Aloni is one Greek house you should definitely see.