The Australian bush is a biologic wonderland, home to many, many unique timber species. From the clean Blackbutt to the sophisticated Red Mahogany, you're sure to discover a variety that matches your styling aesthetic. Australian timbers are hard and extremely durable as well as drop-dead gorgeous when correctly finished. Used as flooring, they can withstand treatment that would leave most other timber varieties scarred and dented. As paneling, these timbers can radiate a visual warmth that is impossible to replicate through laminates, paints or other wall finishes. Here are six of the most popular…
Australian Beech
This heavily textured highland species of Australian timber offers a wide spectrum of wood tones. From a light creamy hue through to a deep maple colour, this variety of timber would perfectly complement any room that requires an energetic and sophisticated edge. The species rates 6.5 on the Janka hardness scale.
Tasmanian Oak
Tasmanian Oak comes complete with its own aura. Everything feels solid and concrete with this robust timber flooring species. With a natural uniform tone. Tasmanian Oak will lighten the feel of any space. Pair this timber with a clean interior to create a cosy and simplistic living space. Tasmanian Oak varies from straw to reddish brown with intermediate shades of yellows. While one of Australia's softer hardwoods with a Janka rating of 4.5, that still places it at twice the hardness of timbers like Baltic Pine!

Tasmanian Oak is especially suitable as paneling due to the warmth it imbues to any area from a bedroom to an office boardroom. Tasmanian Oak is also an excellent furniture timber.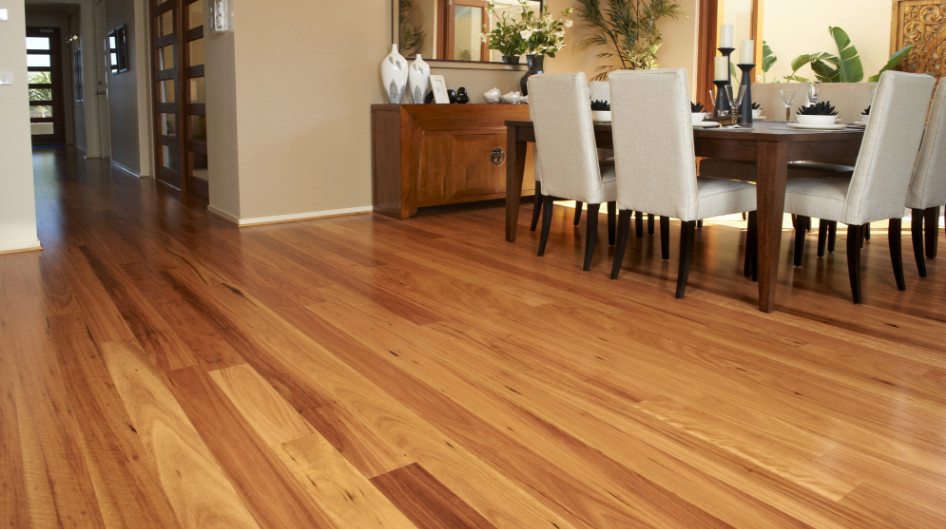 Blackbutt
Contrary to its species name, Blackbutt actually has quite a light timber shade. Rather, the name Blackbutt comes from this species' tree form, whereby the bottom area of the bark is a deep black. Like Tasmanian Oak, Blackbutt creates a cosy feel to your room, thanks to its warm, but light shading. This classic Australian timber variety has a medium level of contrast, over a uniform texture. With a hardness ranking of 9.1, this timber is ideal for high traffic areas.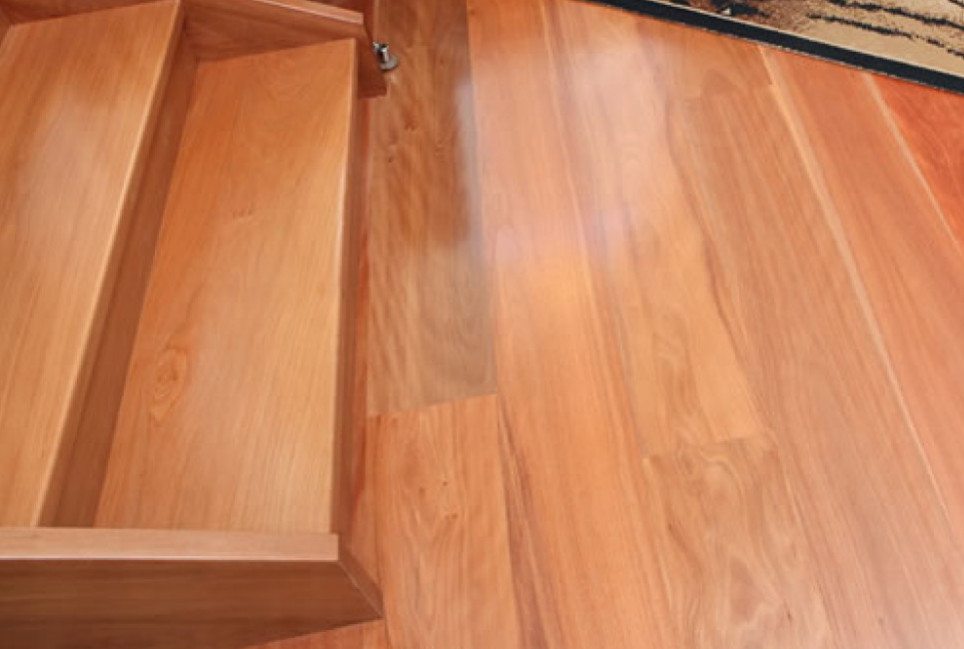 Brushbox
This exquisite timber variety is a pleasant compromise between the heavy contrast of the Beech and the uniform texture of the Oak. Featuring pink hues and creamy textures, Brushbox would suit a well lit area that lets the natural wooden texture shine.  It's fine, even texture and beautiful, rich colour is complemented by a hradness ranking of 9.5. . It can vary from pale pinkish grey to rich reddish brown. It can be used for paneling, cladding and, of course, flooring. In drier inland areas of Australia, Brushbox is even used for bridges.

Spotted Gum
Unlike the species we've explored so far, the Spotted Gum Australian wood variety features plenty of dark brown highlights, offering a bit of contrast against the warm beige we're used to seeing. As the name suggests, the natural grade of this timber offers plenty of patterned wood features. It's a beautiful timber to work with and adds enormous interest to a home. While not the hardest Australian native, it is right up there ranking 11 on the Janka scale.
Spotted Gum is an extremely versatile species and is used for anything from heavy engineering construction including piles and poles, shipbuilding, agricultural machinery through to flooring decking and plywood. Because it can withstand very high impact forces, it's the main Australian species for tool handles like axes and mattocks.
Red Mahogany
The Red Mahogany is a rather unique timber variety, displaying luxurious reds in its natural state. This cosy variety will offer an unrivalled warmth to any room, while also creating a feel of rich magnificence. The uniform colour of Red Mahogany creates a visual sophistication and elegance. It's extremely tough and durable with a hardness ranking of 12. It is used for flooring, as shown here, and also for decks, cladding, furniture and even in musical instruments and rifle butts.
This is just a sampling of the many spectacular Australian hardwoods you can use in and around your home. You'll pay more than you will for pine, bamboo or laminates, but the beauty and durability are, in my opinion, worth every cent!
For a more detailed introduction to your hardwood choices, see my earlier article, Australian Hardwood Floors here…