Even those who consider themselves homebodies will love spending more time outdoors with a Lotus Belle!
Lotus Belle Tents was founded by Harriet Seddon who grew up in the south west of England. She spent a great part of her childhood camping with her family. As a teenager, she spent the summer months living in a tent. At 19 years old, during her first year in a design degree, she came up with the initial design of what is now known as the Lotus Belle tent.
The Australian-based company – which now has a US branch – offers several different styles of tents. Its grandest version is the Lotus Belle Outback Deluxe which has a diameter of 5m and can accommodate up to six single beds! It has a second rear door that allows for even better ventilation, but you can also use it as access to an extension such as a kitchen or storage.
The Lotus Belle tents are great quality sheds that you can use anytime of the year. It is made of cotton and polyester blend canvas, and includes velcro flaps to keep the ground sheet sealed and free from insects!
They do resemble the Mongolian yurt but these glamping tents definitely pack down into a way more compact, banana-shaped bag. It is one of the easiest luxury tents you can bring and put up! One person alone can assemble it in just 45 minutes. And if you leave the poles in the canvas, it will only take you around 15 minutes to put it up the next time!
It is definitely the kind of tent anybody would love to hang out in with their friends and family during camping trips or festivals! But it is not only for glamping – you can also use it as a yoga studio, an outdoor play center for kids, a backyard guest 'room' or even your own backyard studio or home office!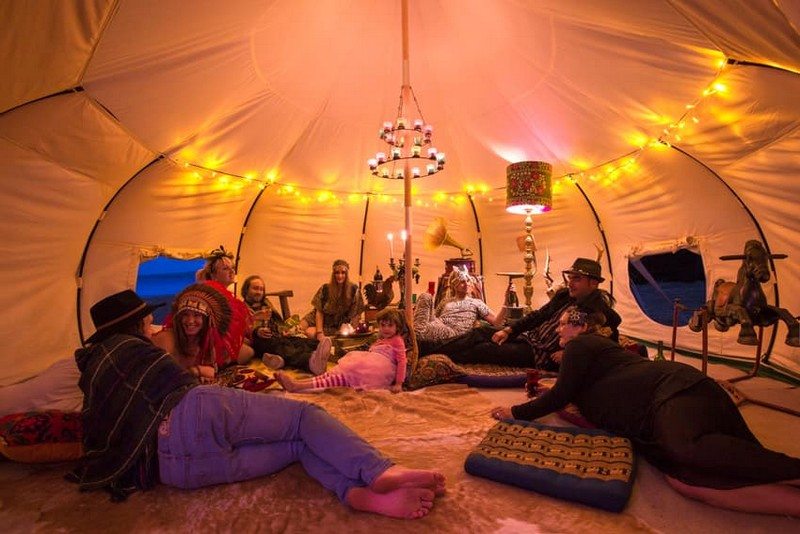 Is this your kind of camping tent? You can get yourself one by pre-ordering on their site, since they do not mass produce. But if you're only interested in trying it out once, they offer tent rentals too!
Source: Lotus Belle
Click on any image to start the lightbox display.  Use your Esc key to close the lightbox.  You can also view the images as a slideshow if you prefer  ?
You might also enjoy viewing these sheds…