Built area:    160.0 m2
Year built:    2010
Photographs: Ben Hosking, Megan Baynes
Little Big House is a simple rectangular box that appears so geometric it doesn't appear comfortable. It seems to teeter over the edge of a sloping site, ready to topple over anytime.
The house appears like a floating box with cut-out windows. But it was designed as such to minimize site disturbance.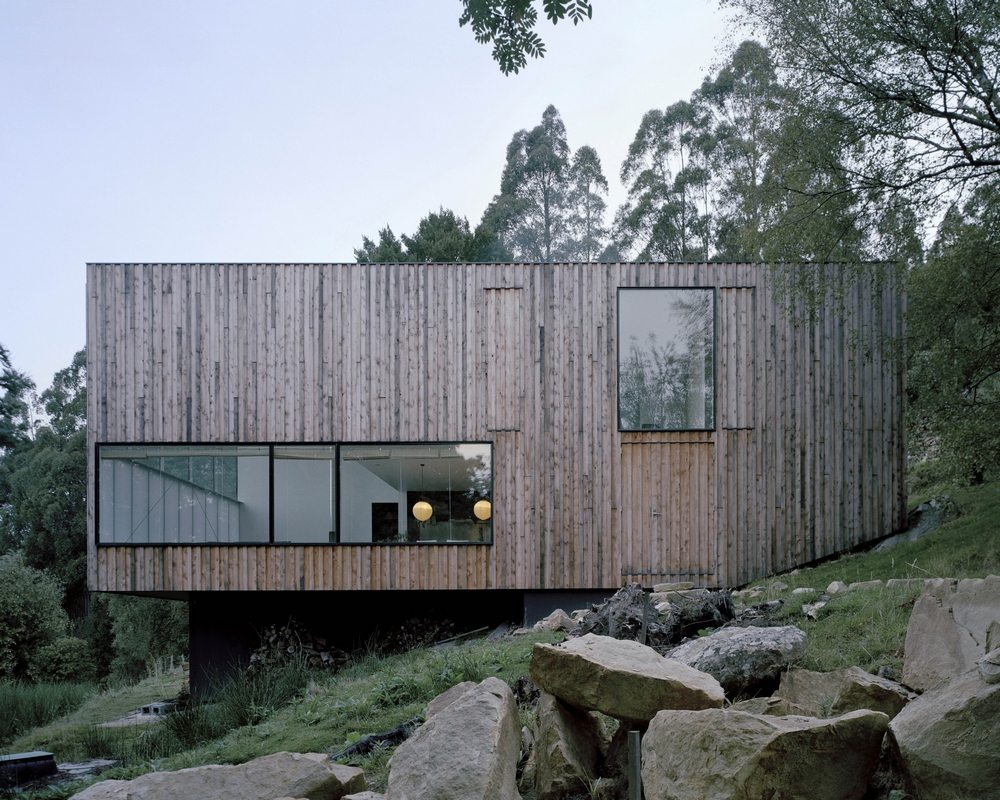 Totally clad in timber, the design of the home is very private. No windows are visible from the street. But the home holds quite a few surprises – and pleasant ones at that.
Strategically-placed windows open to provide sky and garden views only. The western and eastern façades are covered in polycarbonate to create shadows, mirrors, and illusions.
Little Big House is a no-fuss, no-frills kind of home. Its name is very appropriate as it indeed reveals very little but it holds big surprises.
Notes from the Architect:
The Little Big House is located upon the eastern slopes of Mount Wellington, high above Hobart. The siting is mindful of its context; positioned close to and perpendicular to the curvilinear Huon Road.

The house, on a vacant lot between established houses and gardens, is defensive and diagrammatic. Tucked carefully between cadastral constraints and a magnificent birch tree, the footprint has been kept deliberately small.

The dwelling is stacked across two levels which step to match the undulating terrain.It's just a box. A clean volume with two exceptions; a service core and an entry air-lock.

The house is designed to be intensely private. Apertures are purposefully positioned to create pure window types opening to either garden, sky or shadow. Polycarbonate cladding on the eastern and western facades render luminous shadow walls which enable the house to be concurrently light and contained.
Click on any image to start lightbox display. Use your Esc key to close the lightbox. You can also view the images as a slideshow if you prefer. ?
Exterior Views:
Interior Views:
Drawing Views:
Y7 House is another residence that looks like it's floating on a mountain…