Sinks or washbasins are an indispensable appliance in every home. We use it for sanitation purposes like washing our hands and face, brushing our teeth, washing vegetables and kitchen utensils, and a lot more.
But aside from this, sinks can also be used for another purpose. And that is to make our homes aesthetically more interesting!
Our Pick
Mosaic Modern Tempered Glass Vessel Bowl Sink
This traditionally crafted round vessel sink is adorned in a blue/gold mosaic finish. ANZZI's Modern bathroom sinks can be elegantly shaped and a captivating vessel centerpiece for any bathroom counter.
Buy on Amazon
We earn a commission if you make a purchase, at no additional cost to you.
05/18/2022 12:32 am GMT
Sinks can take on a lot of forms – from the usual white ceramic basins to unique sinks made from repurposed materials. But on the other end of the spectrum are these unique sink designs that you won't find in an average home nor the usual stores.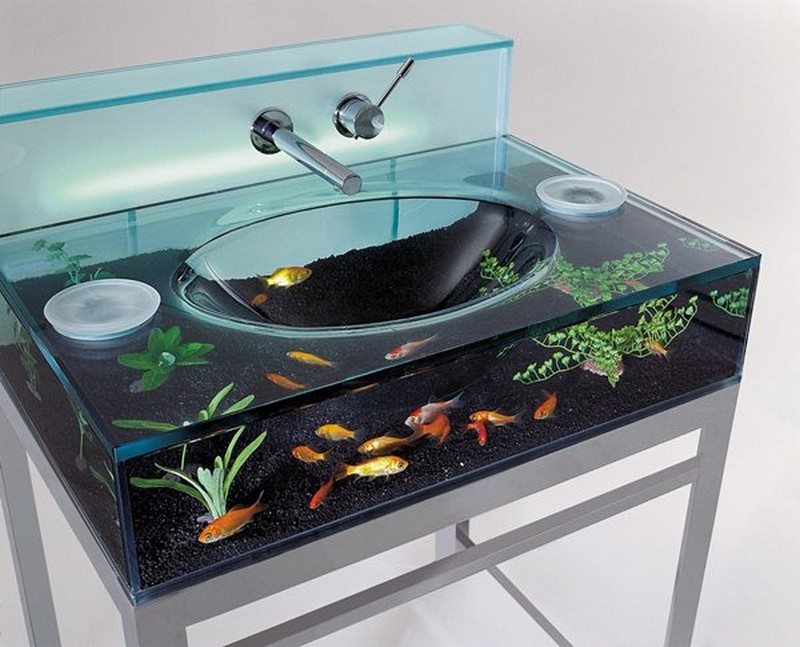 These are real sinks that appear in unconventional shapes, sizes, colors, and even materials…
If you want to use your sink as a feature to make your home really different, here are some great ideas for you!
For a home component that's so important and useful in our everyday lives, we wouldn't mind investing in a sink as awesome as these!
How about you? Which of these unique sinks would you like to have in your home?
Click on any image to start the lightbox display. Use your Esc key to close the lightbox. You can also view the images as a slideshow if you prefer?
Kalla Column by Mastella Design
Floral Design
Water Stone Faucet by Omer Sagiv
Solid Larch Wood Cover
Rotating Sink
Guitar Sink
ArtCeram Sink
Aquarium Sink
KUB Marble and Glass
Silenzio Sink by Antonio Lupi
You might also like viewing these other Bathroom Ideas…