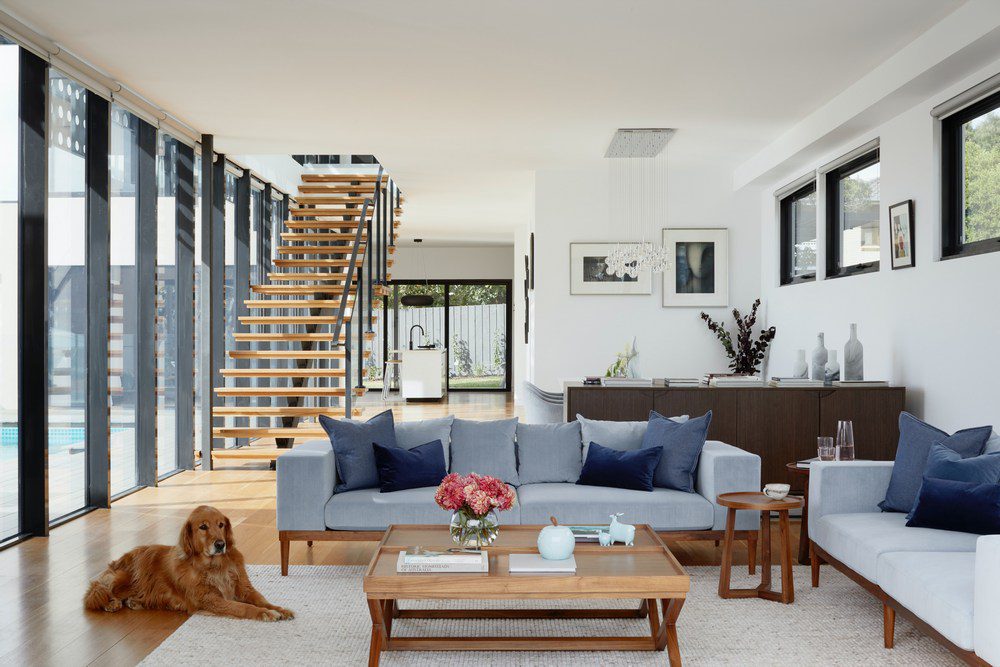 Many homeowners put up with homes that aren't suitable for their pets. They might not be adequately fenced or have materials that aren't durable enough for the wear and tear of excitable dogs. When the time comes to start designing your dream home from the ground up, pet-friendliness is likely one of the factors you consider. Fortunately, your new haven can be suitable for you and your companion animals when you take some of the following steps.
Transforming Your Homes Into a Pet-Friendly One
Making your house pet-friendly may be a fun and rewarding project. Finding a place that is appropriate for pets is a challenge for many pet owners. However, there are steps you can take to make sure your new house is ideal for you and your companion animals if you're creating it from the ground up.
Choose Hard Flooring
As luxurious as carpet can feel underfoot, you might spend much of your free time vacuuming if you incorporate it into the main areas of your home. Instead, consider installing hard flooring in kitchens, living areas, entrances, and anywhere your pets will be free to roam.
There are many attractive and creative hard flooring options on the market, such as tiles, painted or polished concrete, wood, and vinyl planks. These can be swept, mopped, and wiped with far more ease than carpets. However, if your bedrooms are pet-free zones, there's no harm in installing carpet in these areas for added warmth and comfort.
Create an Animal Mudroom
Most pet owners know how frustrating it can be to clean up after a pet that has been outside playing in the mud or is simply a messy eater. Talk to your chosen custom home builder about a mudroom for your animals near your home's entrance.
A room like this can have easy-wipe surfaces like tile floors and waterproof wall panels and can feature everything your pet needs to get clean and tidy before entering your home. You can incorporate storage for their toys and accessories, a food station, and a dog washing area to keep your main bathrooms free from muck and fur.
By the time your dog has finished in this room, they'll be fresh, clean, and ready to enter the rest of your home without bringing their dirt and debris with them.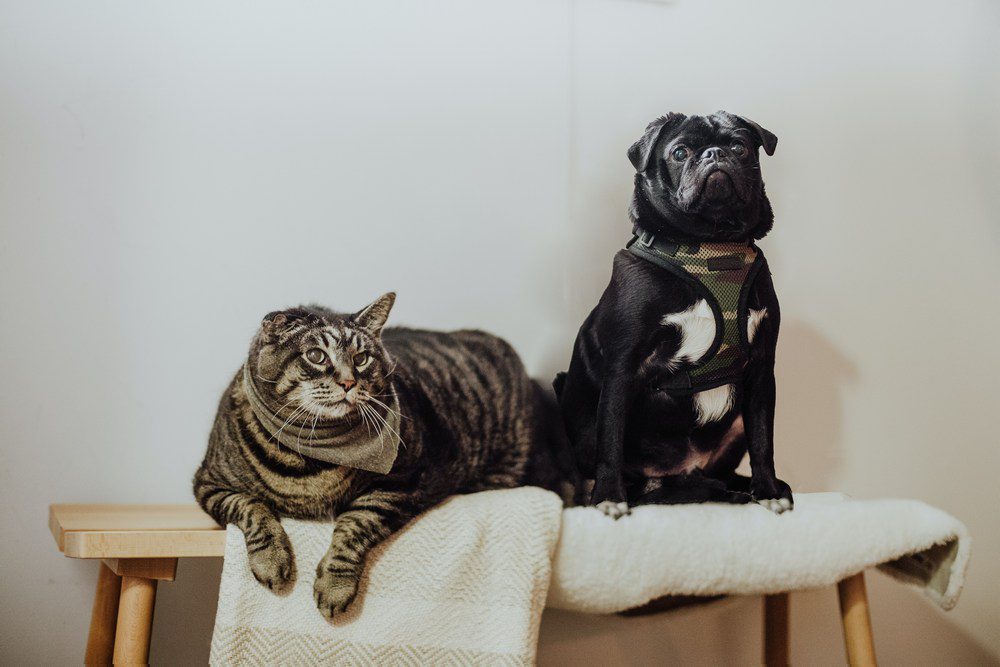 Integrate Your Pet's Needs Into Furniture and Structures
Dog crates, litter boxes, toys, and food bowls, can all stand out in a home and make it appear cluttered and messy. While these are all necessary purchases for a pet owner, they don't have to take up precious space and get in your way. 
During the design stage of your home, think about ways to incorporate these essentials into your home design. For example, you might build dog crates into your built-in entertainment unit and food bowls into the toe kicks of your kitchen. Litter boxes can also be incorporated into furniture like storage cabinets.
Work With Custom Home Builders
It can be tempting to purchase a home from a plan out of convenience. However, hiring custom home designers and builders might be how you ensure your home is well thought out, with every detail carefully considered.
Custom home architects and builders can learn about your needs and develop a house plan incorporating your requirements, like room sizes and specific material requests. They also consider factors you might not have thought about, such as the positioning of the home on your property, sunlight hours, and flow.
Rather than buying a house from a plan and trying to make it work for your family, you can enjoy a home that has been explicitly designed and made for you.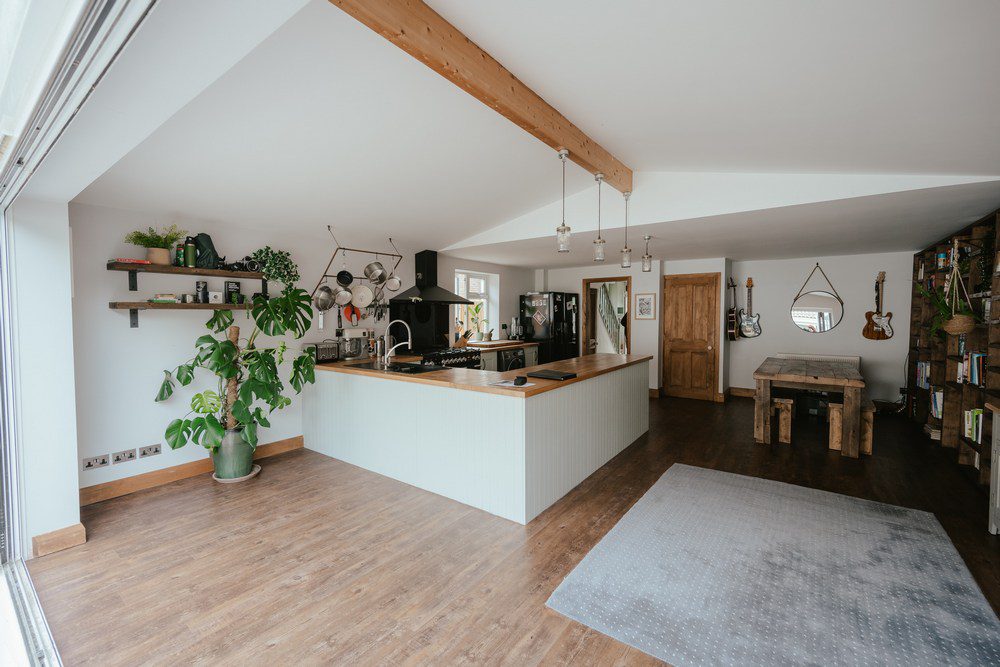 Consider Semi-Open Plan Living
Open-plan living is a contemporary design concept that encourages families to spend time together in the same space, even if you're doing individual activities. While open-plan living areas can work perfectly well for families with pets, semi-open-plan or 'broken' open-plan layouts might suit better.
When you create division in your home, you can make it easier to separate yourself from your pets when you need a break. It can also mean you can contain your pets quickly if guests arrive unexpectedly at the door.
However, if you're uncertain about creating division in your home, you don't have to opt for permanent separation like fixed doors. Instead, you can incorporate pocket doors that slide into your wall cavities or internal bi-folds that can fold away out of sight.
Prioritize Washable Finishes
As much as you might love textured wallpaper and luxurious paint finishes, they might not always be the best option for homeowners with pets. Wall cleaning can be a significant part of pet ownership, and the easier your walls are to clean, the faster you can complete this chore.
When you start talking to your interior designer about wall finishes, ask about the best washable paints you can wipe down countless times without the finish being affected. If you're worried about paint toxicity for chewers, you can also purchase easy-clean paint that is VOC-free and antibacterial.
Design a Separate Entrance
Many pets become excited when visitors and delivery people arrive at their homes. They want to jump and run, and this excitement can be off-putting for visitors who might not know your pets or aren't expecting them to be greeting them at the door.
While sketching out the layout of your dream home, think about the benefits of designing a separate entrance. You might develop a self-contained porch for people to remove their shoes and leave packages or build walls in your entryway so dogs and other animals can be safely contained within the central part of your home.
Factor in Fencing
Fencing can be a significant consideration for homeowners with dogs and other animals they want to keep contained in their section. Once your home plans have been sketched, start thinking about the best fences to work in harmony with your home's style, prevent unauthorized access, and secure your pets.
Some homeowners build one large fence around their property perimeters, while others develop a front and back yard so visitors can enjoy a pet-free entrance. If your dog likes to bark at people passing by, consider fencing materials that block the view, such as wood, brick, metal, and composite. Alongside a secure fence, investing in an easily-lockable gate that can keep your property safe is also essential.
The Take Away
Your needs should come first when designing and building your dream home, but that doesn't mean you can't consider the needs of your companion animals. Explore these pet-friendly home design ideas above to make life more convenient for your household.