Built Area: 100.0 m2
Year Built: 2018
Photographs: Fernando Schapochnik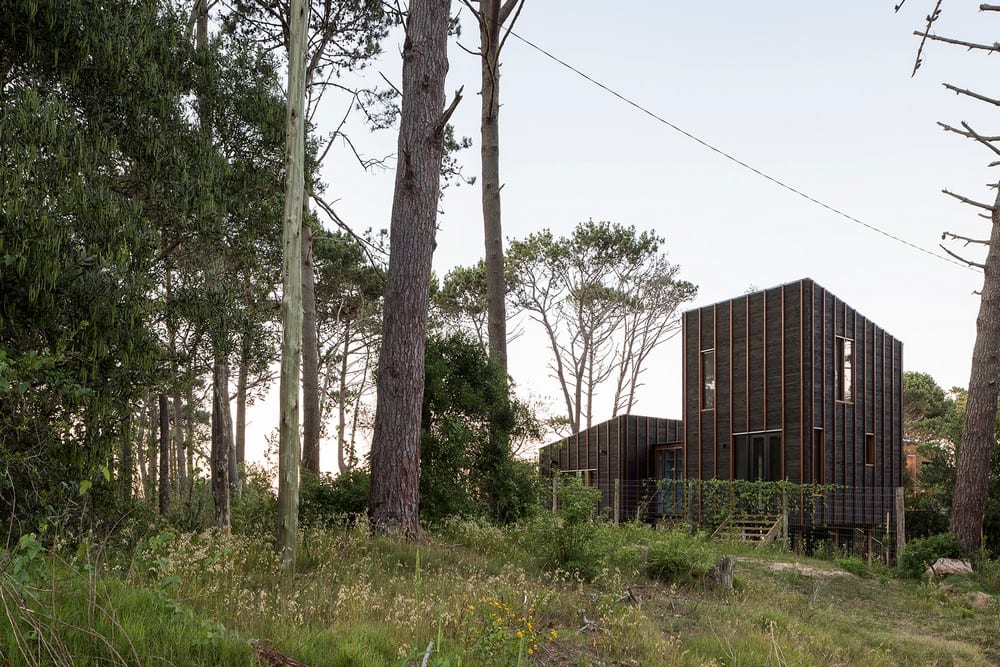 House in La Juanita enjoys the nearness of the beach while being enveloped by forest. It's a minimalist two-volume wooden structure that sits right at home in its surroundings. The area is surrounded by tall trees and shrubs, perfect for rest and relaxation.
The façade shows a series of vertical lines which actually reinforces the structure's rigidity. Also, this design mimics the tall trees around it. This allows the house to blend seamlessly into its surroundings.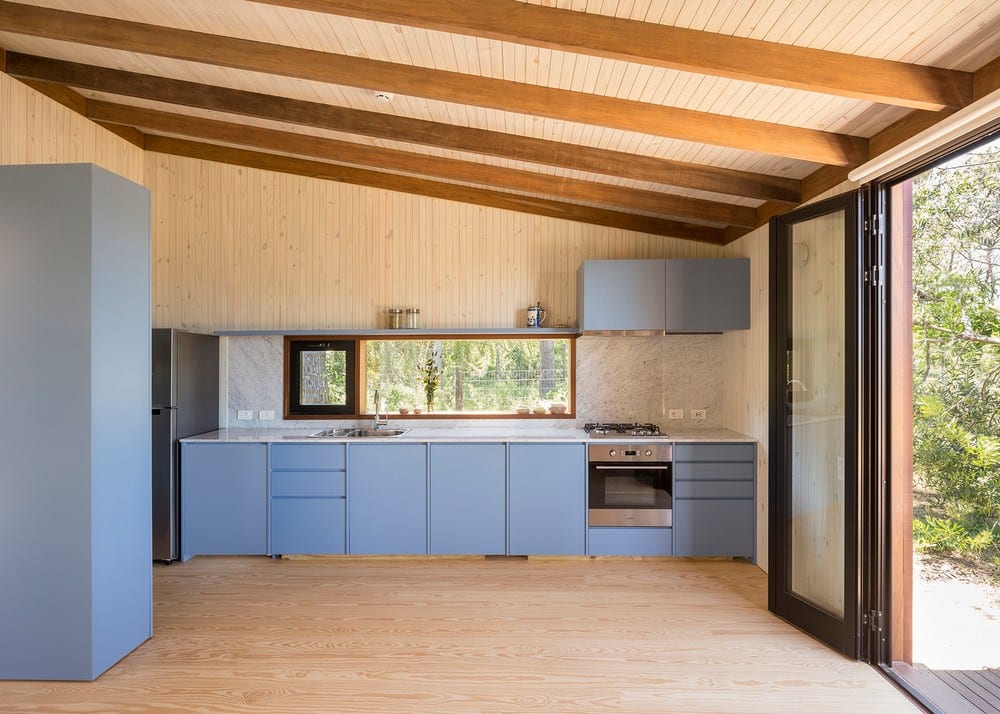 The minimalist theme of the outdoors continues inside the house. House in La Juanita adapts a no-nonsense approach. Furnishings are basic and simple; clutter isn't encouraged. Despite its small size, the house definitely feels big.
Notes from the Architect:
Located in La Juanita beach, in a forest enclave near Jose Ignacio lake, the lot where the house is built presents a steep slope with a height difference of eight feet between the front that faces the street and the back. Given this disposition, the house's ground level is projected above the maximum height of the land, detached, maintaining the natural slope and ensuring ventilation to the lower structural parts.

The north orientation towards the street, opposite to the sea views (oriented to the south and on the bottom of the lot, a common feature in the Uruguayan coast), entailed the need to plan expansions in both directions. The volumetric expression of the house refers directly to the programmatic planning; a lower volume contains the kitchen, living and dining rooms, and a second, two-floor volume with the bedrooms and bathrooms.

This disposition intersects with the operation planned for the house: a lower level to receive family members, holding the house common areas, and an upper floor exclusively for the owners. A connecting bridge works both as a link between both modules and as access through the north-facing gallery. The two volumes are offset in a plan to guarantee natural light to the gallery and sea views from the bedroom located on the top floor.

With the exception of the foundations, the construction was made entirely in wood, combining the use of harder species for structural parts and in contact with the exterior and softer types for the assembly of interior partitions and coatings. A set of hardwood verticals arranged every 2 feet guarantees the rigidity of the exterior coating of pine tree dyed in oil. In this way, the external language embodies the direct expression of constructive and material modulation.
Click on any image to start lightbox display. Use your Esc key to close the lightbox. You can also view the images as a slideshow if you prefer.
Exterior Views:

Interior Views:
Drawing Views:
If you liked this house, you'll also like the Forest House in Argentina.