This extension to an existing pre-school facility / day care centre near Paris is worthy of an album here for three main reasons; the extensive use of sustainable materials, the high energy efficiency of the building and the fact that it was completed from start to finish in just 12 weeks.  The fact that the design, with multiple compound curves, is anything but straightforward, makes the achievement even more interesting.  We think there is a lot home builders could learn from this development.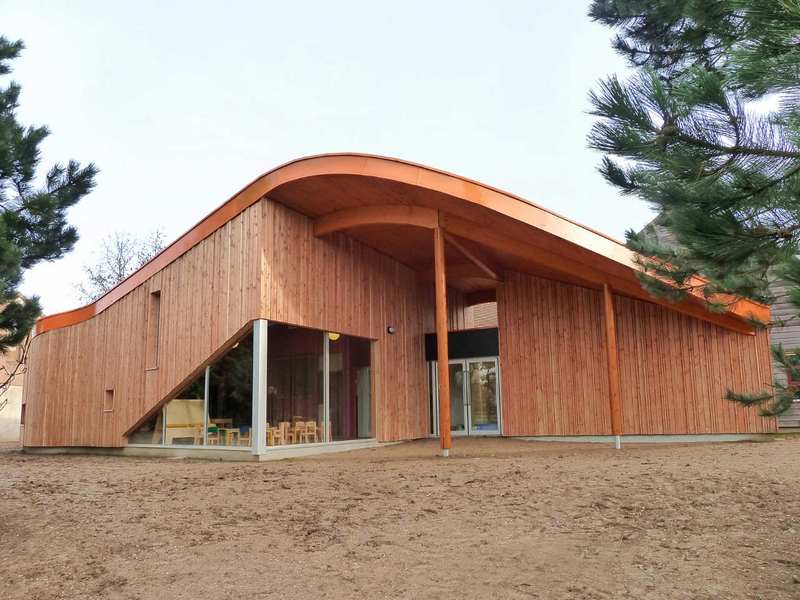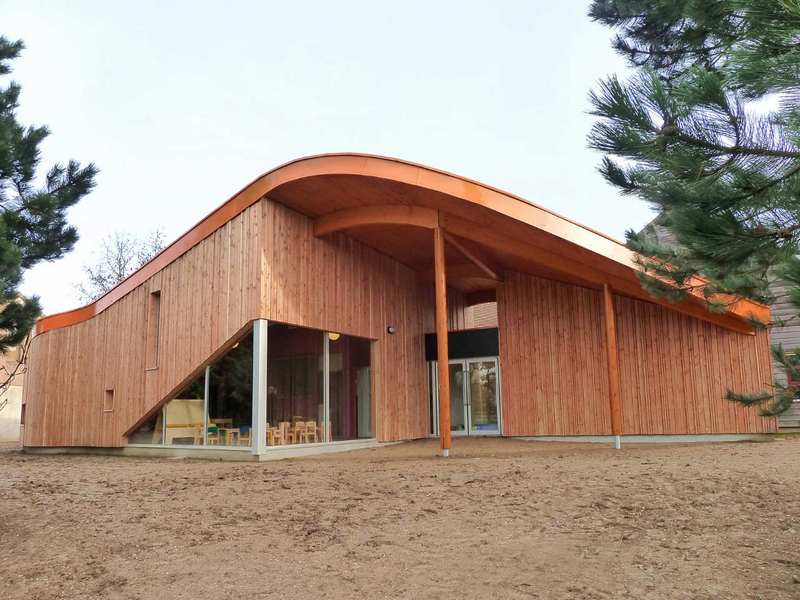 Here are the architect's notes:
The administrative departments of the city wanted to enlarge the capacity of this structure by extending the building housing an additional section of the 30 children.
This new part of building extension is composed of three spaces (a space for activities and two sleeping spaces. The entire surface of the extension is 193 m². These three areas are unified by a single vegetated roof cover forming a whole and combining the three components of the program, however well differentiated.
The project is built in an area surrounded by public facilities in a residential suburban character near Paris. The proposed extension is built while maintaining the wooded character of the bottom plot. The neighboring houses are built in traditional forms with gabled roofs, thereby extending the crib comes with a gabled roof curved. To insert the building in an environmentally sound approach, structure, roofing and siding are made entirely of wood components.
To meet the demand to achieve a sustainable building with a reasonable energy consumption and in a very short period of construction (three months on the extension of wood), the structure of the building was made entirely of plant and wood frame walls including insulation and protection complex rain and steam were assembled at the factory and assembled in three days.
The green roof, large covered play areas and dramatic façade are all designed to stimulate a child's imagination.  Hats off the AR + TE Architectes!
Click on any image to start lightbox display.  Use your Esc key to close the lightbox.  You can also view the images as a slideshow if you prefer  

A home that ticks all the boxes for sustainability is this one designed by our resident architect, Andrew Webb…