Site area:      490.5 sqm
Built area:      352.5 sqm
Year built:      2009
Photography:      Kenji Arai, Danna Kinsky
Clad in sedums and other succulents, the external walls of this extension create the illusion of a floating green cube. But it isn't just about appearances, the green walls also act as excellent insulation in this very green and sustainable design.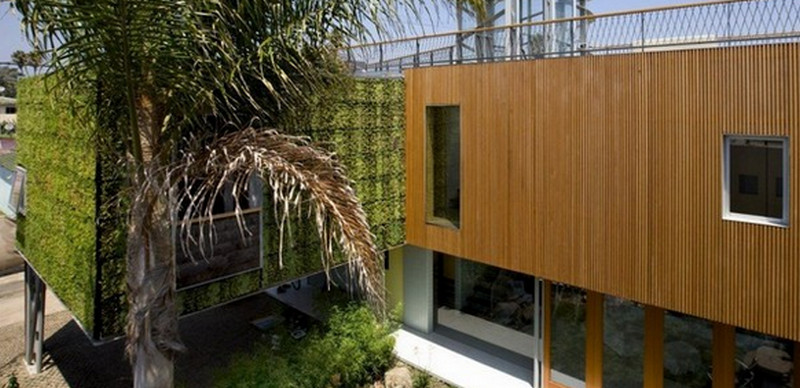 The owners needed a larger home for their growing family. The program called for a complete renovation of the existing 2,000 sq. ft. house plus a further 1,700 square foot addition. Prior to the renovation, the owners, Paul and Cicek, together with Paul's architect brother, Marc had seen and been fascinated by the vegetation-draped walls that designer Andrée Putnam installed at Hotel Pershing Hall in Paris. Marc had also been inspired by vertical gardens he had seen during an ealier trip to Japan.
The result can be seen on three sides of the new master bedroom, which extends from a two-story section to create a carport below. The living walls are then visually tied to the courtyard foliage and also to a green roof complete with a vegetable garden! The walls use a matrix that holds moisture that is replenished from a rainwater collection system.
The home is naturally air-conditioned with extensive connections between the inside space and the outside garden providing ample natural ventilation. Pivoting doors on the ground floor and second level folding windows and exterior panels that slide into walls, further connect the interior to the exterior. A sculptural staircase, connecting the ground floor with the rooftop deck acts as a funnel to draw cool air to the interior. It opens onto a green meadow planted with native grasses; walkways and decking are made from Trex, a recycled composite material.
While the vegetable garden only takes up a 3-by-12 foot area, "it is one of the biggest draws that pulls everyone to the roof, I have an amazing amount of produce up there — including artichokes, cucumbers, zucchini, tomatoes, peppers, celery, parsley, blueberries, raspberries, strawberries, plus a lemon and orange tree," Paul says. "People think you need massive amounts of space or a big backyard, but this is just a tiny triangle."
Click on any image to start lightbox display. Use your Esc key to close the lightbox. You can also view the images as a slideshow if you prefer 

Here are a few more interesting renovations to keep you inspired…